New York Woman Eleanor Cunningham Celebrates 100th Birthday With Celebratory Skydive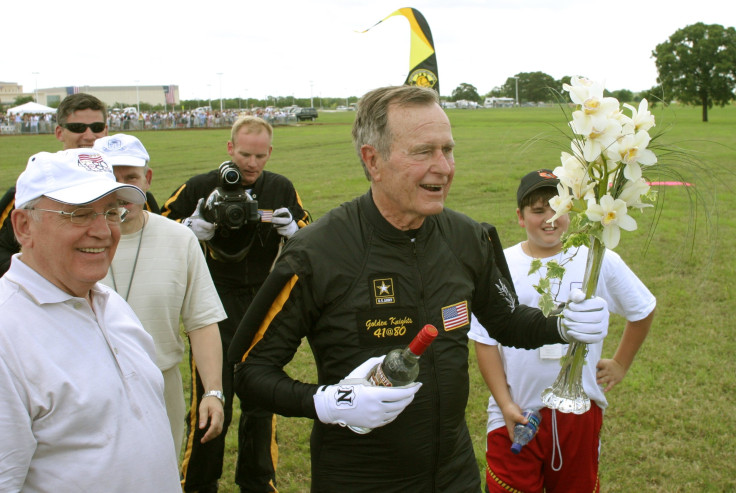 When George W.H. Bush went skydiving for his 90th birthday, no one expected him to be bested less than a year later. But as of Saturday, Bush's feat has been eclipsed -- New York resident Eleanor Cunningham celebrated her 100th birthday by going skydiving in Saratoga Springs -- for the third time.
She took up the extreme sport a decade ago on her 90th birthday and planned to make the monumental jump once every five years. Her next jump will be on her 105th birthday, her daughter told the Albany Times Union. Her doctor saw no reason why she shouldn't get to fulfill her dream, according to the Associated Press.
Surrounded by her family, swaddled in a fleece blanket and clad in pink and white Puma sneakers, Cunningham cracked jokes and kissed her 7-month-old great-great-granddaughter right before making the jump, the Times Union reported.
"Now that I'm here, I guess I'll have to go," she said as the family gathered to eat birthday cake before the celebratory leap.
The jump went smoothly and Cunningham's family was waiting for her when she landed. She has five children, 15 grandchildren, 26 great-grandchildren and 2 great-great-grandchildren. She lives with her granddaughter in central New York.
"She told the man at the liquor store a few years ago that she attributes her long life to nipping and napping," Cunningham's longtime friend Deb Sites told the Times Union. "Nipping her wine and napping."
© Copyright IBTimes 2023. All rights reserved.