Newspaper Launches Innovative New Print Format: Will Bucking The Digital Trend Pay Off?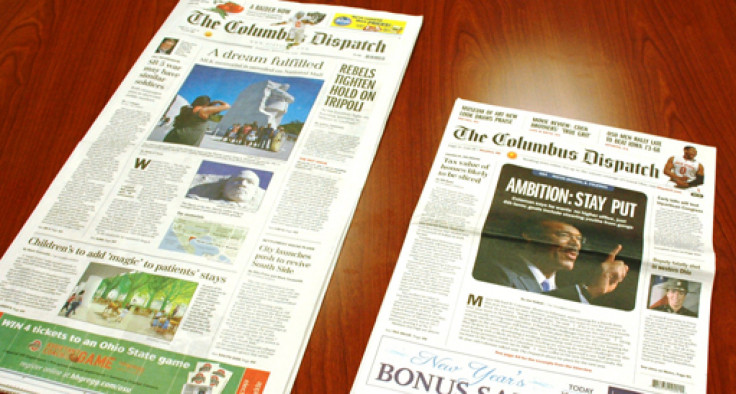 "I'm old-school," Benjamin Marrison, editor of the Columbus Dispatch, said, affirming his love for the printed word at a time when the printed word is facing unprecedented challenges.
The affirmation was made during a phone interview on Friday evening, less than 36 hours before Ohio's third-largest newspaper was set to become the first in the country to debut an innovative new printing technology. The technology, dubbed "three-around printing," has been in development for several years, but newspaper companies have been apprehensive about being the first to try it.
In a nutshell, the technology utilizes printing-press cylinders that print three sheets per revolution, as opposed to two. The result is a compact-size, sectioned broadsheet that rolls off the presses faster. It also allows for more content in a smaller space and ultimately provides an easier reading experience than the floppy broadsheets of old, at least according to test groups that have sampled it.
"It's more akin to a magazine than a daily metro newspaper," Marrison said. "It's still a broadsheet, but it's about a third shorter. So it's not going to fall over and dip into your cereal bowl."
To be certain, newspaper publishers have been scaling down the size of their print products for years. Tabloid-size newspapers from the New York Post to LA Weekly are smaller than they once were. Broadsheets such as the New York Times, whose large dimensions are still a selling point for advertisers, have also reduced their trim sizes over the last decade.
But those scale-backs have invariably coincided with a less-is-less strategy, as publishers continue to fill less space with less printed content, often axing entire sections along the way. For the Dispatch, conversely, Marrison said the new format will be more compact but with a bigger page count, so readers will actually get more content from their daily paper.
"At a time when other papers are cutting sections, we're adding them," Marrison said. "We're reintroducing our standalone business section. And we live in the college-football capital of the world, so during college-football season, we're going to do a standalone section for that on Sundays."
Three-around printing requires retrofitting of conventional printing presses, the expense of which has made newspaper companies reluctant to try the technology. Conversion of the Dispatch's presses was done by Pressline Services, a St. Louis-based company that specializes in printing-press technologies. The Dispatch, which is privately owned by the Wolfe family, signed a contract with Pressline in the fall of 2011. The paper has also partnered with Gannett Co. (NYSE:GCI), the country's largest newspaper company, which will outsource the printing of two of its newspapers -- the Cincinnati Enquirer and the Kentucky Enquirer -- to the Dispatch's facilities in Columbus.
The conversion project has not been without its caveats. The Dispatch had intended to launch its new format in September, but production issues prevented that from happening. "We were a little disappointed, because we were really amped up about it," Marrison said.
But in a blog post last week on the newspaper's website, Marrison announced that those issues have been fixed and that the new format would launch on Monday.
At a time when newspaper companies are consumed by adapting to lightening-speed advances in Internet and mobile technologies, the notion of pouring resources into a printing-press conversion may seem a counterintuitive business strategy. But the Dispatch has done its homework, which included extensive research into whether or not readers would take to the new format. Test groups that sampled prototypes of the new Columbus Dispatch provided feedback that Marrison called "overwhelmingly positive," even as he acknowledged that readers prize familiarity in their hometown newspapers and can sometimes be resistant to change.
"They really like the compact size," he said. "One guy who tried it said he was happy that he would finally be able to see his wife in the morning. The old broadsheet was always blocking her."
© Copyright IBTimes 2023. All rights reserved.