'The Newsroom' Enters Debate About Sexual Assault With Questionable Scene Following Rolling Stone Rape Story Controversy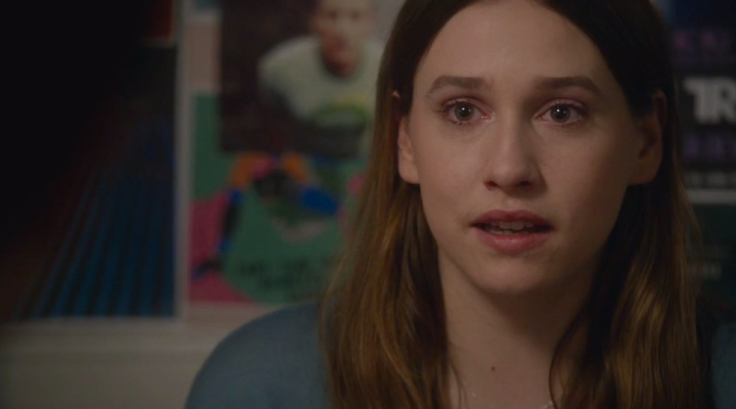 HBO's "The Newsroom" has made its bones over three seasons by taking on current events via the fictional news outlet ACN. From the BP oil-spill storyline that kicked off the series to the Boston Marathon bombing episode at the start of the current season, the show has always been right on the heels of real news stories. But it's never been more aggressively timely than in Sunday's penultimate episode where an ACN producer interviews a victim of alleged sexual assault at Princeton University. The scene, airing just days after Rolling Stone apologized for inaccuracies in an article about an alleged gang rape at the University of Virginia, has put the show in the middle of the growing national debate about sexual assault.
In the series' storyline, producer Don Keefer (Thomas Sadoski) is forced by his boss (B.J. Novak) to interview Mary (Sara Sutherland), an alleged victim of a sexual assault who starts a website where other such victims can anonymously out their assailants and tell their stories. Don's assignment is to get Mary to consent to a televised confrontation with her alleged rapist on his news show, and he speaks with her, but he's opposed to her website and the idea of having her on-air, saying he thinks her site would inevitably present some false accusations and tarnish innocent people, and that the only suitable place to seek justice is through the legal system -- imperfect as it may be -- and not in the court of public opinion on television.
Don's point is a timely one. The hazards of trial by journalism have been highlighted by the Rolling Stone controversy. The initial article details the alleged gang rape of an anonymous girl -- the article names her only as Jackie -- by members of a University of Virginia fraternity. The subsequent inaction by university or law enforcement officials to address the alleged crime only fueled the national debate about sexual assault on campus. However, Rolling Stone later apologized when inaccuracies surfaced in the girl's story, and the magazine admitted to never talking to the accused or properly vetting Jackie's story. The apology has ignited a backlash against the story and against false accusations.
The actual number of false accusations of rape is famously difficult to know with certainty, with various groups citing research reports that put the figure at anywhere from 2 percent to 41 percent, depending on the politics of the group.
However, the backlash against the Rolling Stone story has itself been criticized for inflating the rate of false accusations and for creating a culture of looking at rape victims' stories with inherent suspicion. Don's point of view on "The Newsroom" has drawn similar criticism, particularly his assertion that he has "a moral obligation" to believe an alleged rapist without proof otherwise, in the same way the legal system presumes innocence. In the scene, Don insists that acting otherwise would risk ruining the lives and futures of potentially innocent men.
Nadia DiStefano, a spokesperson for the Women's Center, criticizes "The Newsroom" scene and the Rolling Stone story alike. "Every time a story like this comes out, it validates every victim's concerns or fears about coming forward," DiStefano told International Business Times. "[Victims] expect to not be believed. They expect pushback."
In fact, only 40 percent of rapes are reported to police, a number often attributed to a culture of shame and disbelief in how the system treats victims.
DiStefano also criticizes "The Newsroom" and Don's reductive focus on evidence. "It's not a simple he said, she said," says DiStefano. "There are power dynamics, fantasy and deviant thoughts going on in these situations."
Mary's retort to Don on the show echoes growing national frustration with a legal system that many believe is grossly ineffective in achieving justice for sexual assault. According to the Huffington Post, between 8 percent and 37 percent of rapes ever lead to prosecution despite a rate of one in six women becoming the victim of a rape in their lifetime.
On "The Newsroom," Mary uses this to justify her site and agreeing to appear on television. She hoped to achieve some form of justice that she felt would elude her in the legal system, a sentiment Mary and Don shared, despite his belief that taking her case into the public sphere was reckless and dangerous.
DiStefano agrees that pursuing justice outside of the law can be dangerous.
"There are a lot of consequences," says DiStefano. "It can hurt a [legal] case and bring a lot of pushback."
However, DiStefano also asserts that a victim having a voice and being able to tell her story, including naming an accuser, can be a vital step in the healing process as it helps the victim reclaim power that was lost via the assault.
Toward the end of "The Newsroom" episode, Don lies to his boss, claiming he was not able to find Mary. It's portrayed as a noble gesture, Don believing he is protecting Mary and doing the ethical thing against the wishes of his superiors. But taking the decision to go on-air out of Mary's hands might actually be continuing the dangerous cycle of stripping a victim of power. "The Newsroom" expertly inserted itself into the sexual assault debate, but viewers will have to decide if it chose the right side.
What did you think of the controversial scene? Tweet your thoughts to @Ja9GarofaloTV.
© Copyright IBTimes 2023. All rights reserved.