'The Newsroom' Season 3 Spoilers: Who Died In Episode 5? Will Gets A Special Visitor In Prison In 'Oh, Shenandoah' [RECAP]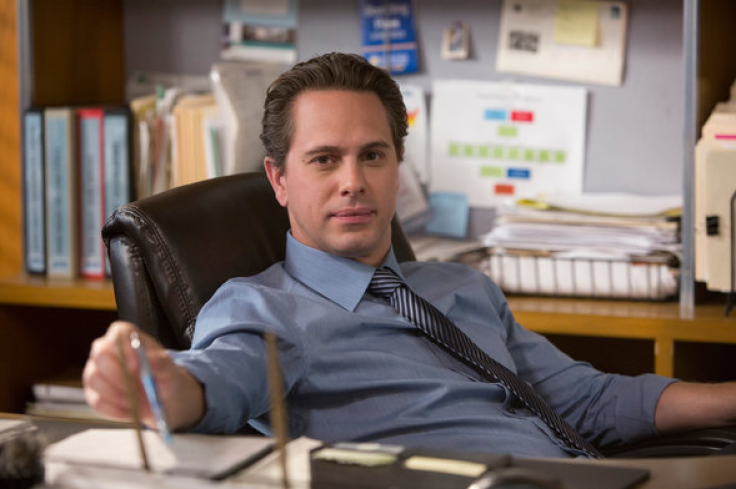 It's almost time to wrap things up on "The Newsroom." Sunday night was the penultimate episode of the HBO series' third and final season, but things were not slowing down. In episode 4, Will (Jeff Daniels) and Mackenzie (Emily Mortimer) tied the knot, but right after the couple married Will had to report to prison for contempt. Would Mackenzie be able to get her husband out of jail in episode 5, "Oh, Shenandoah?"
The episode began with Will being shown to his cell by a guard (James Holloway) telling stories about some lawyers who spent the weekend in the same cell, also for contempt. However, the show quickly jumped 52 days into the future with Will still in jail.
Meanwhile, Charlie (Sam Waterston), Mackenzie, and Don (Thomas Sadoski) were struggling to balance better ratings with the new, audience-centered approach mandated by ACN's new owner, Lucas Pruit (B.J. Novak). This included Don being sent to cover a sexual assault case at Princeton where the goal was to get both the victim and her accused rapist in studio together, a touchy assignment the producer was forced into by Charlie under orders from Pruit.
That was not Don's only problem with Pruit. Sloan (Olivia Munn) visited his office to complain about an app run by ACN that kept tabs on celebrities whereabouts and led to an assault attempt on one of Sloan's friends. After confronting the digital producer in charge of the app and failing to convince him to shut it down, Sloan invited him on the show under the guise of explaining the app to the audience where she planned to eviscerate the app in public.
Meanwhile, Mackenzie learned the anonymous source keeping Will in prison, whom she met at the White House Correspondent's dinner, had killed herself outside of the Department of Justice. She went to Rebecca Halliday (Marcia Gay-Harden) who thought they could now get Will out of prison.
Elsewhere, Jim (John Gallagher Jr.) and Maggie (Alison Pill) were in a Russian airport where they were struggling to get on a flight to Cuba they believed would be carrying NSA leaker Edward Snowden.
Back in prison, Will had the opportunity to get out of jail if he would confirm the name of the source, now that the Feds were all but sure the now-dead Lily Hart was the person in question. However, the anchor still refused to cooperate, frustrating Mackenzie.
Mackenzie was also dealing with Charlie breathing down her neck to cover Pruit's handpicked agenda, forcing her to cut important stories to make time for Sloan's interview about ACN's own app and an interview with Lady Gaga's manager about the Defense of Marriage Act.
At Princeton, Don interviewed the rape victim, Mary (Sarah Sutherland), who created a site for women to post their stories and tried to convince her to turn down the interview and take down the site, but she was determined to bring attention to the issue. He did not want to see her in a television trial with no protection from the law, but Mary was sick of hiding.
Back in Russia, Maggie and Jim gave a couple of honeymooners money and all of Jim's luggage in exchange for seats on Snowden's plane, putting them on the flight with Jim dressed in Olympics pajama. However, Snowden was a no-show for the 12-hour flight. That doesn't mean the flight was uneventful, though, as Jim, fighting off advice from Maggie about Hallie (Grace Gummer) confessed Maggie was the girl he really wanted. After initially fighting and rehashing the past, the two shared a kiss. Turbulence, however, ruined a clumsy attempt to join the mile high club.
Back at ACN, Sloan had her interview with the producer in charge of the celebrity stalker app and was merciless in picking apart the lack of ethics in the content. Afterward, Charlie was furious with Mackenzie and Sloan for allowing the interview on air, and then Don added to his anger, claiming he was not able to track down the Princeton girl. Charlie's bewilderment over the apparent "mutiny" was matched by Pruit's rage. The new boss stormed into the newsroom demanding Mackenzie and Sloan be fired. Charlie asked to see Pruit in private, but on the way out of the room Charlie collapsed.
Back in prison, Will had been talking about the whole episode with a cellmate who was being held for beating his wife. The two argued about elitism, ignorance and Will's "mission to civilize." The inmate lectured Will on looking down on people while displaying some offensive political views as Will opened up about his father and lessons of morality. The conversation was interrupted when Will was informed he was being released after the FBI deemed his testimony no longer necessary. Fans then saw Will did not have a cellmate and a picture of a young Will with his father revealed that the whole conversation had been an imaginary debate with his dad.
Will was released from prison to Mackenzie who had some bad news for husband -- Charlie had died of a heart attack.
What did you think of "Oh, Shenandoah?" Tweet your thoughts to @Ja9GarofaloTV.
© Copyright IBTimes 2023. All rights reserved.