'The Newsroom' Season 3 Spoilers: Episode 6 Synopsis Released; What Will Happen In The Series Finale, 'What Kind Of Day Has It Been'? [VIDEO]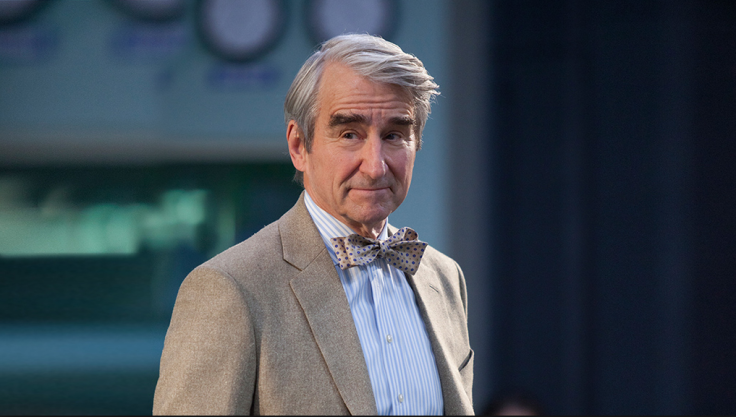 "The Newsroom" is signing off for good next Sunday. The third and final season of the HBO series will conclude with episode 6, "What Kind of Day Has It Been?" and it promises to be an emotional finale after the loss of Charlie Skinner (Sam Waterston) in episode 5. However, the synopsis for the last episode reveals that the beloved news director might just make a return in the finale.
According to the synopsis, Will (Jeff Daniels) and Mackenzie (Emily Mortimer) will be reminiscing about ACN's past and their personal relationships with Charlie in the wake of the character's death. The promo for the episode shows Will struggling to find the right words to say at his friend's funeral. Does the reminiscing mean a flashback is coming?
Apparently, it does. TV Guide has confirmed that Charlie will make a return in the series finale in the form of flashbacks that may remind some fans of "A Christmas Carol" or "It's a Wonderful Life." The flashbacks will focus on Charlie's relationship with every character and how it affected their lives.
Watch the promo for episode 6 below:
Plus, after finally admitting their feelings for each other and sharing that kiss on the plane to Cuba, Maggie (Alison Pill) and Jim (John Gallagher Jr.) will come up against another roadblock just when it looked like a relationship was finally happening. The synopsis reveals that Maggie, whose career has taken off this season since Boston, will be interviewing for a job in Washington, D.C. Will she leave Jim behind in New York? Would he follow her to D.C. (considering ACN might be unraveling around them)?
How will everyone handle Charlie's death? And, without its longtime leader, what will become of the Pruit-run ACN? There's only one episode left to wrap everything up. "The Newsroom" series finale airs Sunday, Dec. 14, at 9 p.m. EST on HBO.
Are you happy about the possibility of seeing more of Charlie in the finale? Tweet your thoughts to @Ja9GarofaloTV.
© Copyright IBTimes 2023. All rights reserved.