Next Door to Russia, Poland Boosts Defense Spending By $42 Billion Over Ten Years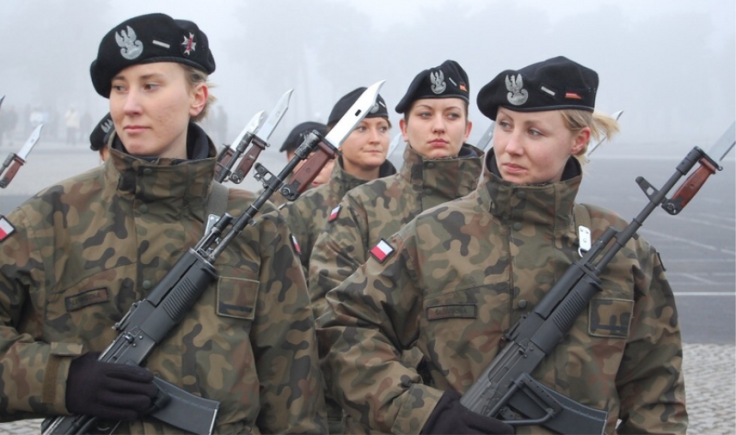 With an eye on the evolving conflict in Ukraine, Poland has begun an ambitious 10-year, $42 billion overhaul of its military, as it grows increasingly wary of neighboring Russia. The announcement comes as the ceasefire in Ukraine between the government and Russian-backed rebels hangs in the balance.
Ukraine shares a border with Poland, which has itself a long history of armed conflict with Russia and was part of the Soviet bloc until Poland's communist regime collapsed in 1989.
Poland also borders the Russian enclave of Kaliningrad to the north, and is becoming increasingly uneasy as Russian warplanes fly closer to the borders of the European Union and NATO -- more than 100 instances in the past year. Poland is a member of both organizations.
Despite the ceasefire deal worked out by leaders of France, Germany, Ukraine and Russia last Thursday, Polish officials said the Ukraine conflict could reignite and even expand.
"The key to a political and military solution lies in Moscow," Polish President Bronislaw Komorowski told reporters Thursday in Warsaw. "The possibility of a lasting peace still isn't close," he said, suggesting the previous Minsk ceasefire agreement signed last September failed because of "Russian separatists."
The unprecedented increase in spending takes Poland in line with NATO's request that all members spend 2 percent of gross domestic product on defense. The increased spending is expected to buy Poland a missile shield and anti-aircraft systems, combat drones, armored personnel carriers and submarines, among other items.
The most expensive single item will be 70 multirole helicopters costing 2.5 billion euros ($2.8 billion). The contract has yet to be awarded but has seen interest from U.S.-maker Sikorsky, European consortium Airbus Helicopters, based in France, and the Anglo-Italian AgustaWestland.
"The Airbus offer is the only one that fully meets the specifications," a Western military expert told AFP on condition of anonymity. "It's proposing a single platform while the Americans are offering two -- Black Hawk and SeaHawk -- while the Italians have proposed an unarmed device."
Poland favors U.S. manufacturers as a safer choice in case conflict in Europe hampers deliveries, according to AFP. For that reason, European bidders have proposed partnerships with Polish companies that will help keep the military investment in Poland and open up job opportunities. The Polish military has already invested heavily in American-made equipment, for example buying dozens of F-16 fighters that have arguably made its air force the most advanced among the former Soviet satellite nations of the former Warsaw Pact.
© Copyright IBTimes 2023. All rights reserved.