NFL Analysts Say There's 'No Way' Ciara Could Curse Russell Wilson's Upcoming Football Season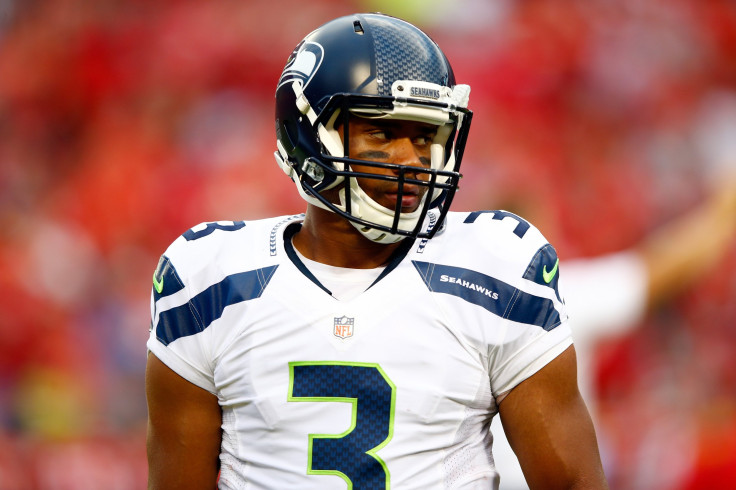 Fear not, Seahawks fans -- NFL analysts aren't the least bit worried that Russell Wilson's new relationship status will effect his playing and, according to them, you shouldn't be either. The star quarterback is currently dating Grammy award-winning artist Ciara, which some dedicated fans fear could lead to "the curse of the babe." This alleged curse is said to cause players in committed relationships to perform badly on the field. Many, including Tom Brady, Aaron Rodgers and Tony Romo, have been accused of suffering from it. Fortunately, NFL commentators seem to believe Wilson, 26, is immune to the bad juju.
According to a report by E! Online, LaVar Arrington, noted football analyst, there is "no way" Wilson will allow Ciara, 29, to distract him. Former Dallas Cowboys player Michael Irvin also weighed in on the curse, saying the odds will likely be on Wilson's side this season. He recalled to E! the days when Romo, 35, would lose a game and fans would blame his then-girlfriend Jessica Simpson for having shown up. Fortunately, he said, "Russell doesn't do a whole lot of losing," so neither he nor Ciara should have much to worry about this football season.
"I think they are a cute couple; they look really great together," Irvin said. "Russell is a great dude. I love Russell. Seattle is a bit different that Dallas. Tony's girl [Jessica] would show up at the game and if she show up and they didn't win the game [fans] would blame her, the poor girl. She didn't catch one ball or throw one pass. But that's what they did. Seattle, maybe the don't see it that way, and Russell doesn't do a whole lot of losing. It's great for him."
Fortunately, Wilson has been hard at work during training camp all summer. That has not, however, stopped him from making time for his girlfriend or her young son, Future Zahir. The pair have been spotted numerous times visiting Wilson at training camp. Many people -- both celebrities and non-celebrities -- have expressed their distaste for Ciara's decision to have the baby that she shares with her ex around another man. Ciara addressed the situation during an appearance on "CBS This Morning," revealing that she had attempted to reach out to his father, rapper Future, 31, to allow him to meet with Wilson beforehand and he refused.
The Seattle Seahawks will play their first game Sunday, Sept. 13, at 1 p.m. EDT. Wilson and his teammates will be taking on the St. Louis Rams at the Edward Jones Dome in St. Louis, Missouri. Check local listings for networks and availability.
© Copyright IBTimes 2023. All rights reserved.