NHL Player Rankings 2015-2016: 10 Best Point Scorers In Hockey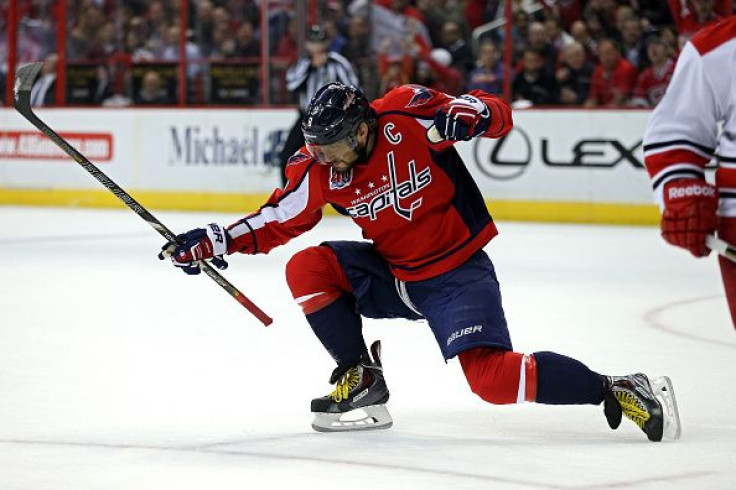 While the days of Wayne Gretzky and Mario Lemieux are long gone, the current generation of point scorers is quite strong. In the 2015-2016 NHL season, some of the top stars are not shining as bright as they have in the past, but plenty of burgeoning forwards have picked up the slack. Players like Tyler Seguin and John Tavares are proving they deserve to be in the mix with the elite goal scorers and playmakers in the league.
But the NHL still belongs to the veterans. Though Alex Ovechkin and Sidney Crosby are not leading the league in goals or assists, their talent is undeniable and their value is overwhelming.
It's too early to emphasize statistics with roughly 80 percent of the season remaining, and some of the top players from recent years should hit their stride at any moment.
Here are our rankings for the top point scorers in the NHL.
1) Alexander Ovechkin, Washington Capitals: The 10-time All-Star selection has at least 32 goals in every one of his 10 seasons, including a lockout-shortened year in 2012-13. He's a five-time Maurice "Rocket" Richard Trophy winner, given to the league leader in goals (including three-time defending champ) and possesses inarguably the quickest release in the game. Ovechkin is on pace for another 50-goal campaign this year with eight in 12 games and 15 points total. He's got more goals (112) than anyone since the 2013-2014 season began and the fourth-most points (175).
2) Sidney Crosby, Pittsburgh Penguins: With 860 points in 641 career games and far more assists than goals, Crosby remains one of the more unselfish superstars in the league and a two-time Art Ross Trophy winner, given to the league's point leader. The future Hall-of-Famer and Stanley Cup champion is off to a slow start this season (7 points in 14 games) but has eclipsed the 100-point plateau five times and been in the top 10 in points six times. Crosby has more points (195) than anyone since start of the 2013-2014 season.
3) Steven Stamkos, Tampa Bay Lightning: Recent injuries hamper the overall numbers but the 25-year-old two-time winner of the Richard Trophy has carried the Lightning in scoring since his arrival in 2008-2009. Stamkos averages a point per game for his career and like Ovechkin, has a lightning-quick release and an exceptional one-timer. He scored 50 goals a season twice before the age of 23 and led the league's highest scoring team in goals and points last year on their way to the Stanley Cup Final.
4) Jamie Benn, Dallas Stars: The Dallas captain has emerged in recent seasons as another one of the more dangerous guys on the ice on one of the best offenses. Benn led the league in scoring a season ago (87 points in 82 games) to win the Ross Trophy after finishing in the top 10 the year before. Since the 2013-2014 season, Benn has the second most points (187), and is currently tied for league lead with 10 goals. He's on pace for over 30 goals for the third straight season.
5) Tyler Seguin, Dallas Stars: Seguin is just 23 years old but is already in his sixth NHL season. Since 2011-2012, he's been racking up points (and a Stanley Cup) but has turned it on the last two years, notching 161 in 150 games played. He plays on a line with Benn and is tied for the league lead with 23 points in the early going this year.
6) Patrick Kane, Chicago Blackhawks: Since entering the league under lofty expectations, Kane has remained one of hockey's most efficient forwards. He has more points than games played over the last three years and has surpassed 20 goals in every NHL season, dating back to his rookie year in 2007-2008. Having three Stanley Cups doesn't hurt, either. The 2013 Conn Smythe Trophy winner is off to a hot start again, tied for the league lead in scoring with 23 points in 15 games.
7) Evgeni Malkin, Pittsburgh Penguins: Crosby's running mate has been a point machine since his entry into the NHL in 2006-2007. He's scored over 100 points three times, including 113 and a Conn Smythe Trophy in the Pens' Stanley Cup year of 2008-2009. A two-time Ross Trophy winner himself, Malkin is another guy with more points than games played in a career that spans over nine full seasons. In the early going, he's produced 11 points in 14 games.
8) John Tavares, New York Islanders: The No. 1 overall pick in 2009 is one of the best and unselfish players the league has to offer and he's still only 25 years old. He has more helpers than goals but has still managed to put at least 24 in the net in all six NHL seasons. Tavares ranked No. 2 in points last year (86 in 82 games) and has been top 10 in points twice. He's got 11 in 12 games to begin 2015-2016.
9) Claude Giroux, Philadelphia Flyers: Giroux is sometimes overlooked but consistently helps the Flyers score and has the 5th most points in the NHL since 2013-2014 began. Twice has been a top 10 point scorer and has spent each of the last five years on the top 10 list in assists.
10) Nicklas Backstrom, Washington Capitals: Backstrom has flown under the radar outside of Washington for nearly a decade because of Ovechkin, but is consistently one of the better passers in the league. He led the NHL with 60 assists last year and has an impressive 433 assists since debuting in the 2007-2008 season. Backstrom is second in assists behind only Crosby since the start of 2013-2014, and has played in every single regular-season game in six of his eight NHL seasons.
© Copyright IBTimes 2023. All rights reserved.