NHL Player Rankings 2015-2016: Five Best Goalies In Hockey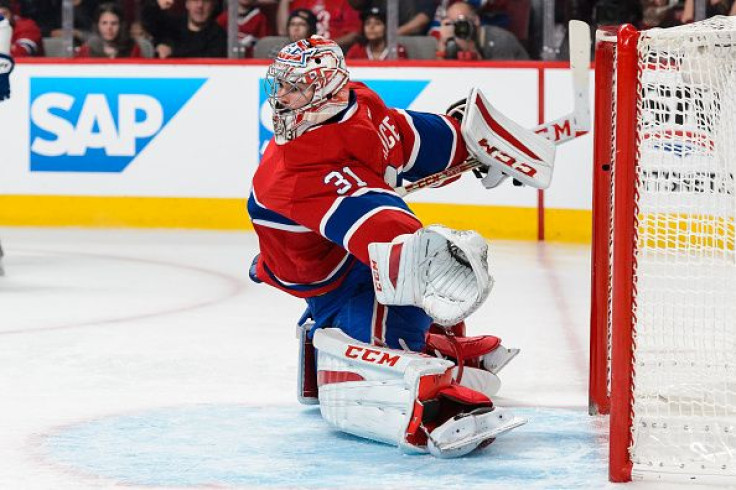 Goaltender is arguably most important position on the ice in the NHL. It's also the most difficult position to evaluate. There are a variety of factors that go into judging a net minder like workload and the team playing in front of him. While there are a myriad of statistics to quantify the value of forwards and defensemen, the same can't be said for goaltenders.
A new breed of goaltenders have taken over the NHL and made it their own in recent years. Names like Lundqvist, Quick and Price have graced the NHL playoffs as well as the winter Olympics, supplanting the likes of Hasek, Brodeur and Roy.
The best goaltenders in the league are the backbone of their teams and the keys to sustainable success. Without reliable goaltending, putting together a successful season and making a deep playoff run are virtually impossible. Here are our rankings for the top five goaltenders in the NHL.
1) Carey Price, Montreal Canadiens: Battling a lower body injury, the Habs net minder is clearly the best goalie in the NHL today. Price dominated in 2014-2015, leading the league in wins (44) and goals against average (1.96). He became the fourth goalie ever to win the Vezina Trophy (best goalie) and Hart Memorial Trophy (regular season MVP) in the same season, with the company on that list being nothing short of remarkable. Since the start of 2013-2014 Price has gone 85-38-11, including a 7-2-0 start this season.
2) Henrik Lundqvist, New York Rangers: Over the last 10 years, no goaltender has a better body of work year in and out. Over 10 full years, Lundqvist posted a 339-207-65 record with 55 shutouts, 54 playoff wins and a trip to the Stanley Cup. The 2011-2012 Vezina Trophy winner is still one of the top goalies in the league, going 30-13-3 in limited action last year before a return to the Eastern Conference Finals. The Rangers fell short but it wasn't because of Lundqvist. So far this season, Lundqvist is 8-2-2 and his 1.65 GAA is the second lowest among goalies with at least 10 starts.
3) Jonathan Quick, Los Angeles Kings: After two Stanley Cup wins in three years, Quick and the Kings missed the playoffs a season ago despite his 36-22-13 record and No. 6 ranked goals against average (2.22). The 2011-2012 Conn Smythe Trophy winner (MVP of the playoffs) is tied for third among active goalies in playoff wins (45) and has a regular season record of 219-144-46. He's 7-6-0 in his first 13 starts this season while Los Angeles looks to rebound from a disappointing season.
4) Braden Holtby, Washington Capitals: The Washington goalie has always played well in small samples and went a respectable 23-15-4 in 2013-2014 but consider 2014-2015 Holtby's coming out party. He faced more shots than any other goaltender in the league (2,044) and still posted a 41-20-10 record and tied for 7th in save percentage (.923), ahead of goalies that saw hundreds of shots less. He's tied for second in the league with eight wins in 12 starts this season.
5) Pekka Rinne, Nashville Predators: After two seasons out of the spotlight, Rinne reinforced in 2014-2015 that he is among the goalie elite. He's the backbone of the Predators and that was proven when they crumbled without him in 2012-2014. He led Nashville back to the playoffs last year with a 41-17-6 record and the NHL's third-best goals against average (2.18). Now in his 10th season, the three-time Vezina finalist has a career record of 212-117-45, including a 8-2-2 start to this season.
© Copyright IBTimes 2023. All rights reserved.