Nicki Minaj-Meek Mill Update: Couple Speaks About Drake Feud, VMA Snub Tweet And Their Romance In GQ Interview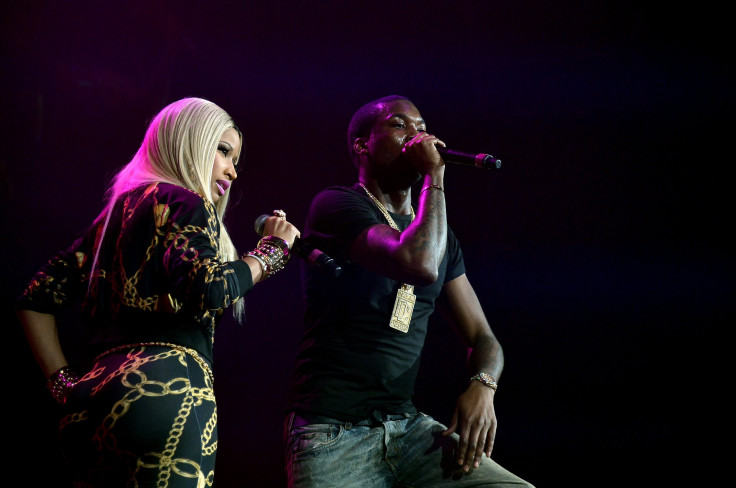 Nicki Minaj and Meek Mill opened up about their relationship and addressed the latter's ongoing feud with Drake during a recent interview with GQ magazine. The couple also posted a steamy video from their photo shoot with the magazine over the weekend.
"Meek Mill never regrets anything," the Philadelphia rapper said, when asked if he regretted slamming Drake. The two rappers started feuding after Mill took to Twitter in July and told people not to compare him with Drake because he doesn't write his own rap songs. Drake responded by releasing two diss songs, "Charged Up" and "Back to Back," while Mill fired back with "Wanna Know." Mill's girlfriend defended him saying, "Meek is a grown a-- man."
Minaj also spoke out about her Twitter rant over the 2015 MTV Video Music Awards last month after her "Anaconda" video failed to bag a nomination.
"I'm very happy I tweeted about the VMAs, because Anaconda had too much of a cultural impact to not be up. When these pop girls have a moment like that, they get nominated for every award, and they win it. And I was happy that people spoke out for me," Minaj said. "People used their voices in the media to say this is true, and even Taylor Swift said, I didn't even realize there was a bigger picture, I missed it. We talked. We got over it."
Minaj and Taylor Swift were briefly involved in a feud after the former slammed the "Bad Blood" singer. However, the two patched things up during the award show by performing together hand-in-hand.
During the interview, Minaj and Mill also opened up about their relationship. Minaj said that it's not easy to date her but she "really respects" that Mill "was willing to give it a try."
"In the beginning he thought we could be in a relationship and I kept telling him no, I don't think he was ready, but he has a very strong mind and he was very convincing and persuasive," Minaj said, to which Mill replied: "You liked me… I didn't have to persuade you."
Despite several rumors related to their split after the Drake feud, Minaj and Mill have been going strong.
In the 30-second video, Minaj is seen staring into Mills eyes and teasing the rapper by passionately kissing him. The couple will be featured in the October issue of GQ, their first magazine spread together.
© Copyright IBTimes 2023. All rights reserved.