Nik Wallenda Grand Canyon Tightrope Walk: Twitter Reactions To Death Defying Stunt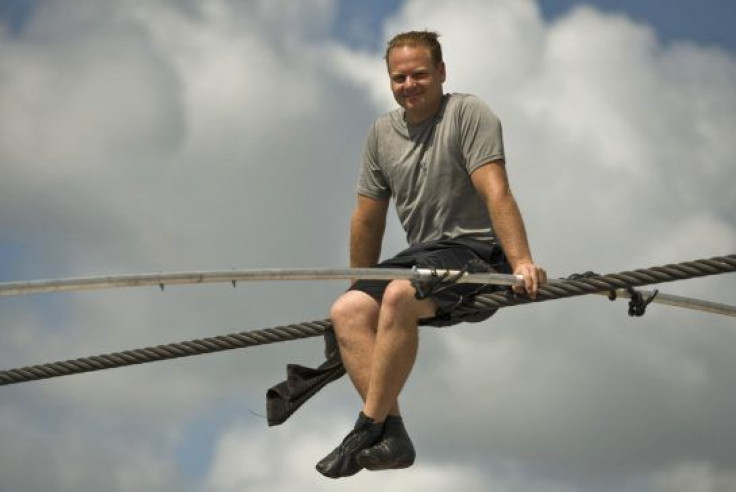 Nik Wallenda commanded the attention of millions Sunday night when he walked a 2-inch steel tightrope over part of the Grand Canyon, with Discovery Channel televising the entire stunt live. The 34-year-old professional daredevil, a seventh-generation member of the "Flying Wallendas" family of acrobats, didn't use a harness or safety net for his extreme feat 1,500 feet above the Little Colorado River.
According to the Associated Press, Wallenda had wanted to walk across the Grand Canyon since he was a teenager, and on Sunday he made his dream come as true as possible. He took his walk just east of the national landmark, in Little Colorado River Navajo Tribal Park, as Forbes noted. It took him about 22 minutes to do it, on a cable just two inches thick, stopping only a few times to feel "the rhythm of the rope."
While most people are afraid of the mere thought of being 1,500 feet in the air, Wallenda said he wasn't scared. "I think you have a choice," he told the Hollywood Reporter before the event. "You can decide whether you want to get scared by something or not. You can go into a haunted house with the mindset of, 'This is going to freak me out,' or go into the haunted house with the mindset of, 'Who cares; this is all set up; it's all gimmicks, and it's not going to scare me at all.'"
This is not to say Wallenda hadn't trained for the event. He told the Agence France-Presse he practiced with man-made gusts as high as 50 mph to prepare him for the wind he would face in the area of the Grand Canyon.
"It's not as though I get on that wire, and it's, 'Whatever happens, happens,'" Wallenda told the Hollywood Reporter. "I've actually trained my whole life that if something happens, I grab that wire right away.
People were enthralled with Wallenda's stunt, taking to Twitter to talk about his record-setting high-wire act. Here's a sample of comments:
© Copyright IBTimes 2023. All rights reserved.