Nikki DeLoach Reveals This Emotional 'Two Turtle Doves' Scene Was Based On A True Story
Hallmarkies get to see even more of Nikki DeLoach on their screens when her third Hallmark movie — and second with Michael Rady — of the year, "Two Turtle Doves," premieres on Hallmark Movies & Mysteries tonight.
The new 2019 Miracles of Christmas film, which was helmed by first-time Hallmark director Lesley Demetriades and written by Sarah Montana based on a story by Lesley, Christine Demetriades and Ian Carroll follows as "Dr. Sharon [Harper, played by DeLoach] searches for a beloved family heirloom in a small Christmas town," according to the synopsis. "When she unexpectedly discovers an adorable little girl and her disheartened father (Rady), she realizes that Christmas miracles really do happen."
In anticipation of the "Two Turtle Doves" premiere Friday, International Business Times spoke with DeLoach all about what makes this Christmas movie so special, the difference between this Hallmark film and her last with Rady ("Love to the Rescue") and the based-on-a-true-story scene that had her fighting back tears.
International Business Times: What can you tell us about your new Hallmark Movies & Mysteries Christmas film, "Two Turtle Doves"?
Nikki DeLoach: Our director Lesley and her mother came up with this beautiful idea of two characters that are both grieving in their lives but in different ways. My character recently lost her grandmother, and Michael Rady's character lost his wife a couple of years back. And they wanted to tell a story of two characters that are trying to move through grief over the holiday. While it may sound like a real downer, it's actually not because... [it's about] how if you can allow yourself to open up, and if you open up to not moving through the grief in isolation, and you can do that with someone else, along the way you might just find magic and miracles, and you also might find love. And that is the story that we're telling.
IBT: Did you feel it was important to tell this story about dealing with grief around the holidays?
DeLoach: Yes, it's so important because the holidays are the hardest time, and grief is universal. We all know the feeling of losing something, whether it's a beloved pet or a human being in our lives that we loved deeply. And if you haven't experienced that, you're going to at some point in your life, and you're going to have the experience of having to move through that at the holidays, which is the toughest time to do so.
We still have all the fun that Hallmark movies offer and all the romance that they offer, but we also tell the story inside of it, and I think that it's something that a lot of people will be able to relate to.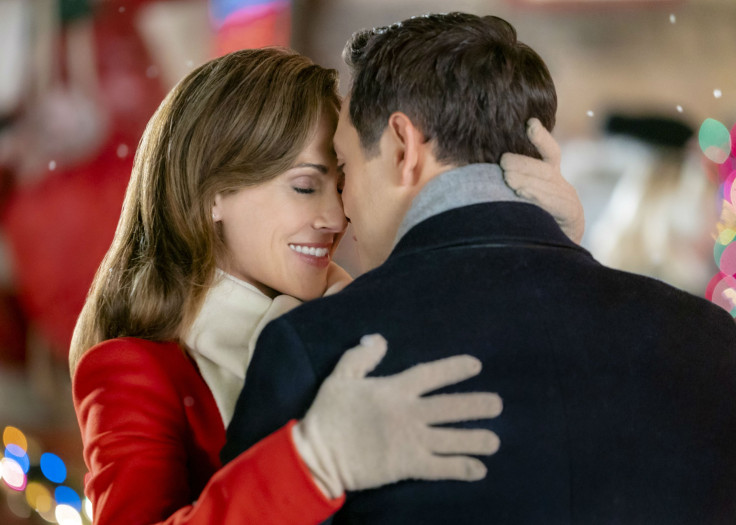 IBT: Did Hallmark reach out to you about doing this movie, or did you reach out to them about wanting to help tell this story?
DeLoach: I reached out to them because I really wanted to be a part of Lesley's story. I really wanted to make it happen, and I also, whenever I reached out to them, I said, "Listen, if you can throw Michael Rady in that mix, then it'll be the best early Christmas present possible for me because I really think Michael and I could drive this home and knock it out of the park for Lesley."
IBT: What are the differences between your "Two Turtle Doves" and "Love to the Rescue" characters?
DeLoach: In "Love to the Rescue," I played a very free, playful, throw-spaghetti-up-against-the-wall, life-is-nothing-but-fun kind of character. In "Two Turtle Doves," I loved my character because I played a Brené Brown type. She's a scientist, and her job is really to research the things that matter, and for her, her focus is trauma on the brain, and one of the things [she focuses on is grief].
IBT: Is there a scene you really loved shooting or that you can't wait for fans to see?
DeLoach: There was a scene that we shot that was very emotional to get through…It was really difficult in this scene for both me and Michael to get through it without sobbing because we knew it was real. Our writer, Sarah Montana…she lost her mother and one of her siblings when she was younger. They were killed by a person who had befriended the family, and it was incredibly tragic, and all that was left was her dad and her brother. And in this scene — she wrote this scene mirroring an experience she had had with her own brother over the holidays where her brother admitted to her that he had been trying not to be sad or to show anyone he was sad because he didn't want to make other people feel sad, and she was like, "It's okay, buddy, it's okay to feel sad. We all feel sad." And he was like, "Yeah, but it just looks like you're being so happy and being so strong, and I don't know how to do that the way that you do." And she was like, "I'm not, though, I am heartbroken underneath. I just didn't want to make you feel that way." And he was like, "Will I feel this way forever? Will Christmas always feel like this? Will the holidays always feel like this?"
She basically brought that scene to life for "Two Turtle Doves," but in this experience we were having it with Michaela [Russell] and Michael's characters. Michaela comes in and she has that same conversation and is like, "Will Christmas always feel this way?" And because we knew that it was planted in reality for Sarah, it was really hard to get through.
If you don't have tears in your eyes during that scene, you might be a robot.
See DeLoach in the emotional and romantic story of "Two Turtle Doves" when it premieres on Hallmark Movies & Mysteries on Friday at 9 p.m. EDT. The actress is also getting ready to walk in the Alzheimer's Association Walk to End Alzheimer's fundraiser on Saturday and anyone interested in donating to the cause can do so via DeLoach's online donation page.
© Copyright IBTimes 2023. All rights reserved.