19 Hallmark Movie Sequels The Network's Stars Want To Make
With Hallmark movies, viewers get to meet and fall in love with characters over the course of a couple of hours, while the characters themselves fall in love onscreen. But what if Hallmarkies didn't have to say goodbye to these people they just started rooting for and getting to know?
Lately, the network's been making sequels to a lot of its films, continuing the love stories introduced in the first movies and giving fans more time with the characters. Still, there are many Hallmark movies that haven't yet gotten the sequel treatment or would benefit from yet another installment in the franchise.
Hallmarkies are often vocal on social media about which films they'd like to see continue, but which ones would the stars themselves like to see get made?
International Business Times spoke with 14 Hallmark Channel actors and two screenwriters to find out which of their movies they'd most like to have a sequel, and, in Andrea Brooks' case, which of her supporting characters she'd love to see get her own spinoff sequel movie.
Here are the 19 Hallmark movies the stars think deserve sequels, with some actors even revealing what those follow-ups should be about:
"Pearl in Paradise" (2018, stars Jill Wagner and Kristoffer Polaha)
Polaha: "It's funny that Jill and I are working together on this mystery cycle because, if not for that, then I think it would've been really fun to watch our characters kind of globe-trot from 'Pearl in Paradise.' It could've been like 'Coffin in Cairo' or whatever. We could've kept going around the world, finding little things. And I think it would've been kind of hard to find what the hook would be, but that would've been a fun thing to pitch and go for."
Wagner: "'Pearl in Paradise' because I would just want to go back to Fiji. Plus, Kris and I were talking about it, I thought, 'How great would it be, now that these two are together, to make it a little 'Romancing the Stone,' a little 'Indiana Jones,' and just kind of go all over the world with these people, traveling around and finding these interesting things, and seeing what they do in their life.' I think it would be just a really cool sequel to that. We need to pitch that for sure."
"Royal Hearts" (2018, Cindy Busby and Andrew Cooper)
Busby: "I 100 million percent would do a sequel for 'Royal Hearts.' It was so much fun. I absolutely loved every single person in that cast. Working with James Brolin was a dream. He and I just get along like two peas in a pod. We have the same type of humor, and he's just a really cool guy. Just really down to Earth and really talented. I mean, that would be so easy. I would do that in a heartbeat."
"Marrying Mr. Darcy" (2018, stars Cindy Busby and Ryan Paevey)
Busby: "If schedules worked out with everybody, I would 100 percent love to do it because I just honestly love everyone in that cast and crew so much. I would definitely do a third one if the opportunity came."
Paevey: "I would love that. I mean, we're married now. There was a lot of talk. Kind of the word on the street is that maybe we'll do another one. I'm hoping for it. I love the 'Darcy' franchise. I'm super lucky to be Darcy, at least in these films. Obviously, I know I'm not the only one. But I love our 'Darcy' team, and I'd love to see where it goes. There was talk about — we had this huge honeymoon plan that involved all this traveling and stuff, and I'd love to see us go abroad. I'd love to see them have a family of their own. I would love to see the 'Darcy' legacy continue."
"Hope at Christmas" (2018, stars Ryan Paevey and Scottie Thompson)
Paevey: "I would love it. I would love [to do a sequel]. I think that's part of the beauty of these stories, is that there could always be more. They all end on a hopeful note."
"Harvest Love" (2017, stars Ryan Paevey and Jen Lilley)
Paevey: I would love to. I loved working with Jen. I loved working with Brenden [Sunderland]. We all really bonded. That was really fast and easy chemistry on that set. And there's been a lot of talk, all over my social media, the last couple of months, pushing really hard for another 'Harvest Love.' So, fingers crossed. Maybe we'll get to do one.
"At this point, I'd be interested in seeing how our farm does. I'd love to see — again, I'm a big fan of kids, so I'd love to see his relationship with her son develop further. Who knows? Maybe even our romance will bloom further, who knows?"
Lilley: "A hundred percent. Yes. Absolutely. It's so easy to work with [Paevey]. I know Hallmark keeps saying, 'We should do that,' and I'm like, 'Yeah, we should.' So, I'm very open to it. Even when we were filming it, I would kind of joke with them — you know, joking like nudge-nudge. I'd be like, 'Right, so it was renamed 'Harvest Love'' — 'Cause it was originally called 'Peared With a Kiss,' which was cute, and then they renamed it 'Harvest Love,' and I was like, 'Oh, right, 'cause we're planning on making it like a [tetralogy], like 'Winter Love,' 'Harvest Love,' 'Spring Love,' 'Summer Love,' right?' So, I mean, I'm hoping so. Gosh, it would be amazing.
"I kept telling them, 'That's what you're doing subconsciously. You're just trying to make it a franchise.' So, I'm way open to it.
"Maybe, like, something's got to go wrong at the farm, obviously. And they work together to solve it. And then he proposes. And then in the summer one they get married."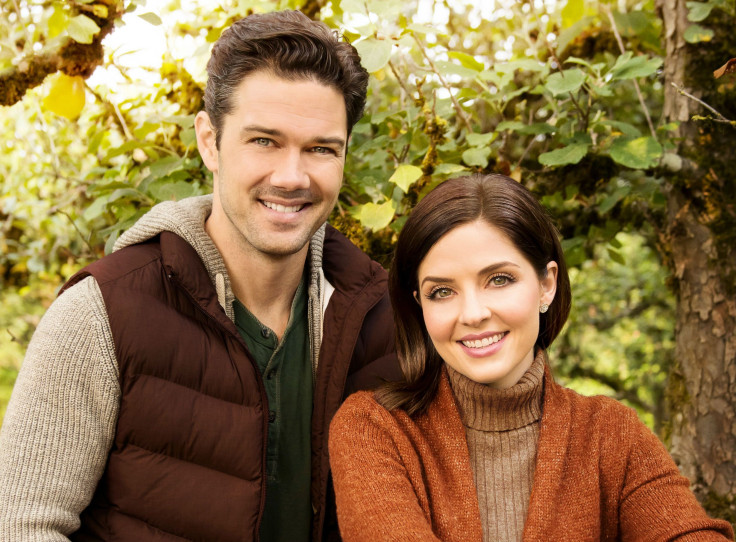 "A Dash of Love" (2017, stars Jen Lilley and Brendan Penny)
Lilley: "I would love to do a 'Dash of Love' sequel. I love that movie. I wrote a whole synopsis out for [Hallmark]. In this movie, you meet my parents and my ex-boyfriend comes back to town. Yeah, I have a whole one-sheet for them. Like, 'In case you wanna do it, here are my ideas.'
"Truly, Madly, Sweetly" (2018, stars Nikki Deloach and Dylan Neal)
Deloach: "We've already talked about that. We're hoping this one does well so we get to do a part two to it. 'Cause I know Dylan and I, we're ready to go. We're dying to work together again. It really was just such a magical experience getting to work with him.
"I want to see what happens when they open this place up. I also — do you remember the character Courtney [played by Alison Wandzura]? ...I think that she should throw a monkey wrench into their plans and open up a bakery down the street. And then see what happens. But mostly because I just thought she was just so funny and such a good actor, and if we did another one, I would love to see more of her in it. And I think it would be really fun to see a dueling bakery from her and what she would get up to."
"A Dream of Christmas" (2016, stars Nikki Deloach and Andrew W. Walker)
Deloach: "It's probably too late in the game to do one for 'A Dream of Christmas' because, usually, if they're going to do sequels they do them right back to back. So, if it airs in 2019, the sequel's in 2020. They like them to be right on the heels of each other. But it's probably the best Christmas movie I've been a part of. The script was so beautiful. I loved playing that character."
"The Perfect Catch" (2017, stars Nikki Deloach and Andrew W. Walker)
Deloach: "I just pitched that to Hallmark, like a week ago [Author's note: interview took place in September 2018]. So, we'll see. I just pitched them a part two to that because I was like, 'This is how that looks.' And I would like that, too, for [Walker], because that was a movie that gave him a lot more to do. Sometimes the men don't get to exercise their chops, as much, and this gave him a much bigger storyline, and it was truly a double-hander in that way. And he's such a good actor, so I was really happy for him that he got a lot more to do in that movie.
"If part two happened, Andrew's character would have to end up getting a major league contract. He goes back into baseball. I see them in the beginning, they're planning their wedding, right? They got engaged, they're planning their wedding, life is good. Except his character, he's very unhappy. He had taken a job as a coach for a local team, but it's not satisfying him. It's not really fulfilling him. So he ends up getting a major league contract again. He gets back out there. And, because of it, the diner starts to struggle, their lives start to struggle, the engagement's called off. And then, of course, at the end, instead of him flying home to be with her, she flies to him and surprises him on the field.
"That's really important to me, too. Like, you shouldn't have to say, 'Oh, I can have love, but I can't have my career. I can have my career, but I can't have love.' You should have both."
Walker: "I really like 'The Perfect Catch' with Nikki Deloach. And also Nikki Deloach is one of my wife's and my good friends. So, we've done two now. And I just love the complexity of that baseball player, and I would love to have some more time to work on him and see where he is and what he's doing."
"Love in Design" (2018, stars Andrew W. Walker and Danica McKellar)
Walker: "I would love to work with Danica again. I think this movie — I think it's so interesting to have this Home & Garden television personality, and I think the end of the movie, it does have the ability to do a sequel. Because she tells Wally, her boss, she's like, 'No, you know what, I think I'm going to do things my way.' And so what does that look like for the future for her?"
"SnowComing" (2019, stars Trevor Donovan and Lindy Booth)
Donovan: "I would definitely love to do a sequel. The way it ends, I'm out of the football game, I'm a coach now in high school. I mean, I could definitely see a sequel being done, and I'd definitely want to be a part of it."
"Strawberry Summer" (2012, stars Trevor Donovan and Julie Mond)
Donovan: "The 'Strawberry Summer' one was cool because I got to sing and write a little music for it and perform a little bit. That would be a fun one to revisit."
"Hello, It's Me" (2015, stars Kavan Smith and Kellie Martin)
Smith: "I really enjoyed doing 'Hello, It's Me' with Kellie. I just got along really well with her, and I kind of thought the character would be neat to continue to play, just this whole rich guy. I like playing rich guys, it's fun. They always give you fun cars to drive, and your houses are always nice. So, it's fun to play rich dudes. But I did really enjoy working with Kellie, and I thought there was more to get into with that character."
"The Perfect Bride: Wedding Bells" (2018, stars Kavan Smith and Pascale Hutton)
Smith: "We're already thinking about a third. If we can get people on board, if we can get people to watch, we already have a great idea for a third one. We talked to [Hallmark] about a third possible installment and we have a great idea. I can't let it out of the bag, but we're gonna try to do the same thing. We're gonna call them up and just say, 'Hey guys, can we have another meeting?' They won't take phone calls from us after a while because they'll know it's just wanting to do another movie of some kind.
"I think that we have a really strong idea. I think the idea that we have for the third one is the strongest idea yet, the strongest sort of plot and storyline… I really wanna do a third one. We have a great idea for a third one."
Hutton: "Kavan and I have done a lot of talking about that actually and… we both feel that there is one more installment in this story arc. We, right now, are kind of fleshing that out and brainstorming different possibilities and ideas with [screenwriter] Rick Garman of what that next chapter is. There's many different possibilities and we're just kind of trying to streamline them, but I definitely feel there's one more.
"I think the natural thing is to put these two on a honeymoon. And what I'd love to see is a honeymoon where the running theme throughout the entire movie and sequel is this idea of 'What is perfect?' Like, if you're trying to attain perfect, then you're kind of missing the point. And, so, we like the idea of it being the idea of the two of them traveling somewhere exotic for a honeymoon and literally everything going wrong. It being totally unromantic and bad weather and disaster after disaster and so it's the opposite of a perfect honeymoon. But, do they kind of get discouraged by that and throw the towel in or do they embrace it and go, 'Well, this is the adventure and let's go for it'?"
"Royally Ever After" (2018, stars Fiona Gubelmann and Torrance Coombs)
Gubelmann: "Oh my God, I hope so. We need the 'Royal Wedding,' we need 'Royally After: The Royal Baby.'
"The Sweetest Heart" (2018, stars Julie Gonzalo, Chris McNally and Andrea Brooks)
Brooks: "In recent memory, I had so much fun working on 'The Sweetest Heart.' That character was pretty quirky, and she worked in a coffee shop, and she had very particular ideas when it would come to romance and just doing all the cupcake stuff. I feel like she was quirky, and I love playing quirky characters. So, that one was fun. I would love to explore something more along those lines."
"A Winter Princess" (2019, stars Chris McNally and Natalie Hall)
McNally: "I really liked working on location, so, I would say 'A Winter Princess' [because] we got to film at Big White [Ski Resort] in Kelowna [British Columbia, Canada], and that was just such a great experience. Having everybody — cast and crew — all in this little ski town, it kind of felt like we were a little community."
"A Joyous Christmas" (2017, stars Natalie Knepp and Michael Rady, written by Scott Damian and Heather R. Provost)
Provost: "We would love [a sequel]."
Damian: "'A Joyous Easter.'"
Provost: "'A Joyous Easter,' 'A Joyous Thanksgiving.'"
"Season for Love" (2018, stars Autumn Reeser and Marc Blucas, written by Scott Damian and Heather R. Provost)
Damian: "'Season for Love' [sequel] could be 'Christmas for Love' or something."
Provost: "Or just 'Season for Love 2.'"
Damian: Because you'll see at the end that there's always room for a sequel.
Provost: "'Season for Love: The Later Years.' With 'Season for Love,' it could be — they could be running their restaurant and having to enter the competition again the next year or whatever. We'll think of something."
© Copyright IBTimes 2022. All rights reserved.
FOLLOW MORE IBT NEWS ON THE BELOW CHANNELS