Nintendo Switch: Specs, Features And More On the $300 Console Releasing March 3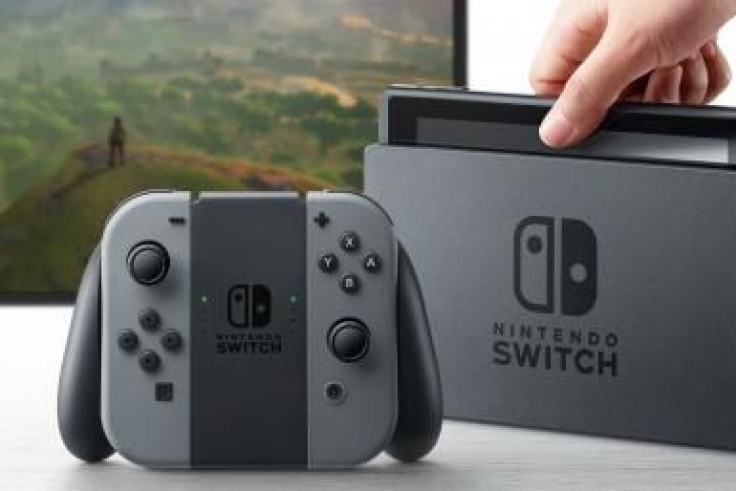 The Nintendo Switch gaming console is finally official with a price tag of $300 and a March 3 shipping date. With this price, it comes out to be cheaper than the PlayStation 4 and Xbox One S.
Nintendo's gaming console has been highly anticipated, mostly because of its higher level of compatibility in comparison to other consoles.
Nintendo has revamped the traditional joystick design. It has designed independent left and right controllers called Joy-Cons, which can be used both attached to the console, or in the TV mode where it can be attached to the joystick pad and used like a traditional joystick. Most importantly, there are buttons on the left side of the Joy-Cons, which will let you use them in multiplayer gaming as independent joysticks.
The Joy-Cons come with an accelerometer, a gyroscope and an infrared blaster, which map your every movement and let you perform different maneuvers while playing.
Both left and right Joy-Cons have two buttons in addition to the traditional joystick button. The left one has a capture button, which you can use to capture gaming progress and for sharing on social media. The right one has a home button, which you can use to move out of a game when you need to do so.
Nintendo has bundled the Switch with bands that you can wear on your wrist while playing so that you do not drop the Joy-Con during intensive gaming.
Players can also opt for a $70 Pro controller, which is designed for those who want a more traditional gaming feel.
The Nintendo Switch itself is a console-and-screen hybrid, which can be used in three modes:
TV Mode
In this mode, you can plug the Switch inside its dock and attach the Joy-Cons to the joystick pad and play games like you would in a PlayStation setup.
Handheld Mode
This mode is similar to a Nintendo GameBoy. The Switch display can be used as a handheld gaming display with Joy-Con controllers attached on the side of the display.
Tabletop Mode
You can simply prop up the Switch using its stand and play on the Switch's own display with a joystick.
Nintendo claims that the device will give you 2.5 hours of gaming on a full charge. You can also play games on the device while it is charging. The Switch comes with a USB-C charging port located on the bottom of the device.
The Switch is also capable of what Nintendo calls Local Multiplayer — up to eight players with Switch controllers can play a game together.
Its graphics processing power increases when placed inside its dock. It will run 720p in the handheld mode, but when docked in the TV mode, it will push out 1080p graphics.
The company has already made a limited number of preorders available starting 9:30 a.m. EST on Jan. 13.
© Copyright IBTimes 2022. All rights reserved.
FOLLOW MORE IBT NEWS ON THE BELOW CHANNELS