No Bill, No Break Live Stream: How To Watch House Democrats' Gun Control Sit-In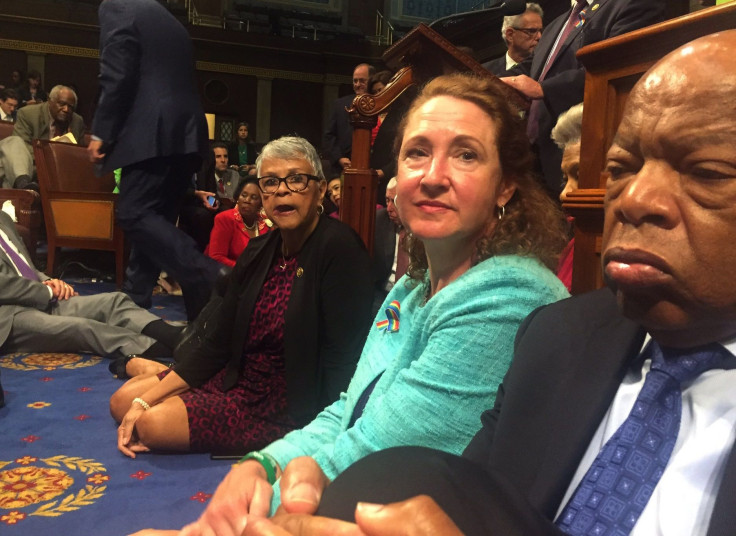 UPDATE: 12:50 a.m. EDT: As the Democratic sit-in enters the 13th hour, the House is expected to reconvene at 12:55 a.m. ET. Democrats continue to give speeches with frequent pauses to chant 'no bill, no break' and 'Shame! Shame! Shame!'
Outside the Capitol, people gathered in solidarity with the bill on gun control with democrats coming out one by one to address the masses.
UPDATE: 11:10 p.m. EDT -- Republicans were planning to hold an adjournment vote around midnight, CNN reported. At that point, lights are normally turned off and the Capitol building is closed, but CNN anchor Don Lemon speculated it was unlikely that Democrats would leave the building, and would instead continue their sit-in that began hours ago.
Earlier Wednesday evening, pizzas were being delivered to the Capitol. In addition, pillows, blankets and sleeping bags were brought in by House staffers, CNN reported.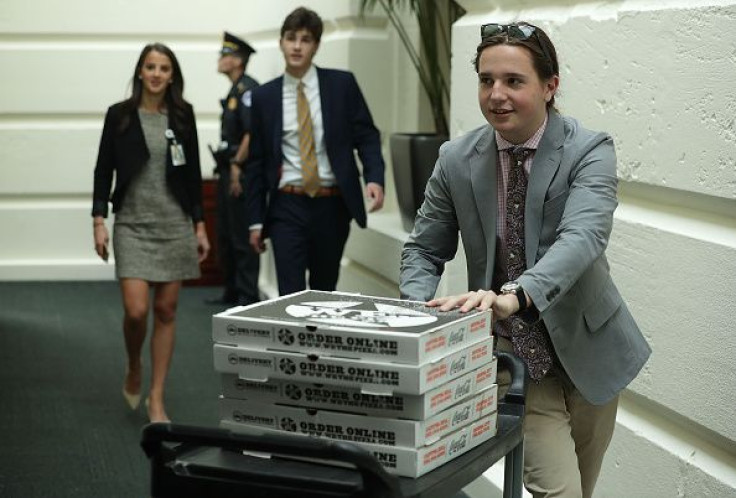 UPDATE: 10:30 p.m. EDT -- A showdown was erupting on the House floor Wednesday night between House Democrats seeking votes on gun legislation and Republicans trying to get other business done before Congress shuts down for an Independence Day recess, the New York Times reported.
At about 10:20 p.m., CNN cameras showed what appeared to be a raucous meeting inside the Capitol, in which Democrats were singing "We Shall Overcome" and chanting that they wanted the gun legislation brought to a vote.
Rep. Adam Schiff, D-Calif., told CNN that, specifically, Democrats were hoping to force votes on "No Fly, No Buy," a provision that would prevent people on the federal no-fly list from being legally able to purchase weapons. Schiff also said Democrats hoped to broaden the requirements for background checks prior to gun purchases.
The gun issue has come under greater urgency because of the 2016 presidential election and because of a seemingly never-ending stream of gun-violence horrors throughout the nation, most recently including the June 12 massacre in Orlando, Florida, and continued shootings in cities such as Chicago.
UPDATE: 10 p.m. EDT -- House Republicans are reconvening in the Capitol as House Democrats continue their sit-in to try to force a vote on gun legislation, lawmakers and media sources tweeted. But whether the gathering would result in votes on gun-related bills remained unclear.
UPDATE: 8:30 p.m. EDT -- Chanting "No bill, no break!" House Democrats on Wednesday night vowed to keep their sit-in going until Republican leaders agree to hold a vote on gun control legislation, Reuters reported.
But House Speaker Paul Ryan dismissed the sit-in as a "publicity stunt," adding he would block any legislation that would threaten the Second Amendment right to gun ownership.
UPDATE: 5:35 p.m. EDT -- U.S. Sens. Bernie Sanders and Elizabeth Warren have joined the Democratic sit-in caling for a vote on gun legislation, the Boston Globe reported.
Original story:
Democrats staged a sit-in on the floor of the U.S. House of Representatives on Wednesday to protest the Republican-controlled Congress' inaction on gun control legislation in the wake of multiple mass shootings, such as the one in Orlando, Florida, this month. However, Americans may have had a hard time following the action on Capitol Hill in Washington.
Led by Speaker Paul Ryan of Wisconsin, House Republicans acted to turn off the cameras that cover activity on the chamber's floor via the pay-TV network C-SPAN. Many online users complained about the blackout on social media, but C-SPAN insisted it did not make the decision to turn off the cameras.
In any case, some Democrats participating in the sit-in employed alternative methods to give viewers a peek into the House chamber.
Rep. Scott Peters, D-Calif., used Twitter's live streaming application Periscope to share video of the protest as various members gave impassioned speeches. Peters' feed was choppy — he uploaded multiple short segments instead of one continuous stream — but a few hours into the sit-in, it was the only one still providing live glimpses of the protest via video.
See Peters' Periscope feed here, with the latest "Live" segment marked on the left rail.
Complementing Peters' streaming video, a number of House Democrats posted photographs of the sit-in on social media. They included Reps. Suzanne Bonamici of Oregon, Lois Frankel of Florida and Janice Hahn of California.
The Democrats' protest began with a speech by Rep. John Lewis of Georgia condemning Republicans for blocking gun control legislation and accusing the GOP of kowtowing to the National Rifle Association (NRA).
"Sometimes you have to do something out of the ordinary. Sometimes you have to make a way out of no way. We have been too quiet for too long," Lewis said. "There comes a time when you have to say something, when you have to make a little noise, when you have to move your feet. This is the time. Now is the time to get in the way. The time to act is now. We will be silent no more."
After Sen. Chris Murphy, D-Conn., recently conducted a 15-hour filibuster to bring a vote to the floor, the other chamber on Capitol Hill still rejected four gun control measures that would have curbed gun sales to people on terrorism watch lists and expanded background checks on gun buyers.
President Barack Obama chastised the Senate for not passing a single measure.
"Gun violence requires more than moments of silence. It requires action," Obama wrote on Twitter. "In failing that test, the Senate failed the American people."
FOR FREE to continue reading
✔️ Unlock the full content of International Business Times UK for free
offer available for a limited time only
✔️ Easily manage your Newsletters subscriptions and save your favourite articles
✔️ No payment method required
Already have an account?
Log in
© Copyright IBTimes 2023. All rights reserved.