NYC Dog Law Confusion Fails Brooklyn Pet Owner; Dog That Killed Her Pet Isn't Investigated By City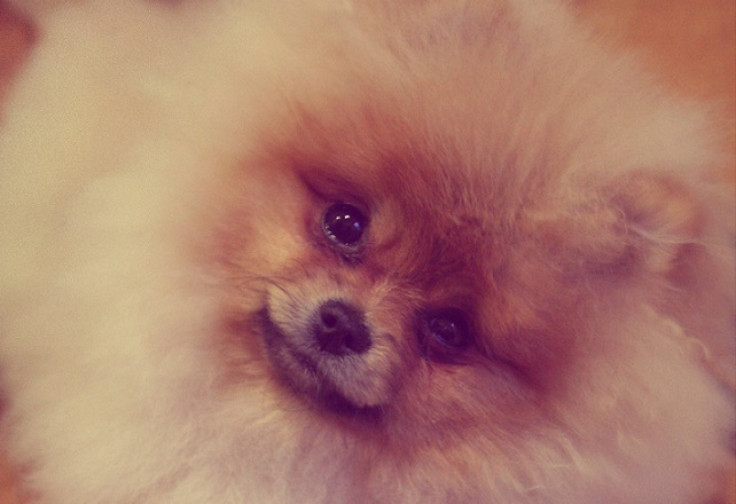 Lauren Schneider and her fluffy 1-year-old Pomeranian named Arlo were out for a walk in June along Manhattan Avenue, the main thoroughfare of Brooklyn's Greenpoint neighborhood, when they encountered a man and two women walking another dog resembling a white German shepherd mix. Video footage of the ensuing attack shows that when the two groups approached each other, the white dog suddenly lunged and seized the much smaller Pomeranian in its jaws. The video also shows the other dog's owner immediately walking away, leaving Schneider on the sidewalk screaming for help. Arlo lost consciousness in a car on the way to an emergency veterinarian's office, where attempts to revive him failed.
To hold the other dog's owner accountable, Schneider, a 30-year-old filmmaker, is gathering signatures for an online petition calling on New York City's health department to hold a "dangerous dog hearing." Such a hearing could force the owners of the dog that killed Arlo to muzzle their pet while taking it out on public property, or require them to take out a liability insurance policy in case it attacks again.
Schneider needs the petition because, she says, city officials wouldn't listen to her when she reported the attack. The police told her it was a civil issue and referred her to the ASPCA. The ASPCA said they didn't handle dog attacks and told her to call the police. NYC's 311 hotline told her they couldn't do anything and recommended that she call 911 in the event of a future attack. Animal control told Schneider they don't handle dog attacks, and the NYC Department of Health and Mental Hygiene told her they could not do anything since it was a dog-on-dog incident. The same message cropped up again and again: Since a person wasn't harmed, there's nothing to be done.
"They want to treat dogs like disposable pieces of property," Schneider said in an interview at a Greenpoint café last week. "It's not a bike; it's something that's lost its life."
An examination of both NYC and New York state law reveals that Schneider shouldn't even have to be gathering signatures in the first place. State laws say that when Schneider first reported the attack on Arlo, either a police or animal control officer should have told her that she can make a complaint about the attacking dog to a municipal judge. The judge would then decide if the evidence merits a dangerous dog hearing.
But after Arlo's death, the city did nothing, largely because of a discrepancy between state and city law and the city's health code. NYC's health code does not address dog-on-dog attacks, but both New York state law and the NYC administrative code contain extensive provisions dealing with dogs that attack domestic animals. The resulting legal and procedural mismatch has created a crack that Schneider's case – and perhaps others like it – has disappeared into.
"It is not uncommon that there are discrepancies between state and local laws," personal injury lawyer James B. Reed of the Ziff Law Firm wrote in an email. "The good news for the victim is that the state law is very likely applicable to provide protection."
NYC handles reports of dog attacks primarily through the city health department, which says that it follows the prescripts of the city's health code, which defines a dangerous dog as one that "menaces, threatens, attacks or bites a person." Accordingly, the health department rarely investigates incidents of dog-on-dog violence, and doesn't keep track of the number of incidents where dogs attack other animals in the city. Plus, the NYPD instructs its officers to file a dog bite report with the health department only if an animal is suspected to be rabid or if it bites a person, according to a document provided by the police department's Deputy Commissioner for Public Information.
In contrast to the city health code, both New York state law and the NYC administrative code say dogs that attack domestic animals can be deemed dangerous. The definition of a dangerous dog found in the city administrative code includes an animal "which bites, inflicts injury, assaults or otherwise attacks a human being or domestic animal without provocation on public or private property"; the state law's section on dangerous dogs applies to dogs that attack people, companion animals (such as guide dogs), farm animals or domestic animals.
New York state exempts NYC from certain portions of state dog laws, like the section that outlines the procedure for getting a dog license. This is done to give a big city like NYC more freedom to enact its own programs. But New York carves out a special importance for dog attacks; the state law stipulates that its section on dangerous dogs applies to "all municipalities including cities of two million or more," and also says that while cities can adopt their own dangerous dog programs, "no such program shall be less stringent" than the one outlined in the state law.
NYC's administrative code also empowers the health commissioner to hold hearings on dogs that attack domestic animals, as well as those that attack people, "upon the complaint of any person that a dog is dangerous."
"The health code regulations should be consistent with the [NYC] Admin Code," attorney Elinor Molbegott, who specializes in animal law, wrote in an email.
When first asked about the city's dangerous dog laws and whether they applied to dog-on-dog attacks, the health department pointed to the NYC health code and its definition of a dangerous dog, limited to dog-on-human attacks -- the same justification that Schneider says was used to brush her off.
When the broader state law was brought up, the NYC health department responded in an emailed statement that "the Department prioritizes investigations to those involving serious injuries to people, although if circumstances show that a dog attacking other dogs creates or may create a danger to people, we may take steps to have the owner control that dog."
In other states, people whose pets have fallen victim to other dogs have also been frustrated by their lack of options. Arizona couple Richard and Sally Adrande got their state to enact stricter laws on dangerous dog attacks after their miniature poodle Fabian was killed by a pit bull in 2009, and they found themselves with no option to pursue the owner civilly or criminally. At the time, there was no Arizona state law addressing dog-on-dog attacks. They successfully lobbied for the creation of "Fabian's Law," enacted in 2011, which stipulates that owners who do not control an aggressive dog to prevent it from biting either a person or animal can be charged with a class 1 misdemeanor. It also requires owners of dangerous dogs to prevent the animal from escaping, and makes it a felony to sic a dog on another person (except in cases of self-defense).
Even when cities enforce laws on dangerous dogs, problems can persist. A 2012 incident in Austin, Texas, ended with one dog losing a leg and three pit bulls euthanized -- and highlighted several weaknesses in the Lone Star State's dog laws, the Austin American-Statesman reported last November. Though the pit bulls had bitten a woman and attacked another dog in nearby Williamson County less than a year before, Austin animal control was not notified when the owner moved into town. Though Texas requires local animal control agencies to maintain lists of dangerous dogs, the Williamson County Sheriff's office, which handles animals for that area, did not keep one on hand. The pit bulls' owner, for his part, also protested that he was not allowed to appeal a judge's decision to euthanize his dogs.
Cities and towns in Westchester County, just north of NYC, do send their dangerous dog cases to local judges. But some critics say that municipal courts don't impose harsh enough penalties, even when a dog already deemed dangerous attacks again and again. In February 2012, the Journal News described several such cases, including one in Lewisboro, N.Y., involving a bloodhound-dachsund mix named Sawyer that attacked two people and another pet. A town judge found that Sawyer was dangerous but did not order his owners to put up a fence or keep him in a cage. After the order, the dog charged or bit at least four more people, according to the Journal News.
Some attorneys point out that, in practice, cities and states do not always fulfill their legal obligations to the exact letter.
"We have many laws that are not enforced, or poorly enforced, or selectively enforced," personal injury lawyer Eric Turkewitz wrote in an email. "Go to any street in Manhattan and you will see jaywalkers, for instance."
While this is true, it should be noted that the average NYC jaywalker isn't running up to other pedestrians and violently mauling them. One suspects that an investigation of some sort would result if that happened.
Schneider might never have known the identity of the person who owned the dog allegedly responsible for the attack but for the fact that Arlo was killed right in front of the Napa Auto Parts shop on Manhattan Avenue. Napa's security camera was rolling at the time, and it recorded the entire incident, including a clear shot of the shepherd mix's owner as he walked away after the attack. "That's like leaving the scene of a crime, in my eyes," Schneider says. "It sickens me."
After the security footage aired on the local CBS news station and an account of the attack appeared in the local news website Greenpointers, the owner of the attacking dog was identified by the man's neighbors. The presumed owner of the attacking dog lives just a block away from Schneider (attempts to contact him in person were not successful). Schneider says several other people have come to her and told her they'd seen the same white dog behave aggressively and out of control.
Not every case of a dog-on-dog attack will be as clearly documented as Arlo's death, or be such a clearly one-sided fight. Vinny Spinola, the vice president of the Brooklyn Animal Resource Center, otherwise known as BARC, a Williamsburg no-kill shelter, noted that sometimes the dogs that get into a scrap are more evenly matched in size, and it can be hard to tell which animal is the instigator. But, Spinola says, whenever it's clear that a dog residing at BARC started a fight with another dog, the shelter offers to pay the vet bill.
"I think it's an act of common courtesy," Spinola said.
Many dog owners in the Greenpoint and Williamsburg area have become familiar with the attack -- either from the local news, or from the posters that Schneider has been putting up in the neighborhood, showing pictures of the white shepherd mix she's identified as Arlo's killer. Greenpoint resident and dog owner Suzanne Chang said incidents like the attack on Arlo were one more reason she tries to stick to parks she knows when she's out walking Ernie, her Boston terrier-pug mix.
"If you can't train your dog, maybe you shouldn't own one," Chang said, while Ernie chewed on a green plastic discus in the McGolrick Park dog run.
Whatever comes of Schneider's petition, a curious legal black hole remains. Schneider found out about dangerous dog hearings only after doing some research; other dog owners might not be so lucky to stumble across arcane scraps of NYC and New York state regulations.
Schneider, meanwhile, is taking one of the few options left to her. She went to the state courthouse in downtown Brooklyn five days after the attack to file a suit against the believed owner of the dog that allegedly killed Arlo. She's trying to get about $1,500 to cover Arlo's vet bills and cremation expenses, legal fees, and the value of the Pomeranian.
But holding owners of dogs accountable for medical and veterinary bills in civil court is no easy feat, according to Garrett Rosso, who is on the board of directors of NYCdog (pronounced "nice dog"), an umbrella organization of dog owner groups that works to maintain dog runs and off-leash areas in city parks. Judges look for proof that the owner knew the dog had a "propensity for violence."
"How the courts interpret that is you've gotta prove that that dog has bitten before. And the only definitive proof the courts look at is a previous court case. That makes it a catch-22," Rosso said in a phone interview. "Lawyers know that 'first bite' cases are losers and you can't collect on them."
But even getting her vet bills paid would not be enough for Schneider. She wants to make sure that no other dog -- or a small child -- is in Arlo's place next time. She wants the other dog's owners to take responsibility for their pet.
"In the big city, we all have to walk on the sidewalk together," she says.
Spokespersons for Mayor Michael Bloomberg's office, City Council Speaker Christine Quinn's office, and NYC Animal Control & Care did not respond to a request for comment for this article in time for publication.
FOR FREE to continue reading
✔️ Unlock the full content of International Business Times UK for free
offer available for a limited time only
✔️ Easily manage your Newsletters subscriptions and save your favourite articles
✔️ No payment method required
Already have an account?
Log in
© Copyright IBTimes 2023. All rights reserved.