NYE Playlist 2016: 30 Songs, Music Videos To Play At Your New Year's Eve Party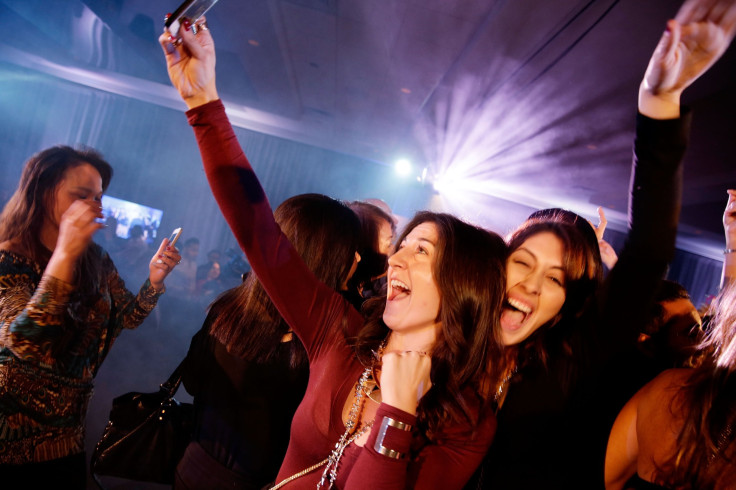 There's no better way to ring in the new year than with friends, family and, of course, a stellar playlist. Whether you're hosting a cocktail party, throwing a rager or keeping things low key, these chart-topping songs will have you and your guests dancing into 2016. Here's a roundup of some of this year's hottest hits and their music videos to play on New Year's Eve.
1. "On My Mind" by Ellie Goulding
This uptempo pop track on Goulding's third album, "Delirium," was produced by Max Martin, who is also responsible for The Weeknd's "I Can't Feel My Face" and Taylor Swift's "Bad Blood."
2. "Sorry" by Justin Bieber
Beliebers have gone wild for this track, which was co-produced by Skrillex, on Bieber's fourth studio album, "Purpose."
3. "Cool for the Summer" by Demi Lovato
The former Disney starlet released this red-hot, summertime hit about playful experimentation.
4. "Hotline Bling" by Drake
The music video has been turned into dozens of hilarious memes and several parodies, including an SNL skit featuring Donald Trump.
5. "Bad Blood" by Taylor Swift, featuring Kendrick Lamar
Swift coined the term "squad goals" with this music video that shows off her posse of beautiful, talented friends, including Karlie Kloss, Selena Gomez and Cara Delvinge.
6. "Cake by the Ocean" by DNCE
Joe Jonas sings lead vocals in his new pop/rock band on their debut single, a '70s-inspired track that fuses dance, pop and R&B.
7. "Good for You" by Selena Gomez
In this sultry, slow-burner jam, Gomez sings about wanting to please a lover.
8. "Irresistible" by Fall Out Boy, featuring Demi Lovato
Fall Out Boy teamed up with Lovato to remix a track on their sixth studio album, "American Beauty/American Psycho."
9. "Hey Mama" by David Guetta, featuring Nicki Minaj, Bebe Rexha and Afrojack
Another winning collaboration from Guetta and Minaj, who handles the spicy verses on this dancehall track.
10. "Roses" by The Chainsmokers, featuring ROZES
With captivating lyrics and a beat that builds in intensity, this song is as sweet as its name.
11. "Can't Feel My Face" by The Weeknd
The Internet-branded star clearly channeled Michael Jackson in this song and music video, making it difficult not to sing and dance along.
12. "Cheerleader (Felix Jaehn Remix)" by OMI
Jamaican reggae singer OMI has soared in popularity thanks to Felix Jaehn's remix of his song "Cheerleader."
13. "Stitches" by Shawn Mendes
This Canadian pop star captured the hearts of teens around the world with his folksy, uptempo song about a sudden breakup.
14. "Focus" by Ariana Grande
Grande shows off her pipes in this trumpet-heavy track.
15. "Shut Up and Dance" by Walk The Moon
This energetic, '80s-inspired song will have you dancing even after the ball drops.
16. "How Deep Is Your Love" by Calvin Harris, featuring Disciples
Harris' latest dance track features a strong female voice from the band Disciples.
17. "Hello" by Adele
After a four-year absence, Adele returned with this instant classic that tells of love, heartache and perseverance.
18. "Where Are Ü Now" By Skrillex and Diplo, featuring Justin Bieber
Dance music masterminds Skrillex and Diplo teamed up with Bieber to deliver this club favorite.
19. "Here" by Alessia Cara
The 19-year-old Canadian singer became an instant star with this viral smash hit. She even joined Taylor Swift onstage for a performance of this hit song during the Tampa stop of Swift's "1989" tour.
20. "All About That Bass" by Meghan Trainor
This catchy tune is Trainor's ode to full figures as well as bodies of all shapes and sizes.
21. "Uptown Funk" by Mark Ronson, featuring Bruno Mars
British producer Ronson collaborated with singer Mars to create this brassy jam.
22. "Lean On" by Major Lazer and DJ Snake, featuring MØ
This track from Diplo's electronic music group Major Lazer was initially passed on to Nicki Minaj and Rihanna, who both turned it down. The song became a smash hit with Danish singer MØ.
23. "Trap Queen" by Fetty Wap
The new hip-hop artist released this Bonnie and Clyde-esque smash for a new generation.
24. "Perfect" by One Direction
Some speculate whether Harry Styles co-wrote this song with a particular ex-girlfriend in mind (hint: she sings a song titled "Style").
25. "Same Old Love" by Selena Gomez
Gomez is sick of that "Same Old Love" in this finger-snapping hit.
26. "The Hills" by The Weeknd
This song takes its hook from the horror film and cult classic "The Hills Have Eyes," and the music video is just as harrowing.
27. "The Feeling" by Justin Bieber, featuring Halsey
Bieber teamed up with American singer and songwriter Halsey for this duet, which features emotional vocals over a melodic EDM beat.
28. "Confident" by Demi Lovato
Lovato sings about self-empowerment and self-love in this motivational, midtempo track.
29. "See You Again" by Wiz Khalifa, featuring Charlie Puth
This is rapper Wiz Khalifa's emotional tribute to "The Fast and the Furious" movie star Paul Walker, who died in a single-vehicle collision in 2013.
30. "Stressed Out" by Twenty One Pilots
Every millennial can relate to this catchy song, which talks about the nostalgia for childhood, the pressure of adulthood and family relationships.
© Copyright IBTimes 2023. All rights reserved.