Obama Administration Takes First Major Actions Against Uganda's Anti-Gay Law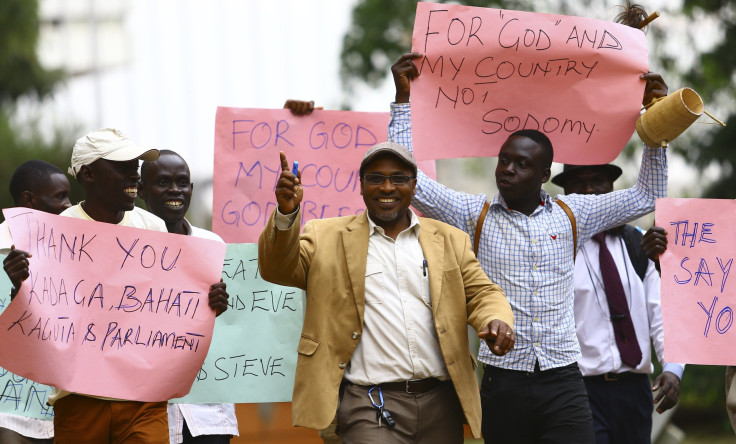 One month after Ugandan President Yoweri Museveni signed a controversial anti-gay bill into law, the Obama administration has begun pressuring the African nation to repeal the law or face consequences.
The anti-gay law, which called for the death penalty for homosexual acts when it was first proposed in 2009, sentences convicted homosexuals to life in prison. The law also criminalizes "promoting" homosexuality, recommending seven years in prison to any individuals offering so much as counseling to gay, lesbian, bisexual and transgender Ugandans. Before it was signed into law, President Obama warned that if Museveni did sign the bill, it "will complicate our valued relationship with Uganda," a threat that appears to be coming to fruition.
On Sunday, the Obama administration announced that it would take four key steps against Uganda's harsh anti-gay policy. According to the Washington Post, the United States will drastically cut back its support for the Inter-Religious Council of Uganda, which publicly supports the anti-gay law. The U.S. will pull approximately $6.4 million in support to the organization, though it will continue funding the group's HIV/AIDS prevention efforts with an additional $2 million.
Additionally, because Uganda's anti-gay law threatens any promotion of homosexuality with seven years jail, a planned study between the Centers for Disease Control and Uganda University designed to identify groups most at risk for HIV/AIDS will be suspended because "we think proceeding could cause danger to staff and respondents," senior African affairs director for the National Security Council Greg Harris told the Post.
For similar reasons, the Obama administration has decided to divert approximately $3 million for tourism programs promoting Uganda to non-governmental agencies developing methods of biodiversity protection. Finally, the Department of Defense has opted to reschedule several events slated to be held in Uganda this year and have them in other countries.
"As we continue to consider the implications of President Museveni's decision to enact the Anti-Homosexuality Act, the United States has taken certain immediate steps to demonstrate our support for the LGBT community in Uganda, deter other countries from enacting similar laws and reinforce our commitment to the promotion and defense of human rights for all people -- including LGBT individuals -- as a U.S. priority," National Security Council spokesman Jonathan Lalley explained to Buzzfeed on Monday.
While the Obama administration has vowed to push Uganda to repeal its harsh anti-gay measures, it has also renewed a commitment to crack down on Ugandan warlord Joseph Kony, whose Lord's Resistance Army has led guerrilla attacks in central Africa for years. According to the Post, the U.S. will send at least four CV-22 Osprey aircraft and 140 Air Force Special Operations members to Uganda for the purpose of hunting down Kony.
© Copyright IBTimes 2023. All rights reserved.