Obama Approval Rating: Does President Help Or Hurt Hillary Clinton's Chances To Beat Donald Trump?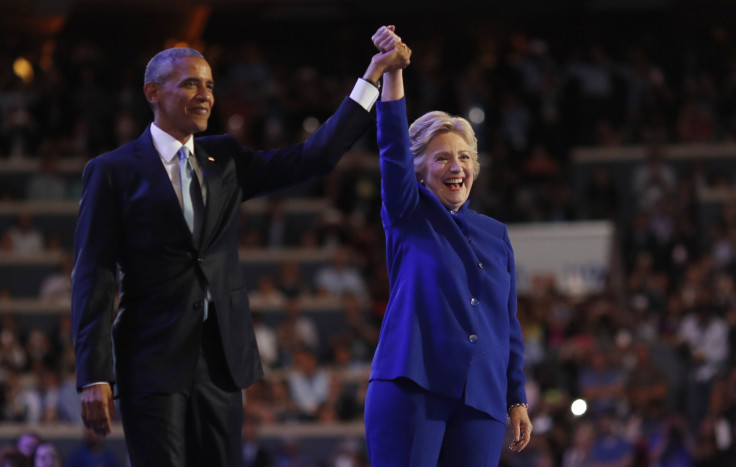 New data analysis suggests a strong link between President Barack Obama's high approval rating and support for Democratic presidential nominee Hillary Clinton as she continues to battle Republican Donald Trump for the Oval Office this fall.
According to NBC News, based off analyzed data from nearly 55,600 survey responses, Obama's surging approval rating could translate into a victory for Clinton on Election Day. However, the report does stress it's difficult to tell if the results can be used to correctly predict the general election when it's decided state-by-state.
Clinton vs. Obama On The Issues | InsideGov
Taken between Aug. 8 and this past Sunday, the data shows Obama has an approval rating of 60 percent or better in Massachusetts, Vermont, New York, California, Maryland and Hawaii and each of those states also shows the same support towards Clinton.
Still, Obama's rating in states like North Dakota, Wyoming, West Virginia and Oklahoma is well below 40 percent, and that also correlates with their lack of support for Clinton.
In August and after the Democratic National Convention in Philadelphia, Obama's approval rating reached 54 percent, its highest level since his second inauguration in 2013, according to a CNN/ORC poll. It also found that 94 percent of voters who approve of Obama also support Clinton in her bid to be the first woman elected to the United States' highest office.
However, those results don't' necessarily equal a victory for Clinton. The Hill pointed out that Obama's newest rating is similar to that of former President Ronald Reagan's in 1988, just before he left office and the same for ex-President Bill Clinton at 57 percent in 2000.
Reagan's then-Vice President George H.W. Bush went on to win the general election while Clinton's No. 2 Al Gore lost. Furthermore, eighty-five percent of voters who disapprove of Obama are backing Trump.
© Copyright IBTimes 2023. All rights reserved.