Obama To Raise ISIS, China Expansionism In Asian Summits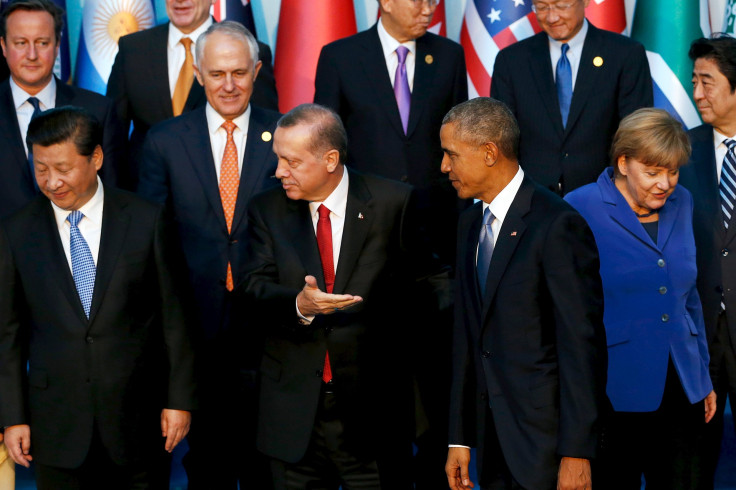 From the G-20 summit in Turkey, President Barack Obama heads to the Philippines and Malaysia for a series of meetings and summits where the spread of the Islamic State group, also known as ISIS, in Southeast Asia and China's expansionism will be on the table.
Obama arrives in Manila on Tuesday, a day before the Asia Pacific Economic Cooperation summit. He'll then meet Australian Prime Minister Malcolm Turnbull for the first time since he came to power in September. Even before the Paris attacks, ISIS was already on the agenda, according to Deputy National Security Adviser Ben Rhodes.
Australia is a strong supporter of the U.S. in counterterrorism, so it could have a role if ISIS expands in Southeast Asia. On Sunday, the Straits Times of Singapore reported that Malaysian Islamic militants in hiding in the Philippines aim to bring Malaysian, Philippine and Indonesian terrorists to form an ISIS force in Southeast Asia. Thousands of Southeast Asians have fought under ISIS in Iraq and Syria and could boost recruitment and mayhem when they return home, experts told the Daily Mail in August.
"There's no question that defeating Daesh in the field is vitally important," Turnbull said in an interview on Sunday on the sidelines of the G-20 summit in Turkey, using the Arabic name for ISIS. "But how it is done is another matter, and certainly Australia is playing a very significant part in terms of the foreign nations that are committing military resources to the theater. We are second only to the United States."
After that meeting, Obama will head for a "showcase" of the military assistance the U.S. pledges for keeping sea lanes safe and open.
In the past year, China has exercised its claim to owning most of the South China Sea by building artificial islands with airstrips and other facilities in areas claimed by the Philippines. In June, it also brought back an oil rig to an area claimed by Vietnam, after withdrawing it for a year.
This month, the U.S. sent a Navy ship close to one of those islands, within the 12-mile radius China claims, and then B-52 bombers. It said it would send ships as often as twice per quarter as part of what it calls its freedom of navigation program. Meanwhile, a court in the Hague said it had jurisdiction over a Philippines-China dispute over one area; China doesn't accept the jurisdiction.
"In our alliance with the Philippines and our focus in the region, we have been committed to maritime security, to principles like freedom of navigation, and to the peaceful resolution of disputes," Rhodes said in a news conference at the White House on Thursday. "This event will be an opportunity for the president to showcase some of that maritime security assistance."
At the same briefing, his boss, National Security Adviser Susan Rice, also said Obama will bring up the push to set rules for the South China Sea.
"This will be a central issue of discussion, both at the East Asia summit as well as the ASEAN-U.S. summit and the other engagements that we have throughout our visit to Asia," Rice said.
That would be news to China.
"Everyone knows that APEC is primarily about discussing trade and financial cooperation in the Asia Pacific," Chinese Vice Foreign Minister Li Baodong said Tuesday. "As far as I know, at this year's summit, there are no plans to discuss the South China Sea."
Such discussions may occur in a so-called leaders' retreat, a less formal session in the summit program, according to Charles Jose, spokesman of the Philippine Foreign Ministry and of APEC 2015.
The Manila summit of the 21-member APEC takes place Wednesday and Thursday; then the president goes to Kuala Lumpur, Malaysia, for the Association of Southeast Asian Nations and East Asia summits.
On the sidelines of APEC, Obama will meet with the leaders of the 11 other countries that signed the Trans-Pacific Partnership last month. It will be their first meeting. Left out will be China and eight other non-TPP members of APEC. Not to be outdone, China is pushing a Free-Trade Area of the Asia-Pacific for all members. It's also led 56 other nations, including 11 other APEC members, in organizing the Asian Infrastructure and Investment Bank, which could compete with the World Bank and the Asian Development Bank and which doesn't include the U.S. and Japan.
There's always been a question about the purpose and achievements of APEC since it was organized in 1989, in part because it has no powers on its own, unlike a TPP. When Obama returns for next year's APEC summit, the TPP could be in force. The Economist says he and other leaders may ask that question all the more then.
© Copyright IBTimes 2022. All rights reserved.
FOLLOW MORE IBT NEWS ON THE BELOW CHANNELS