Obama's Guantanamo Bay Closing Speech: Plan For Cuba Detention Facility Revealed By President, Pentagon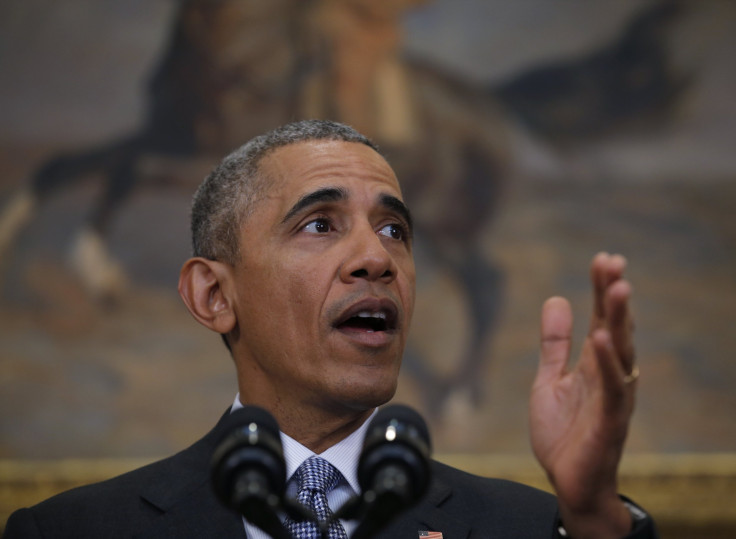 UPDATE: 11:45 a.m. EST — Republican presidential candidate Florida Sen. Marco Rubio jumped in the fray to criticize President Barack Obama's plan he announced Tuesday to close the Guantanamo Bay prison facility before the end of his final term. Rubio argued that the facility would not be closed and that he would put more prisoners into the facility should he become president.
"We shouldn't be releasing the people that are there now. They are enemy combatants. They're terrorists of foreign terrorist organizations," Rubio said at a campaign speech in Nevada Tuesday ahead of the evening caucuses. If he becomes president, not only will prisoners not be sent to the U.S., he said, "they're going to Guantanamo and we're going to find out everything they know."
Joining Rubio in speaking out on the issue were several high level Congressional leaders. House Armed Services Committee Chairman Rep. Mac Thornberry, R-Texas, criticized Obama's plan for its lack of specifics and Colorado Sen. Michael Bennett said that Guantanamo detainees should not be sent to his state — a location that has been considered.
UPDATE: 11:10 a.m. EST — Republicans in Congress, including Speaker of the House Paul Ryan, Senate Majority Leader Mitch McConnell and Arizona Sen. John McCain criticized President Barack Obama's Tuesday announcement for plans to close the Guantanamo Bay detention facility in Cuba before the end of his presidency. The group of conservatives said, in part, that Obama has so far failed to convince Americans that it is safe to move the suspected terrorists to U.S. soil and that the costs associated with doing so aren't clear.
Congress' leading Democrat, House Minority Leader Nancy Pelosi, also reacted by saying what amounts to the opposite message of the Republicans: Obama has a detailed and strong plan to responsibly close Guantanamo.
McConnell tweeted that the president's plan to move prisoners to the U.S. is illegal — an issue Obama addressed in his speech. McConnell also released a GIF showing mug shots of Guantanamo detainees and the acts of terror that they are suspected of.
"Today we received the descriptions of where the President would like to detain terrorists within the United States — though not any actual proposed locations — despite the fact that it would be illegal under current law to transfer foreign terrorists at Guantanamo into the United States," McConnell said on the Senate floor Tuesday morning before Obama's address. "This isn't a case where the President can even try to justify the use of some 'pen and phone strategy' by claiming that Congress failed to act. To the contrary, Congress acted over and over again in a bipartisan way to reject the President's desire to transfer dangerous terrorists to communities in the United States."
McCain, who Obama said agreed with him in 2008 that the facility should be closed, questioned whether the president had a responsible plan to move prisoners.
UPDATE: 10:45 a.m. EST — President Barack Obama told reporters Tuesday that he was renewing his effort to close the Guantanamo Bay detention facility, which he promised he would close during his 2008 presidential campaign. He said that the facility hurts the American image abroad and said that keeping the facility open is a costly national security threat that galvanizes terrorist efforts against the U.S.
"I don't want to pass this problem on to the next president, whoever it is," Obama said. "If we don't do what's required now, I think future generations will look back and are going to ask why we failed when the right course, the right side of history and justice and our best traditions was clear."
WATCH: Pres. Obama: In discussions with world leaders, Guantanamo "is viewed as a stain on our broader record". https://t.co/Hu8VkGW1K6

— NBC Nightly News (@NBCNightlyNews) February 23, 2016
Obama did not point to specific facilities where the detainees would be moved within the United States and recognized that closing the facility would require hard work alongside a Republican-controlled Congress that has recently expressed opposition to closing the prison. The president outlined a four-pronged strategy that includes sending 35 detainees to other countries, implementing periodic review of the current detainees, pursuing legal avenues to try the detainees in military courts and working with Congress.
#Guantanamo Bay "undermines" our national security - President Obama https://t.co/74zgzNHyBG https://t.co/7H9PShZmgm

— BBC Breaking News (@BBCBreaking) February 23, 2016
"I am very clear eyed about the hurdles of closing Guantanamo. The politics of this are tough," Obama said in his closing remarks. "President [George W.] Bush said that he wanted to close Guantanamo despite what he had invested in it. I've been working for seven years now to get this thing closed. As president I have spent countless hours working on this. I am not exaggerating."
"This is about closing a chapter in our history," he said.
President Obama on Guantanamo Bay: "The detention facility at Guantanamo Bay does not advance our national security" https://t.co/JAzga5TLzs

— ABC News (@ABC) February 23, 2016
Original story:
In a final year push to make good on President Barack Obama's 2008 campaign promise to close the detention facility in Guantanamo Bay, Cuba, the Pentagon was expected to send a detailed plan to Congress Tuesday that would lay out the costs and savings of closing the facility and relocating detainees. The plan calls for as much as $475 million in construction that would be offset by as much as $180 million a year in saved operating costs, according to the Associated Press. Obama was expected later to deliver remarks on the issue.
There are currently 91 detainees in Guantanamo, most of which are Yemeni citizens, according to a New York Times project that tracks the detainees in the facility. That's down from a peak of 680 prisoners in 2003. The majority of detainees have been sent to ally nations to be held or eventually released, however as many as 60 terror suspects in detention would need to be sent to an American facility. Republicans have repeatedly pushed back on Obama's effort to relocate prisoners to any of the 13 proposed facilities.
The administration has had a rocky road on the issue in the past 7 years.
Soon after winning the 2008 election, it became clear that closing the offshore prison facility was intended to be a priority for the president-elect. Just a week after Obama's decisive victory over Arizona Sen. John McCain Obama's team began a review of classified files of the approximately 250 detainees who were being held in the Cuban base at the time.
Since then, the Obama administration has come up short of the goal to close the prison within the first year of his presidency and has instead slowly cut down on the number of detainees held there. Whether or not the president would be able to close the facility was, and has been to this day, widely questioned.
As the president's final year approached last year, though, administration officials and the president himself began to signal that the quest to close Guantanamo was anything but abandoned. In his final news conference on 2015, Obama said that he believed Congress would see the wisdom in closing the facility if the number of prisoners was so low that each individual detainee was prohibitively expensive to keep there. White House Chief of Staff Denis McDonough said in January that the president feels "an obligation to his successor" to close the prison.
The detention center was opened in January 2002 when the George W. Bush administration transferred 20 prisoners suspected of terrorism from overseas holding cell. The facility came to be representative of some of the more gruesome aspects of the country's invasions of Iraq, Afghanistan and military operations in the Middle East. Many of the prisoners were unable to get adequate legal aid and a 2005 hunger strike forced the military to adopt a new policy of strapping down prisoners and force-feeding them liquid nutrients so that they would not die. Several prisoners have died in custody, including three prisoners in 2006 who were suspected of conducting coordinated suicides.
© Copyright IBTimes 2023. All rights reserved.