Obesity In America: We're Eating A Lot More Of Almost Everything — Except Beef And Milk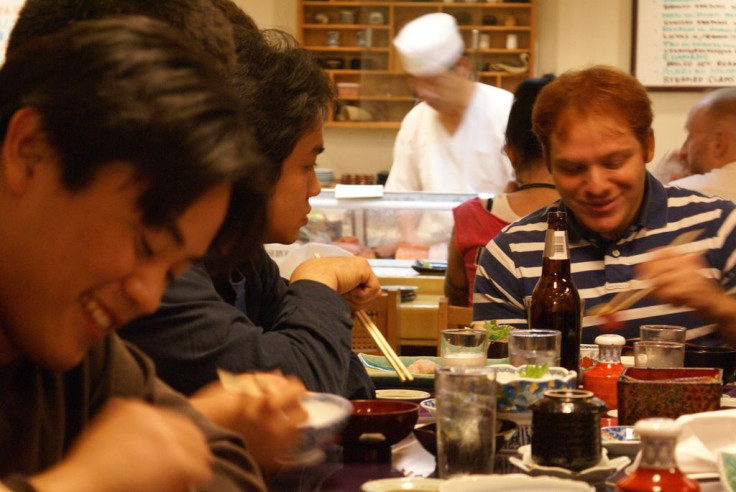 Americans are eating a lot more chicken, breads, oils, cheese and yogurt than 40 years ago — actually, they're just eating a lot more in general, a Pew Research Center analysis of Department of Agriculture data showed Tuesday.
The average American consumed 2,481 calories in 2010, far in excess of what is necessary to maintain weight and 23 percent more than they did four decades ago. The average man needs just 2,400 calories a day while the average woman needs 1,850. Those extra calories explain the nation's obesity problem.
Nearly half the calorie intake comes from flours and grains along with fats and oils. Fruit and vegetable consumption has fallen from 9.2 percent of caloric intake to 7.9 percent, data from the USDA's Food Availability (Per Capita) Data System shows.
Chicken consumption has risen to an average of 47.9 pounds per person annually, double the 1970 level, while beef consumption has fallen to 39.4 pounds, down by a third. Milk consumption is down to 12.6 gallons a year, a 42 percent drop, while cheese consumption has tripled to 21.9 pounds and yogurt consumption has increased 1,700 percent to 1.2 gallons.
In the bakery section, consumption is up 29 percent to 122.1 pounds of breads, pastries and other baked goods a year per person. But the way we take in sweeteners is different. In 1970 Americans mostly consumed refined sugar. Now consumption is almost evenly split between sugar and corn-derived sweeteners.
More than half of Americans say organically grown produce is the healthier choice while only 3 percent say conventionally grown produce is better. Nearly half of the 1,480 adults queried May 10-June 6 said genetically modified foods are no different than non-GMO foods while 39 percent said they would be unhealthy.
The National Institute of Diabetes and Digestive and Kidney Diseases estimates two in three adults are overweight or obese and one in three is obese. The percentage of those overweight or obese is expected to increase to 75 percent by 2020.
© Copyright IBTimes 2022. All rights reserved.
FOLLOW MORE IBT NEWS ON THE BELOW CHANNELS