Occupy Central Protest: Thousands Flood Hong Kong District After Clashes With Police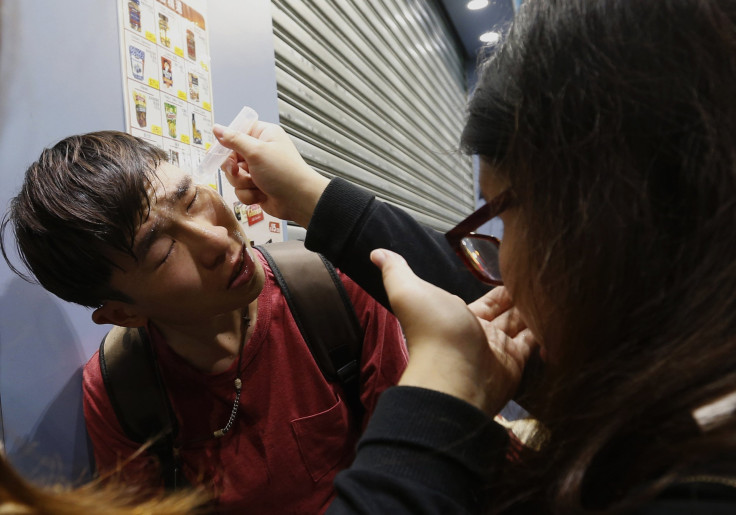 Thousands of protesters flooded Hong Kong's busy commercial neighborhood of Mong Kok Tuesday night after police attempted to disperse demonstrators camped out there, the New York Times reported. Tensions mounted as authorities confronted pro-democracy protesters with pepper spray and tried to force them back onto Nathan Road, a bustling tourist area occupied by protesters since demonstrations began in late September.
The number of pro-democracy demonstrators in Hong Kong has dwindled from more than 100,000 at its peak to just a few hundred. Tuesday night's flood of demonstrators marked a resurgence of support, but it was unclear how long the new wave of protesters would stay in the area. "I came to defend Mong Kok," Cyril Wong, a sales representative and demonstrator, told the New York Times. "They want to clear this place. We will just stay here and defend it. If they use pepper spray or sticks, we will defend ourselves."
The protesters appeared after scuffles broke out earlier in the day between police and demonstrators who were camped out there. Authorities were following a court order to reopen Argyle Street, an area of Hong Kong's Mong Kok district where protesters had set up tents. Several demonstrators were forcibly removed after authorities linked arms and formed lines to force demonstrators off the 45-meter stretch of road. The injunction was the result of a complaint by a bus company that said the occupation of the road had hurt business. The police did not try to clear Nathan Road.
Authorities had earlier indicated that they would arrest anyone who obstructed the court order. Workers removed makeshift barricades set up by protesters to block off an area where their tents were erected.
"Even if they clear this place, our will to fight for genuine universal suffrage hasn't changed. ... It will only inspire people to think of other ways to continue this movement," protester Ken Chu, 27, told Reuters Tuesday.
The protesters have called for fair and open elections to replace Hong Kong's government, but China has said it will select the candidates.
© Copyright IBTimes 2023. All rights reserved.