October Quotes: 14 Sayings About Fall And Halloween To Celebrate The Autumn Month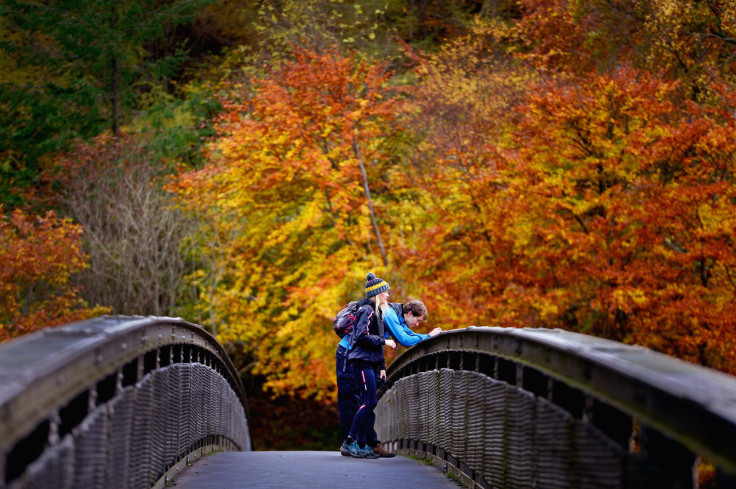 It's finally time for cozy sweaters, apple picking and Halloween parties — it's October.
There's nothing better than a month that starts on a weekend. Soon the shelves will be filled with candy corn and the sidewalks covered with leaves. If you're an October fan, celebrate the cooler temperatures with a nice hike, warm fire and some eloquent quotes about the tenth month of the year.
Here are 14 famous October quotes, collected from Goodreads, the Quote Garden and BrainyQuote:
"There is no season when such pleasant and sunny spots may be lighted on, and produce so pleasant an effect on the feelings, as now in October." — Nathaniel Hawthorne
"September is dressing herself in showy dahlias and splendid marigolds and starry zinnias. October, the extravagant sister, has ordered an immense amount of the most gorgeous forest tapestry for her grand reception." — Oliver Wendell Holmes
"October, tuck tiny candy bars in my pockets and carve my smile into a thousand pumpkins.... Merry October!" — Rainbow Rowell
"October extinguished itself in a rush of howling winds and driving rain and November arrived, cold as frozen iron, with hard frosts every morning and icy draughts that bit at exposed hands and faces." — J.K. Rowling
"I'm so glad I live in a world where there are Octobers." — L.M. Montgomery
"October is crisp days and cool nights, a time to curl up around the dancing flames and sink into a good book." — John Sinor
"All things on earth point home in old October; sailors to sea, travellers to walls and fences, hunters to field and hollow and the long voice of the hounds, the lover to the love he has forsaken." — Thomas Wolfe
"The clear light that belongs to October was making the landscape radiant." — Florence Bone
"What could be more exciting than an October day? It's your birthday, Fourth of July and Christmas all rolled into one." — Peggy Toney Horton
"Sweet October, fill with praise / Rich and glowing as thy days / Every poet's heartfelt lays." — Caroline May
"The end of the summer is not the end of the world. Here's to October..." — A.A. Milne
"After the keen still days of September, the October sun filled the world with mellow warmth ... The maple tree in front of the doorstep burned like a gigantic red torch. The oaks along the roadway glowed yellow and bronze. The fields stretched like a carpet of jewels, emerald and topaz and garnet. Everywhere she walked the color shouted and sang around her." ― Elizabeth George Speare
"In October, a maple tree before your window lights up your room like a great lamp. Even on cloudy days, its presence helps to dispel the gloom." — John Burroughs
"October is the fallen leaf, but it is also a wider horizon more clearly seen. It is the distant hills once more in sight, and the enduring constellations above them once again." — Hal Borland
© Copyright IBTimes 2023. All rights reserved.