OJ Simpson Threatens Cosmopolitan Hotel With $100 Million Lawsuit For 'Racial Prejudice'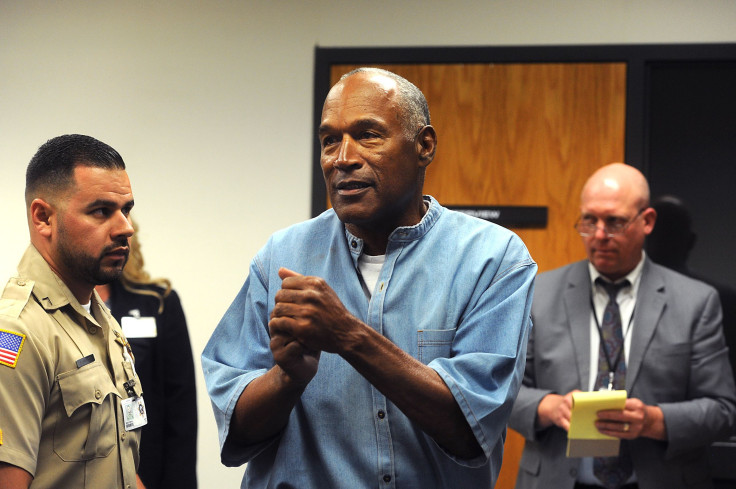 O.J. Simpson threatened a $100 million legal action against the Cosmopolitan Hotel in Las Vegas, over an incident in which he was thrown off of the hotel grounds last year.
Simpson's attorney, Malcom Lavergne in a letter sent to the hotel announcing intent to sue for $100 million stated that the hotel acted "with malice and racial prejudice" when it kicked Simpson out.
In the incident that happened in the early hours of Nov. 9, the hotel alleged that Simpson's behavior was drunk and disruptive. The hotel issued a trespass notice to Simpson after he was there dining with friends and even banned him.
"The Cosmopolitan Casino discriminately singled out Mr. Simpson amongst his non-African American friends and subsequently expelled him for what turned out to be a fake reason while he peacefully visited the Cosmopolitan property on or about the evening of November 8, 2017," attorney LaVergne wrote to the hotel.
At the time of the incident it was reported that Simpson was in an inebriated state when he started breaking glasses at the Cosmopolitan Hotel's Clique Bar & Lounge and Security guards escorted the 70-year-old out of the hotel.
"My investigation of this case leads me to conclude that that executives, employees or agents of the Cosmopolitan discriminated against Mr. Simpson and others with him in a manner that violates federal and Nevada state law. My investigation also leads me to believe that the false and malicious allegations leveled against Mr. Simpson was a concerted effort by the Cosmopolitan, its executives, employees or agents and affiliates to paint Mr. Simpson in a false light by providing the scandalous information to media outlets, for profit and in the hopes of jeopardizing Mr. Simpson's parole status and embarrass him," LaVergne added.
LaVergne also claimed that hotel surveillance video later reviewed by police officers "proved that the Casino staff and/or affiliates made up a false narrative." He asked the hotel for copies of videos from the night of Nov. 8 and a list of employees who were working along with details of the casino's policy on what led to the ban of a patron.
Simpson, who was acquitted of double-murder charges in 1995, was released on parole from a Nevada prison in October 2017 after serving nine years in prison for an armed robbery and assault with a weapon conviction, a crime.
Under the terms of his parole, Simpson could drink alcohol but not in excess, and is subject to both drug and alcohol testing from his parole officer, the New York Daily News said.
As a result of the night at the hotel, Simpson was contacted by his parole officers and underwent drug and alcohol tests, both of which were negative, LaVergne said.
Simpson's lawyer, LaVergne, told the Daily News in November that Simpson was neither drunk nor belligerent.
"Like most things I deal with related to Simpson, 99% of this is bulls--t," LaVergne said. "The 1% of it that's true is he was from the property."
Cosmopolitan Hotel told 8 News NOW in a statement: "As a matter of company policy, The Cosmopolitan of Las Vegas does not comment on potential litigation."
© Copyright IBTimes 2023. All rights reserved.