Oklahoma Ten Commandments Statue Must Be Taken Off Capitol Grounds: State Supreme Court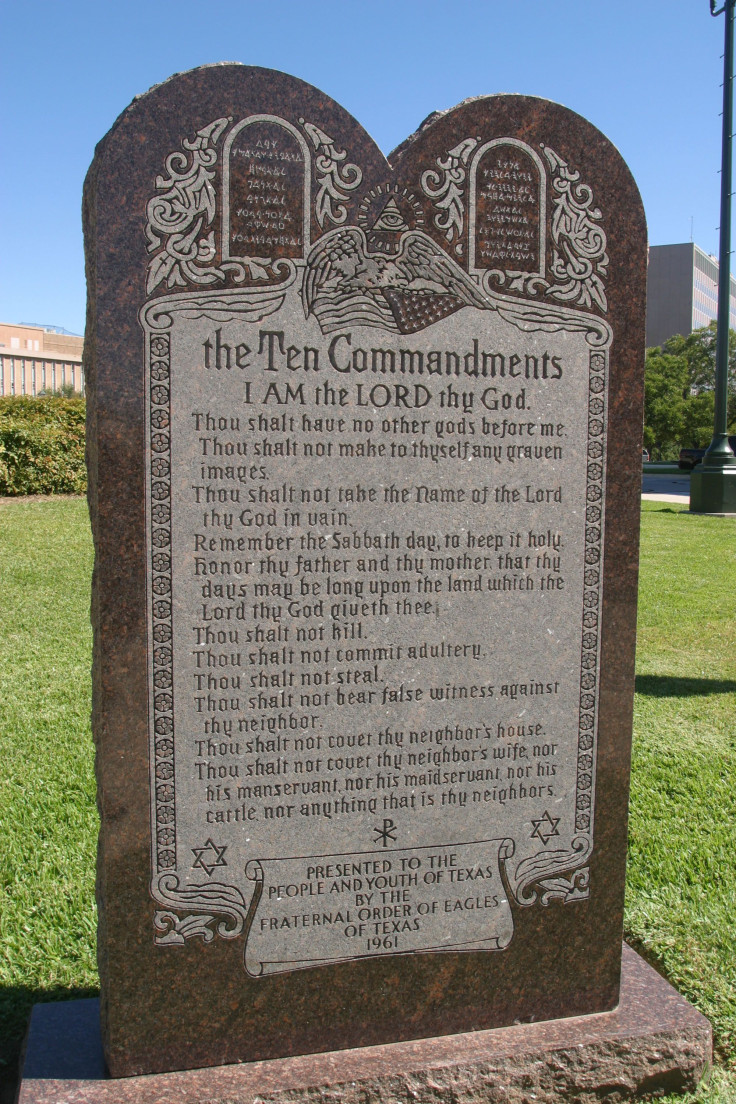 The Ten Commandments may have come down from Mount Sinai, but a ruling about them just came down from Oklahoma. The state Supreme Court ruled on Tuesday to ban the use of state property for religious purposes if it directly or indirectly benefits any particular faith. The ruling means that a Ten Commandments statue currently on the Capitol grounds in Oklahoma City is in violation of the state constitution and should be removed.
The statue was installed in 2012 and was a gift from a personal fund. Critics have charged that the placement is using state grounds for the benefit of religion. The Ten Commandments have an overt connection to the Christian and Jewish faiths. Its placement on state grounds led other, non-Judeo-Christian groups to request that their own statue be put up to honor their religion, including worshippers of Satan and the Flying Spaghetti Monster.
Supporters of the Ten Commandments statue argued that a similar statue on the Texas statehouse grounds had been deemed constitutional by the U.S. Supreme Court. Opponents argued that the question was not the U.S. Constitution, but rather the state constitution of Oklahoma.
"Quite simply, the Oklahoma Supreme Court got it wrong," said Attorney General Scott Pruitt in a statement. "The court completely ignored the profound historical impact of the Ten Commandments on the foundation of Western law."
The lawsuit resolved on Tuesday initially blocked -- pending resolution of the case -- the most ambitious of the protest projects from joining the Ten Commandments in Oklahoma: a statue of the pagan idol Baphomet, a goat-headed idol popularized in the occult.
The statue of Baphomet was created in New York in 2014 after an Indiegogo campaign raised $30,000 to craft it. The original campaign looked to raise only $20,000. Worshippers planned to donate the statue after it was cast in bronze. The application to put Baphomet on the state grounds was held until after the ACLU case was settled. The application will likely see the same fate as the Ten Commandments statue.
The Ten Commandments statue has had some other problems as well. Last October, a man crashed his car into it before entering the federal building and making threats.
© Copyright IBTimes 2023. All rights reserved.