Olivia Jade Giannulli, Boyfriend Jackson Guthy Split Again 2 Years After Reconciliation
KEY POINTS
Olivia Jade Giannulli confirmed that she is "indeed" single during a Q&A with fans on Instagram Story Thursday
The split from musician Jackson Guthy came two years after Giannulli got back together with him
She and Guthy briefly split in 2019 in the wake of her parents' involvement in the college admissions scandal
Olivia Jade Giannulli and her boyfriend Jackson Guthy are no longer together.
The 21-year-old YouTuber confirmed their breakup in a Q&A with fans on Instagram Story Thursday, according to Us Weekly. "[Are you] single?" one of her followers asked, to which she replied, "I am indeed."
The daughter of Lori Loughlin and Mossimo Giannulli posted her answer alongside a picture of herself smiling with one arm lifted in the air.
During the Q&A, Olivia also offered dating advice to women in their 20s. "You're still so young! Have fun, be safe, & let the universe do it's [sic] thingggg. What is meant to be will be," she wrote.
When another follower suggested that they go on a date since she's single, the influencer replied, "Alright it's time for me to get off the internet now lol."
Olivia and Guthy, 25, previously split in 2019 in the wake of the college admissions scandal, in which her parents were accused of paying $500,000 in bribes to secure a spot for the YouTuber and her older sister Isabella Rose Giannulli, 22, at the University of Southern California.
"Jackson broke up with Olivia because it was all getting to be too much for him," an unnamed source told Us Weekly at the time. "It wasn't necessarily affecting his career, but the fact that he couldn't be seen out in public with Olivia was difficult."
Despite their split, another insider told the outlet that the singer-songwriter continued to support Olivia Jade in any way he could amid her family's legal troubles.
"Jackson has been there for Olivia. Whether it be the occasional coffee run or just being physically near her, he's trying to be supportive. It hasn't always been easy, given the crazy amount of spotlight on them right now," the source said in 2019.
The pair eventually rekindled their romance in August that year. A month after they reconciled, Guthy was booked for a misdemeanor driving under the influence, but she stuck with him. They were even photographed holding hands at Delilah restaurant in Los Angeles later that month.
Meanwhile, Olivia's mother was sentenced to two months in prison, two years of supervised release and 100 hours of community service for her involvement in the college admissions scandal. Loughlin was also ordered to pay a $150,000 fine. Her fashion designer husband was sentenced to five months in prison, two years of supervised release, 250 hours of community service and a $250,000 fine.
Loughlin was released from federal prison in December 2020, while Giannulli was released in April.
In December last year, Olvia Jade broke her silence about the college admissions scandal when she appeared on "Red Table Talk" on Facebook Watch. "We had the means to do something and we completely took it and ran with it," the vlogger said, before acknowledging that it was "wrong."
She continued, "It really can't be excused. On paper, it's bad — it's really bad. But I think what a lot of people don't know is my parents came from a place of just, 'I love my kids I just want to help my kids — whatever is best for them — I worked my whole life to provide for my family.' I think they thought it was normal."
At the time, Guthy publicly praised his girlfriend. "Very proud of you!" the musician wrote on his Instagram Story alongside a clip of Olivia's sit-down interview.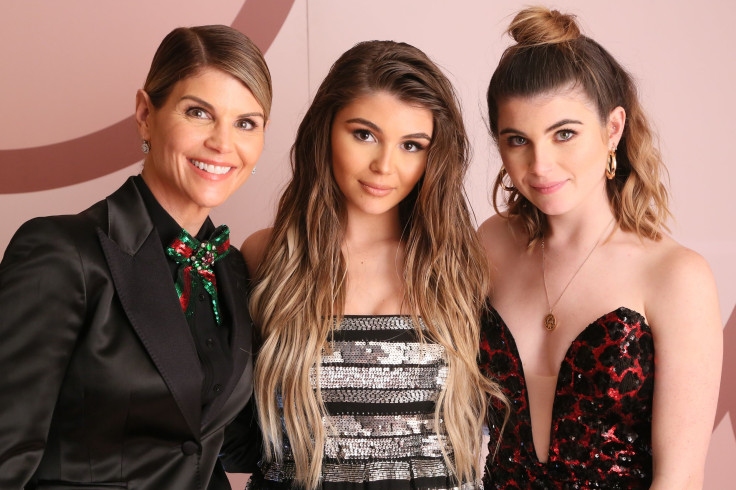 © Copyright IBTimes 2023. All rights reserved.