Olympic Badminton 2012 Controversy: Eight Female Players Disqualified For Purposely Losing Games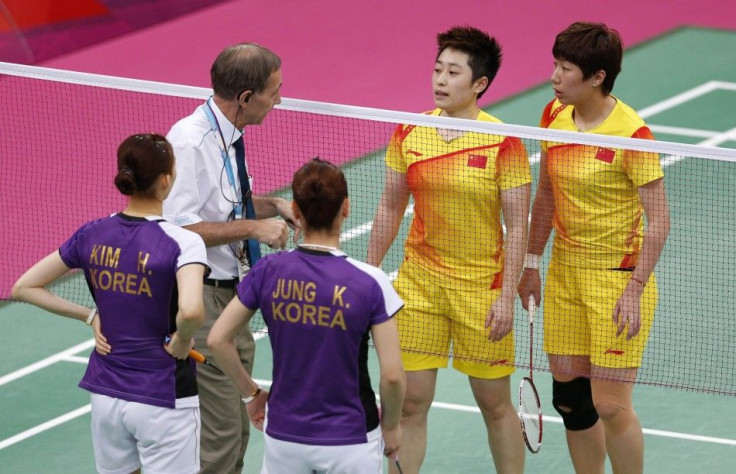 Controversy has plagued Olympic Badminton teams from China, South Korea and Indonesia. Eight female badminton players were disqualified from the Games on Wednesday for reportedly trying to lose matches the day before, the Badminton World Federation announced after a disciplinary hearing.
The players are being accused of purposely losing the games in an effort to face easier opponents in future matches. The poor play provoked much disapproval from spectators and even forced warnings from match officials on Tuesday night.
According to CNN, all eight players were charged with not doing their best to win a match and abusing or demeaning the sport.
Appeals have reportedly been filed by the Indonesian and South Korean players, and a decision is expected to come about late Wednesday.
The disqualifications stem from two matches during the London Olympics that reportedly angered the watching crowds as the doubles pairs appeared to be serving into the net on purpose.
All eight players had apparently already qualified for the quarterfinals of the tournament before the final lackluster matches on Tuesday night.
Spectators in London responded with much disgust and disapproval for the situation.
"It's not in the spirit of the thing," Kevin Button, from Ashford in Kent, just outside of London, told CNN.
"And it's so disappointing for the people who came to see it," his wife Tina said. "It leaves a bit of a sour taste."
Among the disqualified pairs is the world's No. 1 pair, Wang Xiaoli and Yu Yang of China. Xiaoli and Yang played South Korea's Jung Kyung-eun and Kim Ha-na in a game in which "neither side seemed to be exerting themselves," the official Olympic news service said.
Tournament referee, Torsten Berg, was called to the court, the news service reported, "where he warned all four players amid a chorus of boos from the crowd." The warning came after several serves by both pairs went directly into the net.
The South Korean pair eventually took the victory securing first place in their group.
The second match in question took place about an hour later, pitting South Korea's Ha Jung-eun and Kim Min-jung against the Indonesians Meiliana Jauhari and Greysia Polii.
The Olympic news service reported "sluggish play" in the match. Berg was reportedly called onto the court at least twice "with the crowd calling for the players to be sent off."
The Chinese Olympic delegation is also investigating the Chinese players' conduct, it said in a statement Wednesday.
"Upon learning the incident, the delegation leadership has ordered an investigation into what and why it happened," the statement said.
"The Chinese Olympic Committee has always advocated athletes carrying forward the Olympic spirit during competitions. We promote the spirit of fair and equitable competitions, and oppose any violations of such sports spirit and ethics for any reason or in any form," the delegation said.
© Copyright IBTimes 2023. All rights reserved.