'Once Upon A Time' Season 4 Spoilers: 16 Things To Know Before The Sept. 28 Premiere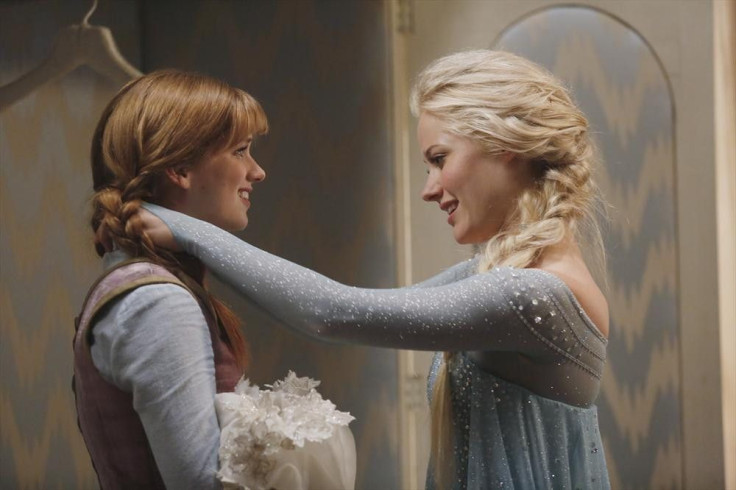 It's go time, "Once Upon a Time" fans! The hit ABC fairy-tale drama returns Sunday at 8 p.m. EDT -- bringing with it an early winter. Disney's "Frozen" is set to invade Storybrooke and stir up trouble for Emma (Jennifer Morrison), Hook (Colin O'Donoghue), Regina (Lana Parilla) and the others. Get the scoop on the coming season before the magical drama begins:
1. 'Storybrooke Has Frozen Over' Special -- The "Once Upon a Time" fun will begin an hour earlier than the Season 4 premiere. ABC is set to air a new special at 7 p.m. EDT: "Once Upon a Time: Storybrooke Has Frozen Over." The special will set viewers up for the highly anticipated Season 4 premiere, recapping everything from the breaking of the curse to Elsa's (Georgina Haig) surprising arrival in the Season 3 finale. Viewers can look forward to interviews with co-creators and executive producers Edward Kitsis and Adam Horowitz, and a preview of the chilly drama ahead.
2. Episode 1 Synopsis -- Get ready to be "Frozen" over. The Season 4 premiere will give a little backstory to Elsa's and Anna's (Elizabeth Lail) lives in Arendelle. However, the Disney characters will not stay in Arendelle. Back in Storybrooke, a confused and fearful Elsa will create a "powerful snow monster for protection."
As a new danger brews, the show will also be exploring the Regina, Robin Hood (Sean Maguire) and Marian (Christie Laing) love triangle that developed in the Season 3 finale. Regina will be forced to question her relationship with Robin Hood now that his dead wife arrived from the past -- courtesy of Emma and Hook.
Will Regina be able to forgive Emma for ruining her happy ending? Or will Regina return to the dark side to exact revenge? "Once Upon a Time" fans will find out when Episode 1 is shown Sunday.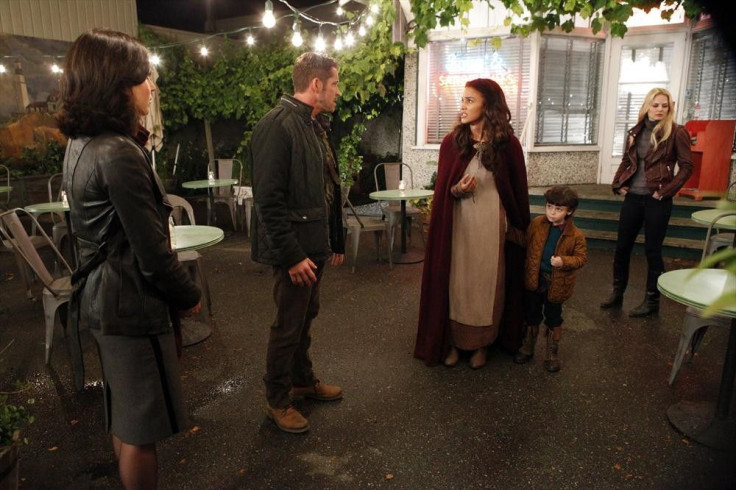 3. Regina And Robin Hood Drama -- The Episode 1 synopsis already previewed problems for lovebirds Regina and Robin Hood, but Adam Horowitz's weekend script tease gave another look at the impending drama:
4. Elsa's Arrival -- Elsa will definitely be confused when she ends up in Storybrooke. However, she'll reportedly recognize one face. TV Guide explained that the person she recognizes won't be welcoming for the Snow Queen. Instead, it will "bring up painful memories, which sets her on a mission to find answers about a significant object from her past -- at all costs."
"Once Upon a Time" fans will have to wait and see who Elsa recognizes -- but our bets are on Rumpelstiltskin. Viewers will remember that Elsa's urn was in Rumpelstiltskin's possession in the Enchanted Forest of the past before Emma and Hook accidentally brought it to the future.
5. Maleficent -- Maleficent (Kristin Bauer Van Straten) will return in Season 4 for a storyline connected to Princess Aurora (Sarah Bolger). However, Aurora's not the only one who should be afraid of Maleficent's arrival. Entertainment Weekly dished that the sorceress "will not be too pleased about Regina having locked her up beneath Storybrooke."
6. The Knave -- "Once Upon a Time in Wonderland" may be canceled, but that doesn't mean the end for Will Scarlet, aka The Knave, (Michael Socha). The former member of Robin Hood's Merry Men will find himself "intertwined in the goings-on in town for the first time as his mysterious past pushes him to an unknown future."
As to why or how he ended up in Storybrooke after last being seen in Wonderland with Anastasia (Emma Rigby)? "We will be explaining why he's in town and what happened," Kitsis told TVLine. "I can tease that he fits rather nicely into Storybrooke. His introduction is a really fun one."
7. Emma Flashback -- The flashbacks on "Once Upon a Time" will continue in Season 4. This season viewers will get to see a younger Emma. And, according to Jennifer Morrison, the flashback will feature a "curveball" that "adds a layer of suspense to how all the puzzle pieces fit together."
8. Welcome, Sally Pressman -- "Army Wives" actress Sally Pressman will be joining Season 4 of the ABC series, although information on her character has been kept under wraps. However, a rumor is circulating that Pressman might be playing the mother of Anna and Elsa.
9. Mysterious New Character -- Episode 7 of Season 4 will welcome a mysterious new character. The newcomer is in her late 20s/early 30s, and is described as the blond, blue-eyed, beautiful and intelligent middle sister of three. According to TVLine, the character "always puts her sisters first."
That won't be the only new face to appear in the episode. The show will also introduce a "pompous prince" who is a "coward ill-equipped to handle conflict."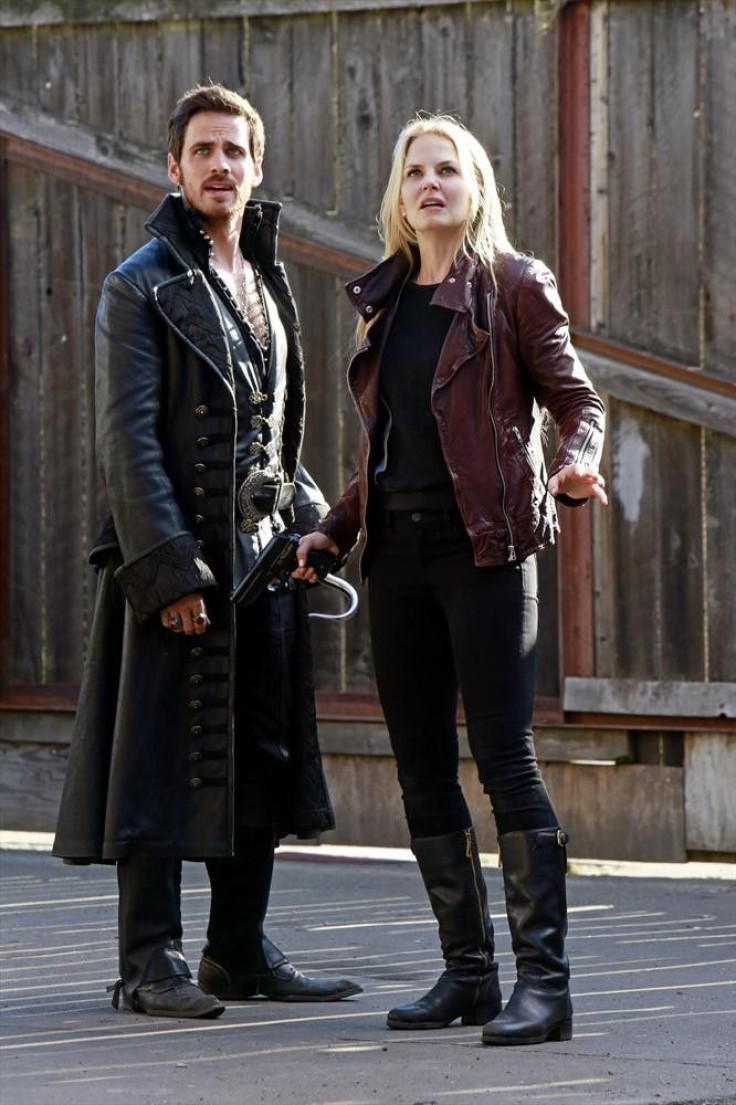 10. Emma and Hook -- Despite the fireworks in the Season 3 finale, Emma's and Hook's relationship is not going to be easy.
"Emma is obviously a person who has a tough time trusting people and letting her guard down," Kitsis dished to TV Guide. "Something you may feel something for somebody, but your feelings hold you back."
11. Welcome, Elizabeth Mitchell -- Another "Lost" alum will be making her way to Storybrooke. Mitchell will be joining Season 4 in a mysterious new role that's somehow connected to the "Frozen" storyline. What is confirmed is that Mitchell's character will be some sort of villain.
"When you see her character, it will be everything you wanted her to be," Kitsis told Entertainment Weekly.
12. Henry's Role -- Henry (Jared Gilmore) has played an important role in the past three seasons, so it makes sense he will continue to be a big presence in Season 4. It'll be up to Henry to keep Regina from going to the dark side.
13. Introducing Belle's Mother -- "Once Upon a Time" will be introducing Belle's mother via flashbacks. Australian actress Frances O'Connor will be tackling the role that takes place before Belle met Rumpelstiltskin.
14. More Newcomers -- Season 4 will welcome "Shameless" star Tyler Jacob Moore as Prince Hans of "Frozen." John Rhys-Davies of "The Lord of the Rings" trilogy will be tackling "Frozen" character Pabbie.
15. The Dark One -- "OUAT" alum Brad Dourif is reportedly set to return to the show. Dourif previously portrayed Zoso, the Dark One before Rumpelstiltskin.
16. Episode Titles -- A handful of titles for Season 4 of "Once Upon a Time" have already been released. Check out the list:
Episode 1 -- "A Tale of Two Sisters"
Episode 2 -- "White Out"
Episode 3 -- "Rocky Road"
Episode 4 -- "The Apprentice"
Episode 5 -- "Breaking Glass"
Episode 6 -- "Family Business"
Episode 7 -- "The Snow Queen"
Episode 8 -- "Smash The Mirror"
"Once Upon a Time" Episode 1 Season 4 will premiere on ABC Sunday at 8 p.m. EDT. Will you be watching? What are you excited to see unfold? Tweet your thoughts to @AmandaTVScoop.
© Copyright IBTimes 2023. All rights reserved.