Oprah Winfrey Crititicized By Indian Media And Viewers Over 'Cliched' Portrayal Of The Country On Her Show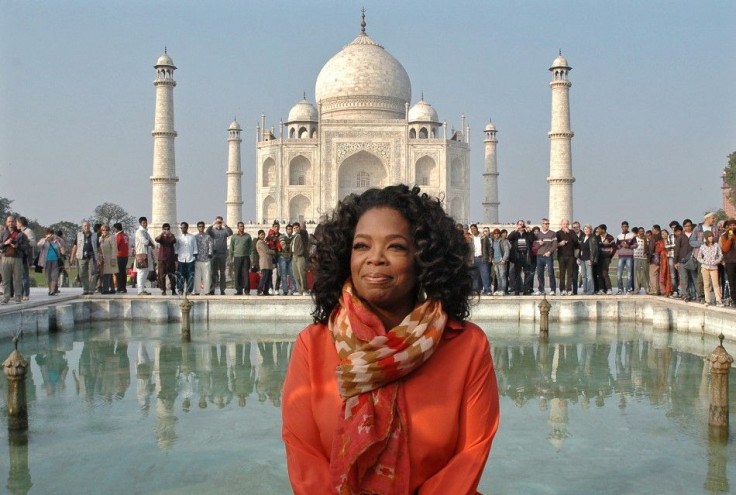 This time around, Oprah Winfrey is being criticized for her alleged ignorance and insensitivity to the Indian culture and her biased portrayal of the country in a segment for her new show -- Oprah's Next Chapter which is a part of the OWN Network.
This show was aired in India this weekend and was a part of the two part TV serious about her trip to India in January. While the Indian Media wrote extensively about Oprah's show being Ill picturized and showing the country in a poor light, the Indian audience took to the social media to express their displeasure.
Yahoo reported that a statement issued by Winfrey's production company said that the intention of the piece was to "explore the beautiful culture and spirit of the country." One of India's leading critics and entertainment journalist Aseem Chhabra , told ABC News, "It's all the stereotypes and all the clichés the West has, between the elephants and the palaces and the snake charmers and cows...I think I expected a lot more from somebody like Oprah Winfrey."
A lot of viewers were particularly upset by a scene on the show where Winfrey goes for dinner with a family and asks them whether Indian's "still eat with their hands?" This is considering the fact that eating with the hands is customary and a part of most of India cultures.
The viewers and crtitics also took offence at the manner in which Oprah was talking to her subjects on the show. Chabbra also told ABC that at one instance she was talking to people as if they were 'Aliens'. Comments were also made on the general tone in which Winfrey was talking to her subjects and the viewers felt that she was bordering on being disrespectful.
The show began with a busy street, filled with honking cars and this visual was later followed by images of decorated elephants and snake charmers. This imagery is something that very few or no Indians associate with the present India that is trying to come shoulder to shoulder with the rest of the world.
This show had been controversial ever since its shooting and production in India. Back in January when the show was being filmed, a member of Oprah's security team allegedly got into a fight with Indian journalists trying to interview the Ohrah. Police had later detained three of Winfrey's security guards and later released them after Winfrey's team wrote an apology letter to the Indian Media.
© Copyright IBTimes 2023. All rights reserved.