Orbital ATK International Space Station Launch Is A Go For Thursday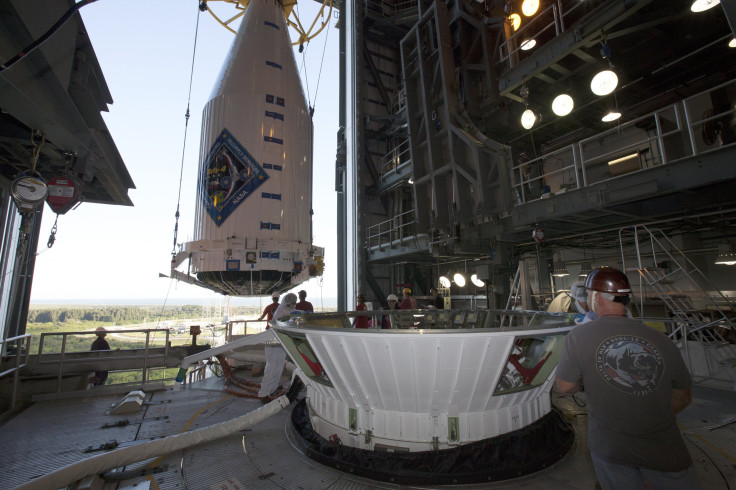 Orbital ATK's return to delivering cargo to the International Space Station was given the green light Tuesday after clearing the Launch Readiness Review. The company's fourth commercial resupply mission, OA-4, will deliver over 7,000 pounds of cargo and science investigations to the space station Thursday with liftoff set for 5:55 p.m. EST.
The Launch Readiness Review -- featuring NASA, Orbital ATK and United Launch Alliance Managers -- analyzed the risks involved in the mission ahead of Thursday's launch. "The Orbital ATK Cygnus spacecraft, United Launch Alliance Atlas V rocket and personnel are ready for launch," Steven Siceloff wrote in a NASA Orbital ATK blog entry.
The weather forecast for the launch from Cape Canaveral Air Force Station Space Launch Complex 41, in Florida, was at 60 percent for favorable conditions Thursday. Thick clouds and disturbed weather were cited as the main concerns ahead of liftoff. Orbital ATK will be using ULA's Atlas V rocket for Thursday's launch. The company plans on using a new version of its Antares rocket in 2016.
Cygnus will be carrying several science investigations that will be used during current and future missions aboard the space station. The Burning and Suppression of Solids -- Milliken investigation will test the self-extinguishing ability of 10 different treated materials in microgravity. The experiment could help develop new textiles to use in future missions. The Packed Bed Reactor Experiment could improve water filtration and life support systems, according to NASA. Additional cargo includes a microsatellite deployer and a microsatellite, a safety jetpack used during spacewalks and additional nitrogen and oxygen tanks.
NASA partnered with Microsoft for Project Sidekick. The venture will send a HoloLens to the space station which allows astronauts and Earth-based crew to interact in real-time. "HoloLens and other virtual and mixed reality devices are cutting edge technologies that could help drive future exploration and provide new capabilities to the men and women conducting critical science on the International Space Station," Sam Scimemi, director of the ISS program, said in a statement.
© Copyright IBTimes 2023. All rights reserved.