Osama Bin Laden Film 'Zero Dark Thirty' Getting Early Oscar Buzz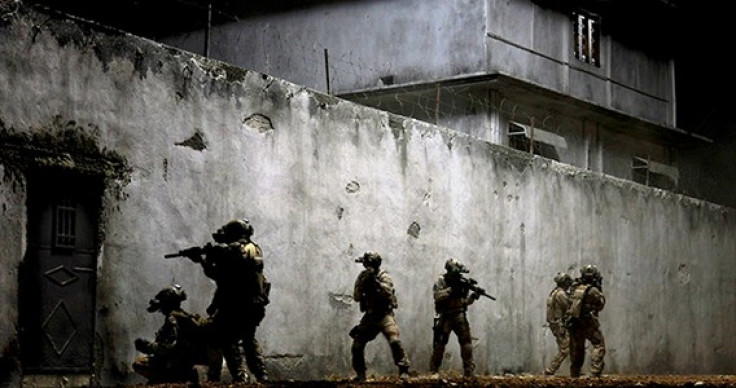 The trailer for Katherine Bigelow's latest effort, "Zero Dark Thirty," has just premiered and already the film is generating Oscar buzz.
The highly anticipated drama stars Kyle Chandler ("Friday Night Lights") and Jessica Chastain ("The Tree of Life"). It focuses on the U.S. Navy's SEAL Team Six and their efforts leading up to the Osama Bin Laden's killing. The film spans ten years-starting with the 9/11 terrorist attacks.
Since its brief teaser premiered on Monday, some are confident that the film will compete in the Oscar race early next year.
"Zero Dark Thirty" is one of the last big Oscar contenders to receive a trailer, but judging from the new teaser, it was worth the wait," wrote Christopher Rosen of the Huffington Post.
"The first trailer for 'Zero Dark Thirty,' Kathryn Bigelow and Mark Boal's long-anticipated docudrama about the hunt for Osama bin Laden, proved with today's release that the controversial film deserves its Oscar buzz," wrote Drusilla Moorehouse of Pop to It.
The film was set to begin filming just days before the al-Qaeda leader's death on May 2, 2011. This forced Bigelow, along with screenwriter Mark Boal (who she previously collaborated with for "The Hurt Locker") to quickly develop a revised script.
It marks Bigelow's first film since winning the Best Director Oscar in 2010 for "The Hurt Locker." She is the first woman to win in the directing category. Boal walked away with the award for Best screenplay that year.
According to Tim Dirks of AMC, films most likely to win an Oscar for Best Picture are:
"Serious dramas or social-problem films with weighty themes, biopics (inspired by real-life individuals or events), or films with literary pretensions are much more likely to be nominated (and win)," said Dirks. "Glossy, large-scale epic productions with big budgets (of various genres) often take the Best Picture prize."
The film site also notes that war films often take the top prize at the ceremony. This includes "Gone With the Wind (1939)," "From Here to Eternity (1953)," "The Deer Hunter (1978)," "Schindler's List (1993)," and "The English Patient (1996)."
When explaining the meaning behind the title of the film, Bigelow told Entertainment Weekly, "It's a military term for 30 minutes after midnight, and it refers also to the darkness and secrecy that cloaked the entire decade long mission."
The film is set to be released during awards season on December 19.
© Copyright IBTimes 2023. All rights reserved.