Oscar Nominations 2014: 'Blackfish,' 'Stories We Tell' Documentary Snubs Raise Questions Of Gender Equality, Politics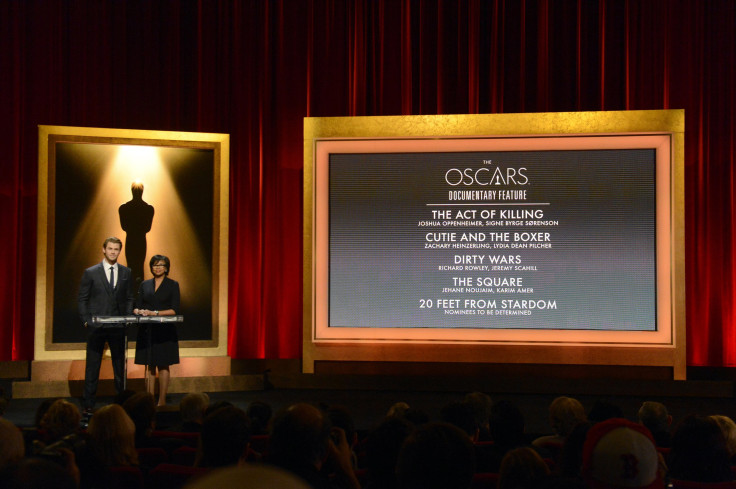 The 2014 Oscar nominations were announced Thursday morning, and to no one's surprise, "American Hustle" and "Gravity" led the pack with 10 nominations each. "12 Years A Slave" followed closely behind with nine nominations.
It was also no surprise that all of the nine feature films nominated for Best Picture were directed by men: The gender discrepancy in Hollywood has been a topic of conversation among filmmakers and critics of late, but with no end in sight to the persistent exclusion of female filmmakers from the box office rankings and awards-season buzz. In 2010, Kathryn Bigelow was the first woman to win a Best Director Oscar in Academy Award history (for "The Hurt Locker"), but the historic win has not translated to an increase in recognition for women behind the camera.
This year, the only female-directed feature film that had any real shot at a Best Picture nomination was Nicole Holofcener's "Enough Said," which has a 96 percent critic approval rating on Rotten Tomatoes, but was shut out of the Oscar nominations altogether, as many of us thought it might be. Women were expected to fare better in the Documentary category: Two of the year's best-received and most influential documentaries, "Blackfish" and "Stories We Tell," were directed by women, and both were considered locks among Oscar prognosticators (including this one). But neither documentary nabbed a nomination (the lesser-known "The Square," directed by Jehane Noujam, did receive a nod, so women directors were not shut out altogether).
Sarah Polley's "Stories We Tell" and Gabriela Cowperthwaite's "Blackfish" are two very different films: "Stories" is a genre-bending look at a personal family secret, while "Blackfish" exposes the unsafe and unethical conditions of animal performers kept in captivity at Sea World. Still, it's difficult not to see their exclusion from the nominations – particularly in light of how well-received they've been – as reflective of the Academy's resistance to honoring female filmmakers.
"It's terribly disappointing that 'Stories We Tell' and other strong films by women were left out in the cold," Women Make Movies executive director Deborah Zimmerman said in an email. "Not to mention that not ONE of the … fiction films nominated for Best Picture is by a woman. Is this really 2014?"
The "Blackfish" snub also raises questions of corporate influence. The bad press from "Blackfish" appears to have had a fiscal impact on Sea World Entertainment (NYSE:SEAS), though the company has disputed this. As Fox News reports, several musical acts have canceled performances at Sea World, and in the last six months, the stock has dropped roughly 26 percent. But on Thursday – two days after Sea World Entertainment rang the New York Stock Exchange closing bell, aided by live penguin performers – the stock had risen again by 5.6 percent. And according to at least one analyst, Sea World can thank the Academy for the boost.
"The Academy of Motion Picture Arts and Sciences surprised by snubbing 'Blackfish' in the Documentary feature category," FBR & Co. analyst Barton Crockett told Street Insider. "This, we believe, likely marks the peak of negative sentiment around SeaWorld tied to the documentary, and is positive for the stock.
"For SeaWorld investors, this lessens public exposure for the movie," Crockett said, "and lessens the risk that this movie could dampen attendance when the season kicks back into gear in the spring."
The boost in stock price alone certainly does not provide concrete evidence for backroom politicking, but some are nonetheless suspicious.
Earlier this month, the Orlando Business Journal polled its readers about whether "Blackfish" had affected their perception of Sea World. The great majority of those who had responded to the survey said that it had not, but it was later discovered that 54 percent of those responses came from the same IP address – one that belonged to Sea World Entertainment. In a statement, spokesman Nick Gollattscheck insisted that the votes were cast by individual Sea World employees who had "as much a right to vote as anyone else."
Follow @EllenKilloran on Twitter. Questions, comments, concerns? E.killoran@ibtimes.com
© Copyright IBTimes 2023. All rights reserved.