Oscars 2016 Black Out? What Could Happen To Academy Awards Ratings If African-Americans Tune Out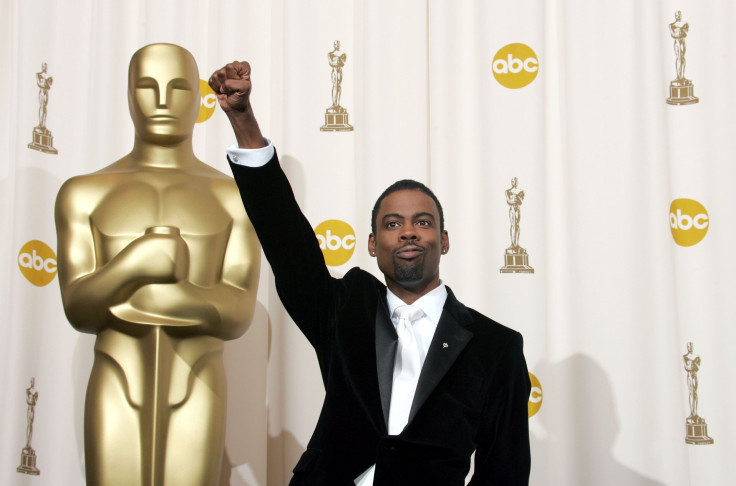 One billion. That's how many viewers are anticipated for the global broadcast of the 88th annual Academy Awards, Hollywood's glitziest night. So, if every single African-American tuned out for next month's ceremony to protest the lack of diversity in actor and director nominees this year, movie studio and TV executives would only flinch, media analysts monitoring the fallout of yet another all-white Oscars confab said.
"That 1 billion number isn't going to change a whole lot if black people didn't watch," said Naeemah Clark, a TV analyst who teaches entertainment economics and diversity at Elon University in North Carolina. "But it's not really about the numbers," she added Tuesday. "How many more years do we have to be reminded that there are segments of our population who are not being represented?"
As the Academy of Motion Picture Arts and Sciences scrambled to handle a second year of intense scrutiny over the diversity of its membership and of those recognized by the all-important institution, there were growing calls among some black community leaders to boycott this year's ceremony all together. With Oscar ratings plummeting in recent years and millions of advertising dollars on the line, the academy would do well to ensure the protests promised by some black entertainers don't grow larger and become even more of a gamble for broadcast partner ABC, analysts said. Protesters also have to show Hollywood what sorts of entertainment they are willing to support in order for an academy boycott to have the desired effect, some analysts noted.
"The smart thing to do is to not watch and say, this is what we're doing instead," Clark said in a phone interview Tuesday.
The buzz from a boycott could send ratings to a new low this year, after the broadcast saw a 16 percent drop in viewership last year. The ABC telecast averaged 36.6 million viewers in 2015, a year that gave birth to the "#OscarsSoWhite" meme on social media. This year, the hashtag trended again following last Thursday's nomination announcement ceremony, when none of the 20 actors recognized were people of color.
African-American viewers have tuned in for the Oscars in large numbers in years that featured diverse lineup of nominees, according to Nielsen ratings cited by the New York Times. Still, the black television audience overall is pretty small, as little as 5 million during the Academy Awards, and has fluctuated in the last 10 years.
2016 Academy Award Nominees | PrettyFamous
But that's no reason for the academy to take offending African-Americans lightly, said Robert Thompson, director of the Bleier Center for Television and Popular Culture at Syracuse University in New York. "This is not a reputation that the academy wants to have," he said in a phone interview Tuesday. A boycott would be "significant culturally, especially if it started to strip away the glamour and all of the stuff that makes the Oscars fun to watch," he added.
The focus of a protest should not just be on the diversity of nominees, Thompson said, pointing out that the academy membership voting on the films and performers nominated is 94 percent white, 77 percent male and has a median age of 64. "What really makes this significant is the fact that this is not exactly a conservative group of people deciding to give awards. This is Hollywood — the Hollywood that is always being accused of being too far to the left. They've always perceived themselves as being on the good side of this argument. But that's not the case," he said.
Civil rights leader Al Sharpton announced Tuesday plans to convene meetings regarding a "serious campaign for people to tune out the Oscars" during the Feb. 28 broadcast on ABC. Sharpton, who in the past has called for TV boycotts related to the inclusion and treatment of entertainers of color, said he would build on the work done by leaders of the Los Angeles Chapter of his National Action Network. Those leaders said in a statement that academy officials made previous pledges to work on their diversity problem and "kept none of them."
Amid the controversy, Cheryl Boone Isaacs, president of Academy of Motion Picture Arts and Sciences, who is African-American, this week promised a review of the academy's membership recruitment. She made similar promises last year, after nominees in the 2015 acting categories were all white. "While we celebrate their extraordinary achievements, I am both heartbroken and frustrated about the lack of inclusion," Boone Isaacs said in a statement released Monday night. "This is a difficult but important conversation, and it's time for big changes. "
Such promises haven't stopped some blacks in Hollywood from criticizing the academy, but there is not agreement across the board. Actress Jada Pinkett Smith and director Spike Lee announced Monday their plans to skip the Academy Awards' 88th annual ceremony over the snub of African-Americans actors. "Begging for acknowledgement or even asking diminishes dignity and diminishes power and [blacks] are a dignified people and we are powerful, let's not forget it," Pinkett Smith said in a Facebook video message.
Lee, who last November received an honorary Oscar for his work that has been overlooked by the academy membership for decades, said he and his wife would skip the February ceremony to send a message about the need for more diversity among top decision-makers at Hollywood studios. "We cannot support it and mean no disrespect … but how is it possible for the second consecutive year all 20 contenders under the actor category are white?" Lee said in an Instagram message.
Janet Hubert, the African-American actress best known for playing the Aunt Viv character on the TV sitcom "Fresh Prince of Bel Air," who has publicly feuded with former co-star and previous Academy Award nominee Will Smith, criticized his wife Pinkett Smith for suggesting that other black actors "jeopardize their career" to make a statement about racial diversity in Hollywood. "I find it ironic that somebody who has made their living, and made millions and millions of dollars from the very people you're talking about boycotting just because you didn't get a nomination, just because you didn't win," Hubert said in a YouTube message that surfaced Monday. "That is not the way life works, baby."
John Singleton, who in the early 1990s became the first African-American nominated for a best director Oscar, this week told Variety magazine that the all-white slate of 2016 nominees isn't as big of a deal as Pinkett Smith and Lee have made it. "It's like every year people complain," he said. "People even complain even when we have a lot of nominations. To me, I'm not surprised. I'm not disappointed either, as much as other people are disappointed."
The black comedian Chris Rock is set to host this year's ceremony. If the academy is going to show that it has heard protesters, they could give him the license to do so during the broadcast. "Chris Rock is going to have to talk about this," said Clark, the Elon University professor. "The issue is that there is a systemic erasure of people of color in Hollywood. If you're not white, a size 0-4 [dress], and cisgender, then you don't even exist."
© Copyright IBTimes 2023. All rights reserved.