'Outlander' Season 1 Spoilers: Jamie Explains How He Became A Man In Midseason Premiere Clip [VIDEO]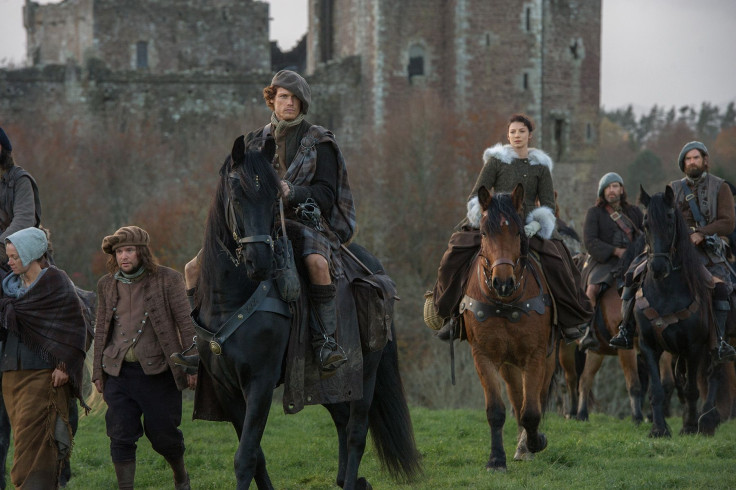 "Outlander" Season 1 won't return until April, but Starz gave fans another sneak peek during the premiere of "Black Sails" Season 2. Executive producer Ron Moore introduces the first scene from the midseason premiere, and he explains that Jamie (Sam Heughan) will narrate episode 9 instead of his love, Claire (Caitriona Balfe), the usual narrator.
"I've always known I lived a life different from other men," Jamie says. "When I was a lad, I saw no path before me. Simply took a step and then another. Ever forward. Ever onward, rushing toward some place, I knew not where. And one day I turned around and looked back and saw that each step I'd taken was a choice. To go left, to go right, to go forward or even not go at all."
Jamie's voice-over continues while the video shows shots of the Scottish landscape and Jamie skipping rocks in a river.
"Every day, every man has a choice between right and wrong," Jamie says. "Between love and hate. Sometimes between life and death. And the sum of those choices becomes your life. The day I realized that is the day I became a man."
Watch the video below:
Moore explained during the Television Critics Association press tour that Jamie's perspective was interesting, but it also had a purpose. "It also served a larger goal in the life of the series in that the show beyond Season 1 is really about Jamie and Claire together, and this was a moment to sort of pivot to now include him in the perspective for the audience, and that gave us permission moving forward to then do scenes that Jamie was in, that Claire wasn't in, so now the show became about both of them as we move forward," Moore explained, according to E! Online.
Fans can expect many more sneak peeks before the second half of "Outlander" Season 1 premieres. Starz is posting videos on the fourth of every month to get fans through "Droughtlander" and already has posted new trailers, deleted scenes and messages from the cast.
"Outlander" Season 1 returns Saturday, April 4, at 9 p.m. EST on Starz. Are you excited to see Jamie's perspective? Sound off in the comments section below!
© Copyright IBTimes 2023. All rights reserved.