'Outlander' Season 3 Spoilers: Caitriona Balfe Teases Jamie And Claire's 'Awkward' Reunion
"Outlander" fans are waiting for one thing: Jamie and Claire's reunion. The lovers were separated when Claire went back to the 20th century at the end of last season, but she'll eventually go back to Jamie's time. However, the couple might not know what to do when they finally get back together.
"I hope that what we've done is try and ground it as much in realism as we can. I think it's really awkward and funny and sweet and endearing," Caitriona Balfe, who plays Claire, teased to Elle.
While Jamie (Sam Heughan) and Claire have definitely kept each other in mind and fantasized about reuniting, reality is going to be very different from their daydreams. "I think Claire and Jamie have both had each other on pedestals for 20 years," Balfe added. "So when you finally see the object of your love and desire again in the flesh, it throws out everything you thought you would do."
READ: New 'Outlander' Trailer Teases Print Shop Scene
Readers of the Diana Gabaldon-penned novels know that Jamie will have a very dramatic reaction that he certainly didn't plan when Claire shows up 20 years after her departure. It happens in Jamie's print shop, and audiences will be anxiously awaiting the scene. Don't expect to see it in the "Outlander" Season 3 premiere, though. The first episode was screened at San Diego Comic-Con, and fans didn't talk about seeing a reunion.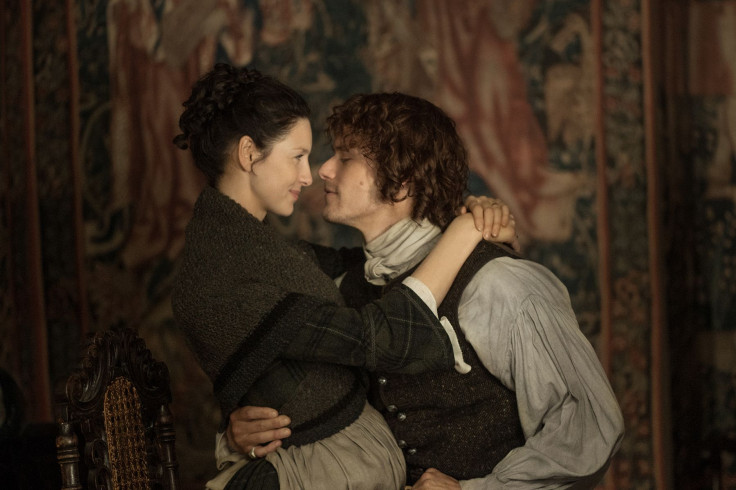 TVLine reports that showrunner Ronald D. Moore seemingly revealed how many episodes Claire will spend away from her second husband. "As always, we take our cues from the book first," Moore said at the Television Critics Association press tour. "The books laid out this episodic story of Jamie. You had five chapters of his life [beginning with the Battle of Culloden]. That's five episodes right there."
The pressure is on to get the print shop scene, which was filmed in Scotland last fall, just right. "The first thing everyone talks about is the print shop [where Jamie and Claire are reunited after decades apart]," Balfe explained to Vanity Fair last fall. "'Are you going to do the print shop? You can't change one line of the print shop.' We haven't actually gotten to film that yet, but I think the writers are well aware that they have to do the fans right."
While Jamie and Claire might be separated for nearly half the season, there will still be plenty of burgeoning romance elsewhere. Jamie and Claire's daughter Brianna (Sophie Skelton) will grow closer to Roger (Richard Rankin) throughout the season. It seems the duo will be more focused on finding Jamie than discussing their feelings, though.
READ: Caitriona Balfe Teases Sam Heughan Over Healthy Habits
"With Brianna and Roger, they don't communicate very well even though they are the only people in the world who understand each other," Skelton told TV Guide. "There's that beautiful infuriation. You just want them to sit down, tell each other how they feel and move the relationship forward that way."
It seems "Outlander" fans are going to have to be patient before they see their favorite couples get together.
"Outlander" Season 3 premieres Sunday, Sept. 10 at 8 p.m. EDT on Starz.
© Copyright IBTimes 2023. All rights reserved.
FOLLOW MORE IBT NEWS ON THE BELOW CHANNELS