'Outlander' Season 3 Spoilers: Print Shop Scene Teased In New Trailer
"Outlander" fans waiting for Season 3 are expecting one very important scene from the books to be on screen: Jamie and Claire's reunion. The lovers reunite in a print shop in Diana Gabaldon's "Voyager," and the Starz TV series is taking the same route. The new trailer teases the famous scene.
The highly anticipated moment is only shown in the last moments of the trailer, seen above. Viewers see that Claire (Caitriona Balfe) has finally left the 20th century to return to the 1700s. She approaches a building marked by a sign that says "A. Malcolm: Printer and Bookseller."
Claire smiles, clearly understanding that Jamie (Sam Heughan) is going by Alexander Malcolm, his middle names. She looks a bit nervous as she heads into the shop. We see the door open, ringing the bell — and then the trailer stops. Starz isn't going to let the "Outlander" trailer ruin one of the most highly anticipated moments of the season.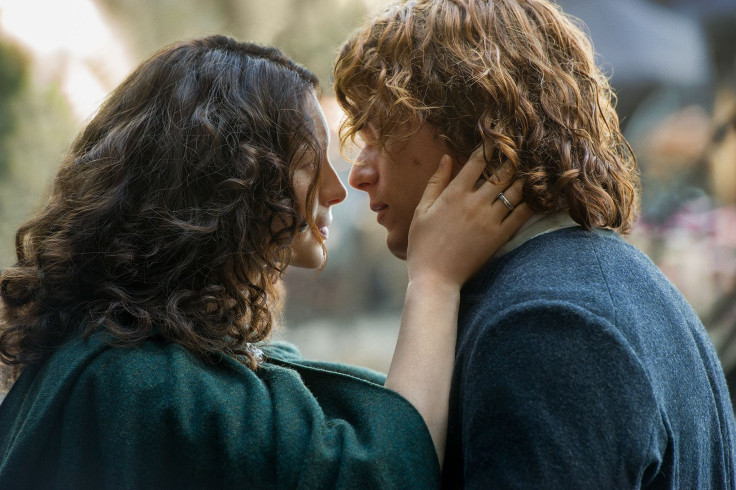 Cast and crew members dropped plenty of little hints when they were filming at the print shop in the winter. In December, Heughan went on Twitter to tease fans. He confirmed that they were definitely filming the scenes, but he wouldn't give fans a glimpse of what to expect. "Oh you know.... Just printing stuff," he wrote on Twitter.
READ: Sam Heughan Teases Print Shop Scene In "Outlander" Season 3
In November, producer Matthew B. Roberts posted a photo of the script that made it clear viewers would see the print shop. Production designer Jon Gary Steele revealed some of Jamie's tools and said that there was a working printing press on the "Outlander" set.
Even before the scene was filmed, Balfe knew that there was plenty of hype around the scene. She told Vanity Fair that the writers and actors know that readers are looking forward to this scene the most. "The first thing everyone talks about is the print shop [where Jamie and Claire are reunited after decades apart]," Balfe explained last fall. "'Are you going to do the print shop? You can't change one line of the print shop.' We haven't actually gotten to film that yet, but I think the writers are well aware that they have to do the fans right."
READ: "Outlander" Season 3 To Air On New Night, New Time
It isn't clear which episode the print shop will appear in, though. Most of the new trailer, seen above, shows Jamie and Claire separated. Claire will be raising Brianna (Sophie Skelton) with Frank (Tobias Menzies) in the middle of the 20th century while Jamie finds himself in trouble. The trailer shows him returning home to his sister to discover the authorities waiting there to arrest him.
"Outlander" Season 3 is looking very different from past seasons, and it seems showrunner Ronald D. Moore loves it that way. "It's another completely different season just as each book is a completely different experience, each season of ours is a different experience," he told International Business Times last month. "This season is going to move the show from Scotland. It's going to go to sea; it's going to end up in the Caribbean. It's gonna look and feel completely different and advances the story dramatically, so I'm just excited that once again, the show is evolving and sort of ever changing."
"Outlander" Season 3 premieres Sunday, Sept. 10 at 8 p.m. EDT on Starz.
© Copyright IBTimes 2022. All rights reserved.
FOLLOW MORE IBT NEWS ON THE BELOW CHANNELS