'Outlander' Wedding Episode: Where To Buy The Ring Jamie Gave Claire In Episode 7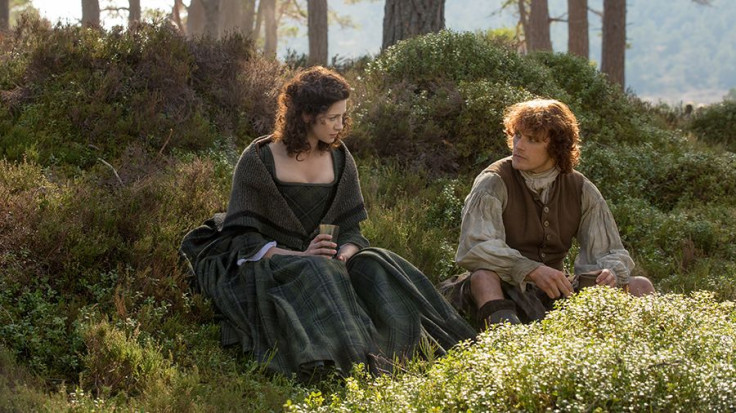 "Outlander" Season 1 episode 7 showed Jamie giving Claire a very specific ring at their wedding, and die-hard fans can get their own version of Claire's wedding ring. "Outlander" author Diana Gabaldon gave The Author's Attic permission to design a real ring for fans. They based the piece of jewelry off of a design that Gabaldon put in "The Outlandish Companion" (a guidebook to the "Outlander" book series) -- and Gabaldon has a link to the online boutique on her website.
The Author's Attic is a site that specializes in literary jewelry, and the business started with Claire's ring in 2006, according to their website. Another designer had tried to make the ring a few years prior, but ultimately the venture didn't succeed. Two fans approached Gabaldon and asked for her permission to make their own version of the ring based off of Diana's design in "The Outlandish Companion." The venture went well and ultimately started a business for the two fans in 2006. They expanded their collection to include various other pieces of "Outlander" jewelry as well as collections inspired by the works of classic authors such as Jane Austen, Charlotte Brontë and Anya Seton.
The first book describes the ring as "a wide silver band, decorated in the Highland interlace style, a small and delicate Jacobean thistle bloom carved in the center of each link." The "Outlander" TV show created a different ring from a key that Jamie had melted down. The design on the Starz adaptation is a bit different, but Jamie also didn't have much time to get a ring in the show. In the books, he gave Claire the ring a few weeks after their wedding, while he had it made the day of their wedding on the show.
"Outlander" fans can buy Claire's wedding ring from Jamie HERE. Hopefully, the "Outlander" merchandise will make the hiatus a little less painful. The "Outlander" midseason finale airs Saturday, Sept. 27 at 9 p.m. EDT on Starz and won't return until 2015.
Will you be buying Claire's ring? Or have you already had it for years? Sound off in the comments section below!
© Copyright IBTimes 2023. All rights reserved.