Outspoken Parkland Shooting Survivors Are 'Actors,' Aide To Florida Republican State Representative Says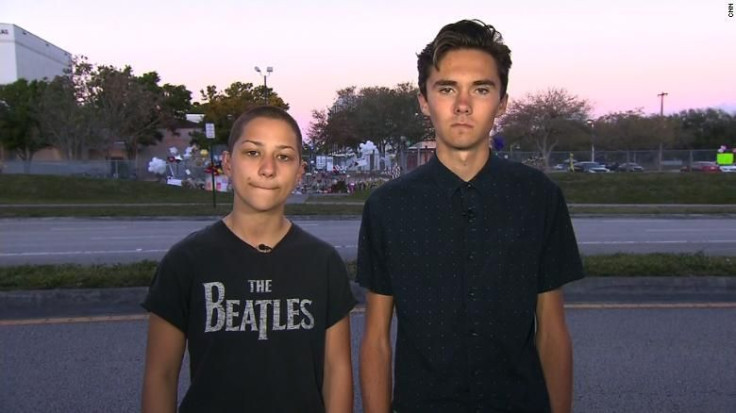 An aide to Florida state Representative Shawn Harrison told Tampa Bay Times reporter Alex Leary that some of the kids from the Parkland, Florida, shooting speaking out about gun violence on television are actors.
"Both kids in the picture are not students here but actors that travel to various crisis when they happen," Benjamin A. Kelly a district secretary for the representative told Leary.
Last week 17 people were killed in a shooting at Marjory Stoneman Douglas High School in Broward County, Florida. Since the shooting, several of the high school's students have spoken out about gun violence and have asked politicians to act.
"We've sat around too long being inactive in our political climate, and as a result, children have died," David Hogg, 17, a senior at the school who survived the shooting told CNN. "If our elected officials are not willing to stand up and say, 'I'm not going to continue to take money from the [National Rifle Association] because children are dying,' they shouldn't be in office and they won't be in office because this is a midterm year and this is the change that we need."
Some conservatives and members of the far-right have reacted negatively to the survivor's activism, including the unnamed aide to Harrison. Kelly used a talking point controversial talk show host Alex Jones has used when speaking about the Sandy Hook shooting in Connecticut, which he has at times called a hoax, and allegedly sent Leary a conspiracy video as proof.
Harrison denounced his aide and said that he would be put on leave.
"The big question is: should the media be promoting opinions by teenagers who are in an emotional state and facing extreme peer pressure in some cases?" asked former Fox News host Bill O'Reilly on Twitter.
An article from the conservative website the Daily Caller criticized Hogg because he appeared "coached" in an interview.
"A clueless Hogg appeared unaware of the fact that the President is not 'in control' of each department and branch of government, but must work and negotiate with them," the article read. "It appears he was heavily coached on lines and is merely reciting a script."
The article said Hogg was "exposed" because his father was in the FBI. In a tweet, Saturday Trump accused the FBI of not following up on tips they received about the alleged shooter because they were too busy investigating the Russian Investigation.
This story has been updated to include new developments.
© Copyright IBTimes 2023. All rights reserved.