'Overlord' Season 4, Episode 8 Live Stream Details: How To Watch Online, Spoilers
KEY POINTS
"Overlord" Season 4, Episode 8 is airing Tuesday
The episode will be available on Crunchyroll
The series is based on Kugane Maruyama and So-bin's original work
Ains and his Sorcerer Kingdom are always cautious of the neighboring nations, yet the Sorcerer King saved the Holy Kingdom. The upcoming installment is titled "An Unexpected Move."
The official website has released the synopsis and spoiler stills of "Overlord" Season 4, Episode 8. Despite his reservations, Ains went all out to protect the Holy Kingdom from getting attacked by Evil Lord Jaldabaoth.
Due to his actions, Ains's reputation is improving among leaders. Meanwhile, the situation in the Re-Estize Kingdom is slowly deteriorating.
In the midst of trying to protect the kingdom, somehow Zanak is stuck in a situation where he cannot help. This is when Philip comes up with a plan. However, his plan is a dangerous one that no one really believes in.
In the last episode, at Feo Berkana, Yozu informed Pe Riyuro about the recent action that happened on the bridge.
Riyuro wondered if the dwarves had more golems to reclaim the city. He instructed Yozu to move the citizens to a safer location.
Meanwhile, a messenger informed them about a group that was heading toward the city. Riyuro decided to ask the dragons to assist them in this battle.
Later, Riyuro saw Shalltear and Aura coming toward them. Shalltear told Riyuro that they came to subjugate the Quagoa army. Riyuro appeared confused as he underestimates the power of Shalltear and Aura.
"Newly crowned Ains has big plans for his Sorcerer Kingdom, but so do his enemies. Deep in the mountains of Azerlisia lie the Dwarves' mortal enemy, a demi-human race, the Quagoa, gathered ready to invade. To make matters worse, other kingdoms conspire to overthrow the undead king! Will his vision for a utopia come to fruition? Heavy lies the crown, even for the guy with unlimited power," reads the official "Overlord" Season 4 synopsis, as per Crunchyroll.
The opening theme song for Season 4, titled "HOLLOW HUNGER," is performed by duo OxT (Tom-H@ck and Masayoshi Oishi). The ending theme, "No Man's Dawns," is by Mayu Maeshima.
"Overlord" Season 4, Episode 8 is scheduled to air Tuesday. Fans can watch the episode online on Crunchyroll. The installment will live stream in Japanese with English subtitles.
The anime is based on the original story by Kugane Maruyama and illustrations by So-bin.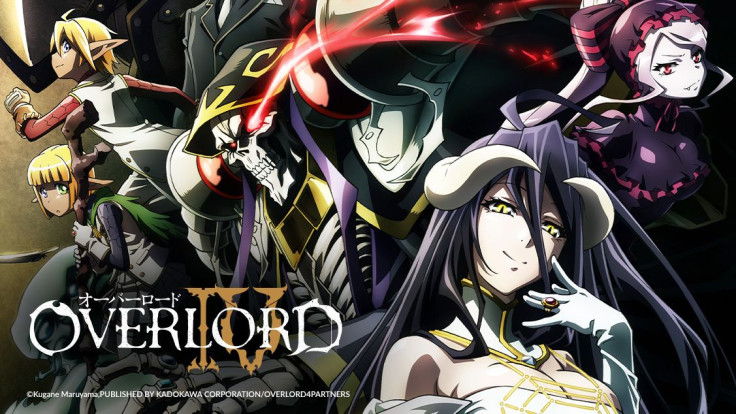 © Copyright IBTimes 2023. All rights reserved.