'Overwatch League' Reduced Porn Viewership, YouPorn Data Analysis Shows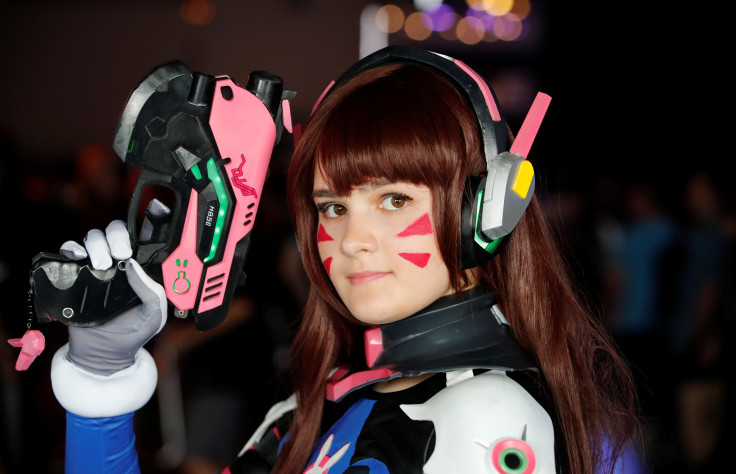 At less than 10 days old, Blizzard Entertainment's "Overwatch League" (OWL) is already making an impact on online entertainment.
According to statistics shared Thursday by YouPorn, one of the biggest porn sites in the world, the inaugural day of "OWL" on Jan. 11 saw the website experiencing a rather sudden 9 percent dip in its traffic from around the world, just about the time the eSports league began.
The 9 percent drop in the portal's traffic sustained till the end of the third OWL game; the porn site experienced lower traffic levels than normal for the entire first week of the league's broadcasts.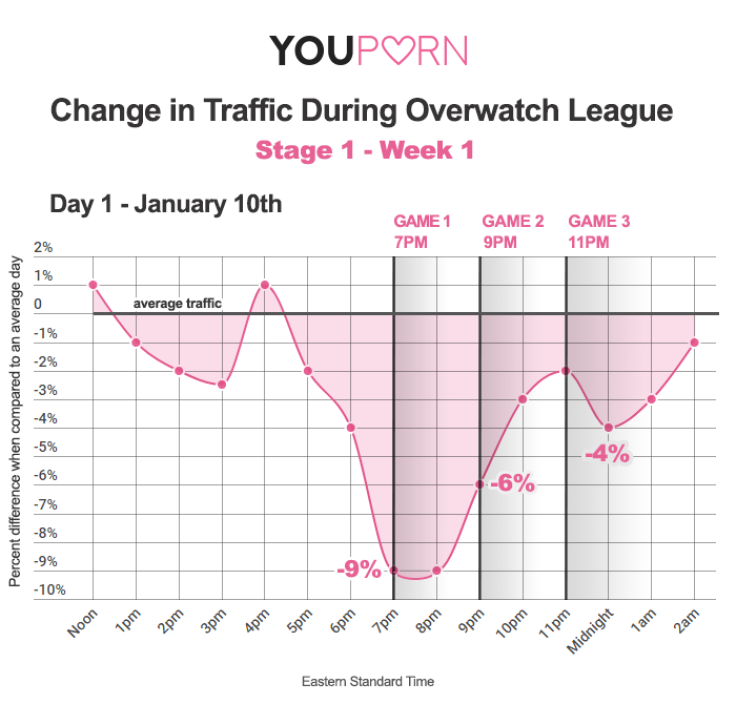 OWL, on the other hand, experienced 415,000 concurrent viewers on the opening night on its English, Korean and French streams combined. It managed over 10 million viewers in its opening week.
YouPorn, for their part, did not seem too hard done by the situation and said: "We are excited to find out who will win and be the first Overwatch League champions, receiving a trophy and a cool $1 million USD bonus. Of course, we are also curious to see how you celebrate and will be keeping an eye on visits to the site before, during and after."
This enthusiasm might be due to the fact that on Jan. 9 PornHub's 2017 Year In Review pointed out that the site witnessed an increase in users searching for animated porn. "Overwatch" topped that list, Dbltap reported.
While "Overwatch" as a search term had fallen a couple of places on PornHub since the game made its debut in 2016, it was by some distance the most searched video game, ranking as the 13th most searched term.
In this regard, the top three most searched "Overwatch" female characters were D.Va, Mercy and Tracer, in that order, and they are also some of the most searched female characters in general on PornHub.
Characters Widowmaker, Sombra and Pharah were trailing them by not very far.
Since the OWL began, YouPorn saw a 30 percent search increase in "Overwatch" related searches, so it is understandable why they aren't too threatened by it.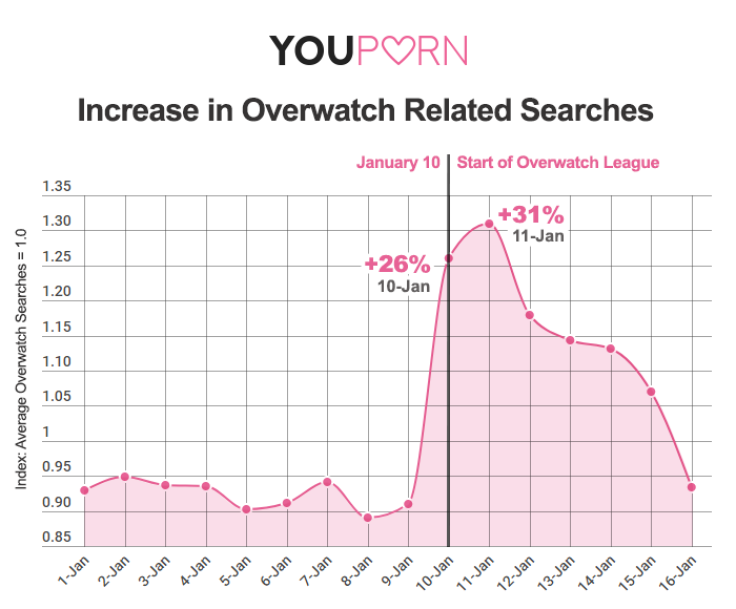 A YouPorn world report, while mildly plugging their product, stated:
"Overwatch mixes real sports and E-sports creating the perfect combination of IRL and URL action for viewers and gamers. However, for those wanting to participate in a more hands-on way, you will need to pay around $20,000,000 to get a spot in the league, which is a lot more zeros than the premium subscription we offer. Anyways, we looked at how the launch of the Overwatch League affected traffic to our site, and the numbers proved that you are as into this as we are."
It's not entirely surprising that "Overwatch" players consume porn. A Techraptor report from August 2017 said that Overwatch's Summer Games was criticized by at least one concerned parent.
Part of Ned_of_House_Flanders' post read: "WHAT? What about this skin has anything to do with the character you're building in McCree? It's not fun, its not silly, it has nothing to do with being a futuristic cowboy LARPer. It just reduces McCree to another bland male sex symbol, with his shredded abs and whatnot. We aren't looking at a Tracer pose here, this isn't a character who is in part defined by flaunting her sexuality. This skin says to the player base, oh we've got all these cool diddly-doodly diverse characters, but at any moment we are willing to reduce them to sex symbols to help boost our investment game."
© Copyright IBTimes 2023. All rights reserved.
FOLLOW MORE IBT NEWS ON THE BELOW CHANNELS