Paralyzing Injury to a Healthcare-Changing Mission: How NeuroHope is Transforming Spinal Cord Injury Care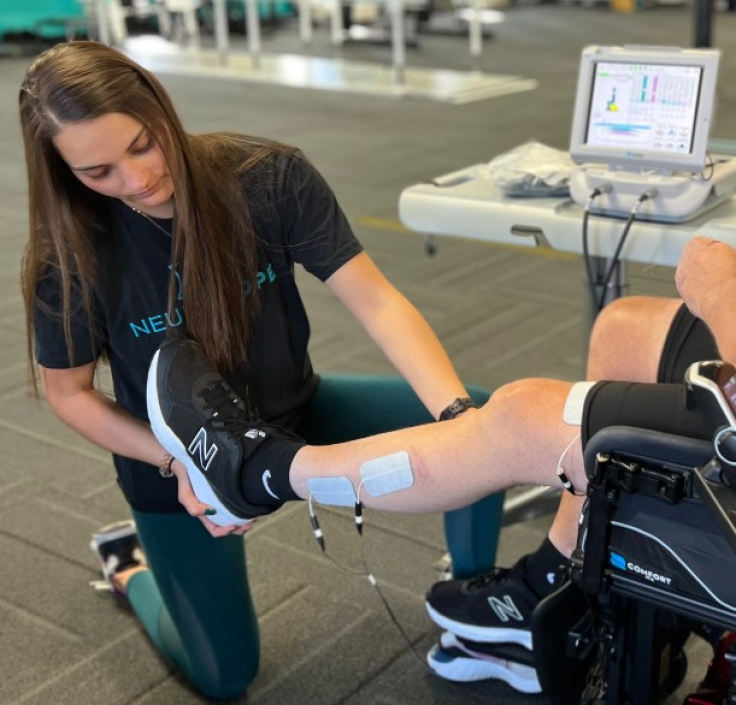 Chris Leeuw is a powerful example of how personal tragedy can inspire positive change. A life-changing spinal cord injury in a 2010 swimming accident initially left him paralyzed from the neck down. At the age of 28, Chris was thrown into the terrifying world of quadriplegia, the mental and physical struggles of paralysis, and the challenges of finding the long-term rehabilitation he needed to take his life back. Over the next decade, he would not only re-learn to walk, but create the non-profit rehabilitation center,, to help hundreds of others receive the care they need when they leave the hospital.
Chris' injury was devastating, and the recovery process was long and arduous. Just weeks after shattering his fourth cervical vertebrae and becoming paralyzed, he discovered the limitations of the complex health care system. In spite of having employer sponsored health insurance, he started receiving denials for physical therapy within one-month of his accident. He was soon discharged from his rehabilitation hospital to a nursing home with nowhere to continue his recovery.
Chris and his family realized the high-cost of care translated to significant failings in insurance coverage, and limited access to state-of-the-art rehabilitation for survivors of catastrophic injuries. Not willing to succumb to his injury or the situation, he and his mother, who served as his caregiver, traveled across the country to a facility called Neuroworx in Salt Lake City, Utah, which provided unique access to the long-term therapy he desperately needed. Over the course of two years, Chris slowly re-learned to walk, use his arms, and become independent. He also found a new purpose in life, and became determined to create a facility in his home city of Indianapolis, Indiana to help others facing similar challenges receive adequate and affordable access to care.
Through significant fundraising efforts, a change in Indiana state legislation, and collaboration with organizations such as the University of Indianapolis and the Christopher and Dana Reeve Foundation, NeuroHope was founded in 2013, and opened in 2015 with the aim of providing activity-based rehabilitation and wellness programs for survivors of neurological injuries. The organization's mission is to provide affordable, long-term access to skilled therapy for patients in the 1-2 year recovery window following injury, and blend that care with personal training, fitness, and wellness programs so patients remain active and live a healthy lifestyle long after their injury.
Statistics show that the average length of stay in acute care hospitals after a spinal cord injury has declined from 24 days in the 1970s to just 16 days in 2023. Today, the average amount of insured-covered outpatient therapy is just 28 visits per year. Additionally, 30% of people with spinal cord injuries are re-hospitalized at least once per year, due to complications from inactivity (e.g. skin breakdown, muscle contractures, and respiratory issues). According to NeuroHope, this is why continued rehabilitation and specialized wellness programs for people living with paralysis is so important.
"What is so unique about NeuroHope is that we have a system in place for people to continue care past insurance allowances", says Leeuw. "These injuries take months or years to maximize recovery. We are there for patients throughout the entire process."
Providing an affordable continuum of care, however, comes at a cost to the organization. Self-pay rates for physical therapy in traditional healthcare may cost more than $300 per hour. NeuroHope charges a fraction of that and relies on fundraising, grants, and sponsors to offset the cost of care. "It is a truly patient-centric model", Leeuw says. "The way healthcare is supposed to be."
It is evident that personal experience has been the driving force behind NeuroHope's success. As a spinal cord injury survivor himself, Leeuw understands the challenges faced through paralysis and the importance of a supportive community. He has used his own experience to inspire and motivate others, demonstrating that life after a spinal cord injury can be full of possibility and purpose.