'Parenthood' Season 6 Spoilers: Jason Ritter Returns For Final Episodes; Watch Mark Cause Tension Between Sarah And Hank In Sneak Peek Video From Episode 9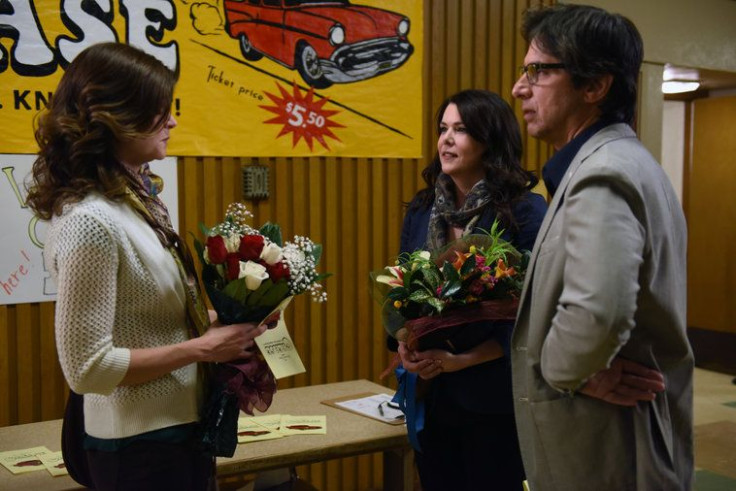 "Parenthood" is in the middle of its final season, but the showrunners aren't sending the Bravermans into an easy happy ending. Hank (Ray Romano) and Sarah (Lauren Graham) just started figuring out how to co-parent Ruby (Courtney Grosbeck) with Hank's ex, Sandy (Betsy Brandt), but that isn't the end of their struggles. It seems that Sarah's ex, Mark (Jason Ritter) — the man she left for Hank — is coming back into their lives just in time for the winter finale of "Parenthood."
In a new sneak-peek video via the Hollywood Reporter, Sarah is attending a play at the high school with Hank and Sandy. Hank and Sarah are shocked when Mark comes out to introduce the play, and it seems Mark is just as thrown. When he sees Sarah's face, he loses his train of thought and has an awkward pause before he composes himself.
Sarah and Hank look uncomfortable, but Sandy has no idea that there's any tension. "That's the English teacher? Hi, hot!" Sandy says.
Hank doesn't seem thrilled that his ex-wife noticed how attractive Mark is.
Watch the sneak-peek video from "Parenthood" Season 6, episode 9 below:
It seems that the former couple won't be leaving their awkward encounter without a conversation, though.
Entertainment Weekly
posted a new photo that shows Sarah and Mark talking outside. A conversation alone might not mean they're rekindling their romance. Last time the two had a brief reunion, in Season 5, Mark revealed he was engaged to someone else. Check out the photo below:
"Parenthood" Season 6, episode 9 airs Thursday, Nov. 20, at 10 p.m. EST on NBC. Are you excited to see Mark return? Or is this just bad news for Sarah? Sound off in the comments section below!
© Copyright IBTimes 2023. All rights reserved.