Paris Attacks: Republicans Criticize Obama On Foreign Policy, But What Would They Do Differently?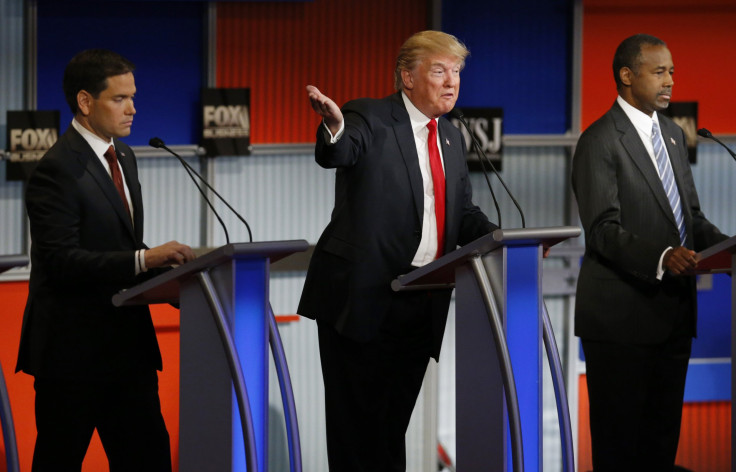 In the wake of terrorist attacks in Paris Friday night, President Barack Obama's critics have accused the leader of underestimating the Islamic State of Iraq and Syria (ISIS), the terrorist group that has claimed credit for the killings. Just a day before the attacks, Obama told ABC's George Stephanopoulos that ISIS was "contained."
Several Republican presidential candidates took to social media and interviews to criticize the president for his comments about the terrorist group as well as his foreign policy strategy in recent years. On issues of national security, the GOP candidates have said the United States needs to take a more aggressive stance against global terrorism, with many saying they would commit more troops to fighting ISIS and cracking down on U.S. border security.
Texas Sen. Ted Cruz, Florida Sen. Marco Rubio, Donald Trump, and other Republican candidates weighed in Saturday to criticize not only Obama, but also Democratic front-runner Hillary Clinton, who served as secretary of state for the first part of Obama's administration.
"President Obama and Hillary Clinton's idea that we should bring tens of thousands of Syrian Muslim refugees to America: it is nothing less than lunacy," Cruz said in an interview with Fox News.
He added that the U.S. should "not allow jihadists to come back to America using U.S. passports to murder innocent men and women."
Rubio, who has made his foreign policy experience a centerpiece of his campaign, called the Paris attacks a "wake-up call," according to the Guardian. He framed the issue as a "clash of civilizations."
"They literally want to overthrow our society and replace it with their radical, Sunni Islamic view of the future," Rubio said. "They do not hate us because we have military assets in the Middle East."
The Florida senator has previously said he would build a military coalition led by Sunni countries to fight ISIS, which he would support with U.S. air forces.
"Put together a coalition of armed regional governments to confront [ISIS] on the ground with U.S. special forces support, logistical support, intelligence support and the most devastating air support possible," he said at the Political Conservative Action Conference in February, according to the Huffington Post, "and you will wipe ISIS out."
Other candidates focused on how the Paris attacks would affect immigration and U.S. actions going forward. Kentucky Sen. Rand Paul lashed out at Rubio, the Guardian reported, who he said blocked an amendment to a bill Paul had tried to introduce that would have applied "special scrutiny" to immigrants from countries that "have large jihadists."
GOP front-runner Trump said at a rally in Texas that America needed to secure its borders. "With the problems our country has, to take in 250,000 people, some of whom are going to have problems, big problems, is just insane."
After initially tweeting his condolences to Paris victims Friday night, Trump also sent a tweet Saturday criticizing Obama for his foreign policy.
The White House said in September it would accept 10,000 Syrian refugees starting Oct. 1. Refugees have been fleeing Syria for Europe due to the Syrian civil war, but some European countries have been hesitant to take in the waves of migrants. In the wake of the attacks in Paris, some countries have said they may change the number of refugees they accept or increase security for incoming refugees.
ISIS claimed responsibility for the shooting and suicide bomb attacks in Paris Friday night, which left 129 people dead and hundreds wounded.
Cruz, who was in South Carolina for a "rally for religious liberty" Saturday, said the victims in Paris "were not injured by some faceless menace. They were not injured by some abstract and inchoate violent extremism."
"I call on Congress to pass the Expatriate Terrorist Act, legislation I've introduced that says that any American who goes and takes up arms and joins ISIS to wage jihad against the United States of America, that by doing so they forfeit their American citizenship."
Republican establishment candidate Jeb Bush expressed his support for victims of the Paris attacks on Friday.
In the past, he has advocated for putting U.S. troops on the ground to fight ISIS and establishing a no-fly zone over Syria. "I assure you: The day that I become president will be the day that we turn this around and begin rebuilding the armed forces of the United States," he said, CNN reported earlier this month.
As Obama determines the U.S. response to the events in Paris, the country's foreign policy decisions are likely to become a more prominent element of the 2016 presidential race going forward. Republican candidates will have another formal opportunity to discuss the issues at their next debate in December, but they are sure to continue criticizing the current administration between now and then.
© Copyright IBTimes 2022. All rights reserved.
FOLLOW MORE IBT NEWS ON THE BELOW CHANNELS