'Paris, Wine And Romance' Star Jen Lilley Talks Hiding Baby Bump, Uncomfortable Kissing Scene
Hallmark Channel's first-ever Countdown to Summer programming event kicks off Saturday night with a brand new Jen Lilley movie, "Paris, Wine and Romance."
Who'll be playing the Hallmark all-star's love interest on this European adventure? That would be "Good Witch" and "The Bold Type" actor Dan Jeannotte, who'll be making his Hallmark movie debut!
"Isabella [Lilley], the owner of her family's Oregon winery, takes a big leap and enters a prestigious wine competition in Paris," the synopsis reveals of the flick. "There she meets her biggest competitor, Jacques [Jeannotte], from one of the world's foremost winemaking families. As Jacques learns more about Isabella and her expertise in wine, a budding romance develops."
Before you sit down with your own glass of wine and travel thousands of miles to Paris via the power of a Hallmark movie, keep reading to find out what Lilley had to share about filming during her first pregnancy, an awkward-but-hilarious scene she had with Jeannotte and much more.
International Business Times: How was it shooting this movie while pregnant and in Europe
Jen Lilley: It was hard because we filmed the movie in Bulgaria, so finding things in Bulgaria that I could eat was a little difficult. I would love to go back there when I'm not pregnant. They have all these delicious cheeses and all these things that you just can't [have] because you don't know if they're pasteurized or not. So, that was tricky.
And, also, that was tricky because it films four weeks, and two weeks in my bump popped. Because with pregnancy, it's you're not pregnant, you're not pregnant, you're not pregnant, you're not pregnant, and then all of a sudden you're pregnant.
IBT: How did having your baby bump pop halfway through filming affect your wardrobe and the set-up of scenes? Did you have to do a lot of close-ups?
Lilley: We didn't have to shoot close-ups in all of it. We had to shoot, basically, starting halfway through – and they were conscious of it from the beginning, but we really started to make sure we were mainly shooting me straight on. So, when I'm walking towards the camera, it's not like my bump was big enough that you could tell. But if I was from the side, you'd be like, 'Does she have a pasta situation going on. Did she eat too much pasta last night or is she pregnant?' So, they modified the shots like that.
And because I'd been having bags or a jacket — I'd often have a jacket draped over my arm — things of that nature, we were able to kind of work around it.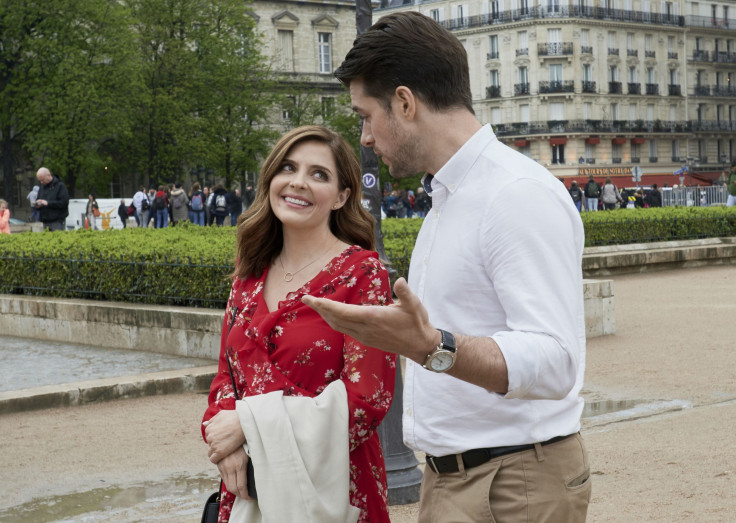 IBT: How was it filming "Paris, Wine and Romance" with Dan Jeannotte?
Lilley: He's such an actor's actor. I hope everyone gets to work with him. I loved working with him. He's so good at being in it, in your scenes with you, and you don't always get that in a scene partner, and he was fantastic.
We were cracking up because in our kissing scene, he could feel my belly. He was like, 'This is very uncomfortable,' and I'm like, 'I'm so sorry.' He has a wife, and they have one kid together, and so he's been through pregnancy, and because of that, it was wonderful because he was so supportive and so empathetic and he just kept telling me, 'I don't know how you're doing these 16-hour days.'
IBT: Is there anything else you want to share about the filming of this movie?
Lilley: Our director, Alex Zamm, is — oh my gosh — incredible. Alex Zamm is probably the most talented director I've ever worked with. He is so good at working with actors and crew and setting up his shots. And I find that it's hard to kind of find all three of those elements. But, I mean, this movie is going to look amazing.
I think it's going to be one of their best-looking films. I was just constantly in awe of the shots that Alex would set up and accomplish in such a short shoot. He was awesome.
IBT: You filmed mostly in Bulgaria, but did you get any time to do sightseeing while in Paris?
Lilley: Paris was really fast. It was kind of guerilla-style shooting. We had body doubles that went out and did a second unit. But I did get to see the Notre-Dame cathedral, which was really special to me. I'm completely heartbroken over the fire, but I'm really glad that they're gonna be able to salvage it. But we did get to see Notre-Dame cathedral, and I got to see the Eiffel Tower. And, for me, those were two really big items I wanted to see.
Hallmarkies can watch "Paris, Wine and Romance" on Hallmark Channel tonight at 9 p.m. EDT and live tweet with Lilley, who's currently back in Europe on a babymoon with her husband!
© Copyright IBTimes 2023. All rights reserved.