The Parlor Mob Kill Their Memorial Day Weekend Show At Asbury?s Stone Pony: Lead Singer Mark Melicia Talks Local Shows And The ?Miss-Match? Pretty Reckless Tour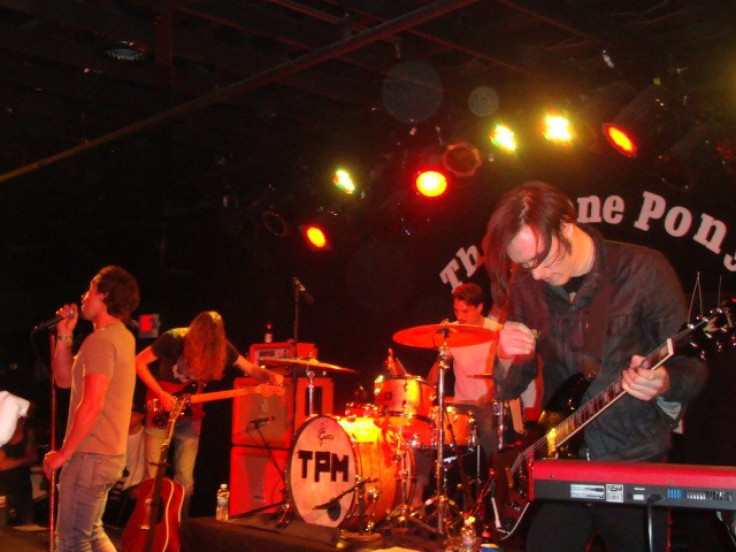 Locals filled Asbury Park's historic music venue, the Stone Pony, on Friday night for the Parlor Mob's Memorial Day weekend homecoming show. After a sick body rocking (and trippy) set from Florida based psychedelic rockers, Le Blorr, chants for the Parlor Mob filled the venue.
It's always the best, lead singer Marl Melicia told me about playing in Asbury before they took the stage around 10:30 P.M. Hometown shows there is always so much love and support that we get from the audience, and a lot of the people coming to the shows have been coming from the beginning. It's a big party, he says smiling.
It truly was a party as the band waltzed on stage, waving to the roaring crowd before kicking right into Bullet, off of 2008's And You Were A Crow.
When we're on the road it's a little bit more personal because the crowds tend to be smaller, Melicia says of playing shows outside of Jersey. We get the opportunity to meet a lot of people in the audience, where here [the Stone Pony] it gets to be that we really can't mingle in the audience too much before the show because it gets to be a little hectic.
Having their show on Memorial Day weekend, the show was definitely jam-packed, something the band planned on to accommodate all their fans. We like to do things on the holidays if we can help it. A lot of our fans go to college out of town, so it's always best to do things when the college kids are going to be home, he explains. It's good for us too; it's a good way to start the summer.
It definitely felt like summer on Friday night. While the air got cooler as the sun went down, the heat radiating from the Stone Pony made those who pulled out shorts and sandals for the show very grateful.
As the crowd sang along to The Kids and American Dream, guitarist Paul Ritchie tossed his long hair with drummer Sam Bey behind him, nailing his pink sparkly drum set.
In between songs Melicia greeted the crowd. There's a lot of you, he said, taking in the packed Pony. It's good to be here with you. The response from those gathered inside was deafening.
Since releasing 2011's Dogs, the Parlor Mob has had some of their songs featured as background music on television, most notably on Monday Night Football and a Pittsburgh Penguins commercial. While Melicia does give credit to those TV spots, he credits word-of-mouth for growing their fan base. It's always been kind of a grass root thing, he explains. Even though we've been on a major record label, and we've been through that sort of system, we've always excelled in the independent realm of things. We feel like 90 percent of the fans we've pounded the pavement for, which is something that we're proud of.
Checking out their Facebook page, which has over 17,000 likes, it's evident that their fans are dedicated, many requesting that the band return to their town as quickly as possible.
Playing shows might bring in more listeners, but one recent tour for the band was kind of a miss-match. This past March, the Parlor Mob joined The Pretty Reckless for The Medicine Tour. The Pretty Reckless is fronted by former Gossip Girl star and controversial teen, Taylor Momsen. Their shows are generally known for Momsen's age (in)appropriate outfits and a crowd split between sketchy older men and 18 and under girls who wait for the opportunity to dance on stage in their bras (we're not really about that, Melicia laughed about the bedazzled bras that have been known to make appearances at Pretty Reckless shows).
For us it was an opportunity to get out there and get to cities, Melicia said respectfully. It was a way for us to get to other places. It's just something that didn't really work out.
While the pairing with The Pretty Reckless might have been a bit of a flop, Melicia did cite that it gave fans in those cities an opportunity to see the Parlor Mob perform. It wasn't the ideal scenario. We would be foolish to try and lie and say that it was...It was just wasn't. I mean no disrespect, it's just very different from what we do, he explained of the Pretty Reckless' somewhat burlesque type of performance. But Melicia did add that it was still a positive experience, and you live and you learn.
The Parlor Mob has been together since 2004 (besides a slight change up in bassists in 2010), so performing together for almost eight years really explains the phrase you live and you learn. Judging by the Stone Pony's obviously enthusiastic crowd, I'd say that the band is doing something right.
For Melicia, the dream touring gig would be hitting the road with the Foo Fighters or Queens of the Stone Age. Any kind of rock band, he says, listing Cage The Elephant or Rage Against The Machine. Any band that is just a real rock and roll band that plays their instruments or writes good music...decent music we'll even settle for, Melicia added laughing.
As the band continued ripping through their set Friday, playing Fall Back and I Want to See You, off of 2011's Dogs, fans can rest assured that even though their latest album came out less than a year ago, the Parlor Mob is still focused on new music.
That's kind of at the forefront of our mind, Melicia said of writing new music. There was a big gap of time between the first record and the second record, and we're pretty committed to not allowing there to be that big a gap for the third. We want to tour responsibly and get out there when we can, but we also want to work towards new material.
If you are just waking up from cryopreservation and haven't checked out the Parlor Mob's kick ass music yet, visit their YouTube channel here. Keep an eye out for tour dates to witness the guys in action.
© Copyright IBTimes 2023. All rights reserved.