Pat Robertson Net Worth: Christian Televangelist Dead At 93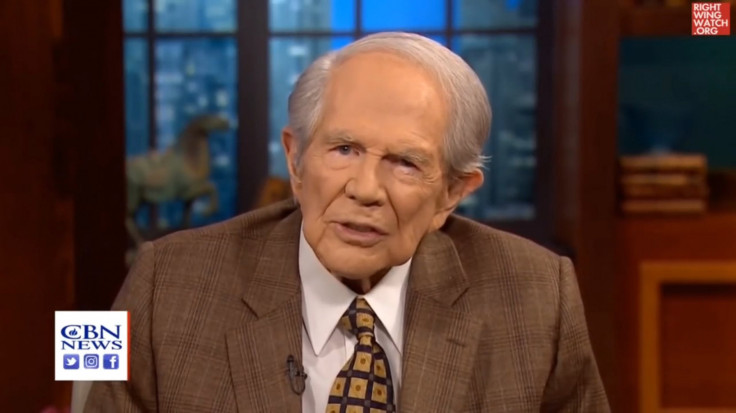 KEY POINTS
Pat Robertson was reportedly worth $100 million at the time of his death
Robertson died Thursday, according to his legacy media empire and son Gordon Robertson
Robertson founded the CBN, Operation Blessing, Regent University and American Center for Law & Justice
Pat Robertson amassed a fortune worth tens of millions before he passed away this week.
The conservative Christian televangelist and media mogul had a net worth of $100 million when he died in his Virginia home early Thursday, according to Celebrity Net Worth. He was 93.
During his decades-long career in the media, the influential religious broadcaster and former Southern Baptist minister founded a number of organizations, including the Christian Broadcasting Network (CBN), Regent University and the Christian Coalition of America. He also ran for the Republican presidential nomination in 1988 but was unsuccessful.
CBN began broadcasting on WYAH-TV in Virginia in 1961 and launched its flagship TV program, "The 700 Club," in 1966.
Robertson hosted the show from 1966 to 1987 and then from 1988 to 2021 alongside televangelists like Jim Bakker and Gordon Robertson, his son and successor, according to People.
Robertson founded Regent University, previously Christian Broadcasting Network University, in 1977 and the Christian legal organization American Center for Law & Justice, which promotes conservative Christian values.
He also founded the non-profit humanitarian organization Operation Blessing in 1978 and the Christian Coalition of America, a conservative organization comprised mostly of Baptists and Protestants, in 1987.
Robertson also had numerous media holdings around the world and authored several books, including "The New World Order," "The End of the Age," and "Miracles Can Be Yours Today."
The televangelist, businessman and political commentator's remarks against women's rights and the LGBTQ+ community had drawn widespread criticism, along with his other controversial opinions.
He had repeatedly claimed that acts of terrorism or natural disasters were divine retribution for perceived immorality. Additionally, he agreed with fellow televangelist Jerry Falwell that God allowed the 9/11 attack to happen because America had moved to the left and removed religion from the mainstream, according to CNN.
Robertson's passing was confirmed by his legacy media empire Thursday.
"Pat Robertson, longtime TV host, religious broadcaster, educator, humanitarian, and one-time presidential candidate died at his home in Virginia Beach early Thursday morning. He was 93," CBN said in a news release obtained by CNN.
Regent University in Virginia said in a statement that it was mourning the loss of Robertson.
"We are deeply saddened by the loss of our beloved founder," Regent University Executive Vice President for Academic Affairs William L. Hathaway said. "Dr. Robertson was a globally-renowned leader, broadcaster, philanthropist, educator, author, accomplished businessman, and – most importantly – a faithful servant of God who dedicated his life to glorifying the Lord and sharing the gospel of Jesus Christ."
Robertson's son Gordon, who succeeded him in 2007 as the chief executive of CBN, announced his father's passing on "The 700 Club."
"My father, Pat Robertson, the founder of the Christian Broadcasting Network, Operation Blessing, Regent University, American Center for Law and Justice, he passed away this morning at 4:49 a.m.," he said. "My sister Anne and her husband Gary were with him at the bedside. The family's been gathering all this week."
Gordon added that his sister, Elizabeth, flew in from Dallas and his children, Robertson's grandchildren, were around him this week. They all gathered around and listened to him.
"He wanted to give us final blessings. He wanted to tell us how much he loved us," Gordon said.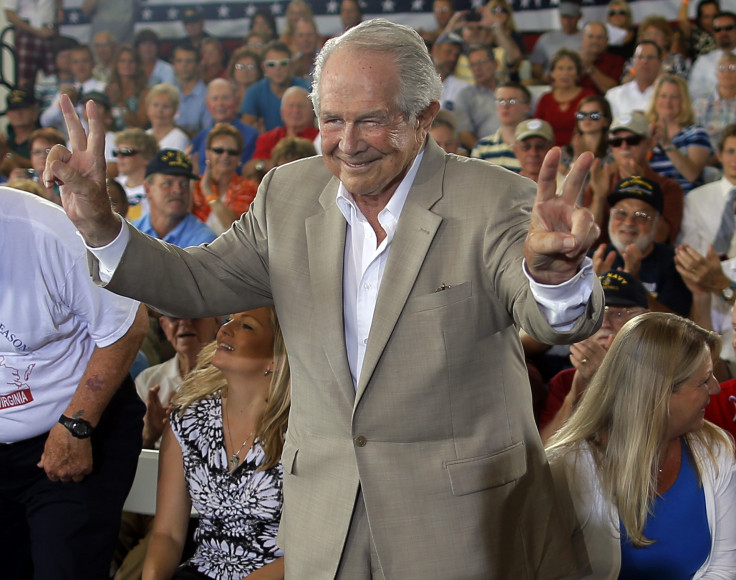 © Copyright IBTimes 2023. All rights reserved.