Pelosi Says Minimum Guaranteed Income May Now Be 'Worthy of Attention'
KEY POINTS
Six weeks ago, Pelosi 'shot down' the idea of sending checks to Americans
On Monday, she floated the idea of a guaranteed minimum income
This is an example of how rapidly the political conversation is shifting now
The COVID-19 crisis is shifting American politics in radical ways. House Speaker Nancy Pelosi, D-Calif., seemed to endorse a minimum guaranteed income scheme, in a significant shift from her private position six weeks ago.
Pelosi said in an interview with MSNBC on Monday: "Let's see what works, what is operational and what needs other attention, others have suggested a minimum income—a guaranteed income for people—is that worthy of attention now? Perhaps so."
In March, as Politico's Heather Caygle tweeted, "former Obama adviser Jason Furman actually proposed similar idea (on cutting checks) during a private House Dem Caucus meeting last week and Pelosi got up after and essentially shot the idea down."
Just a couple of months ago, this idea was confined to the left flank of the Democratic Party. Andrew Yang ran a fairly successful presidential campaign centered around the idea of giving every American $1,000 every month in a universal basic income. Sen. Bernie Sanders, I-Vt., said at the beginning of the COVID-19 pandemic that "We need to provide a direct emergency $2,000 cash payment to every household in America every month for the duration of the crisis to provide them with the assistance they need to pay their bills and take care of their families."
At the same time, Sen. Mitt Romney, R-Utah, exemplified the shift on the right by proposing to send a one-time $1,000 check to every American. Rep. Alexandria Ocasio-Cortez, D-N.Y., endorsed universal basic income along with many other progressive policies at the beginning of March.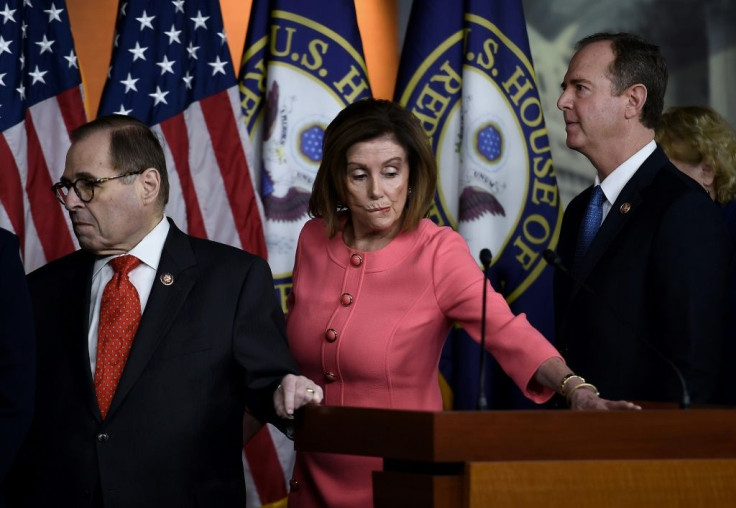 The fact that this proposal did not make it into the $2.2 trillion stimulus bill passed by Pelosi's House and Senate Majority Leader Mitch McConnell, R-Ky., proves that a minimum guaranteed income had very little traction just a month ago.
Even before the pandemic, voter support for a minimum guaranteed was on the rise. A Hill-HarrisX poll found an increase of voters saying "the government should have a UBI program," as 43% endorsed the idea in February last year, and that figure increased to 49% in September. A Data for Progress poll conducted just after the pandemic began to hit America hard in March found that 63% of voters prefer monthly government payments, while just 26% wanted a one-time payment.
© Copyright IBTimes 2023. All rights reserved.