'Peter Pan Live' 2014 Preview: When To Watch And What To Expect From The NBC Event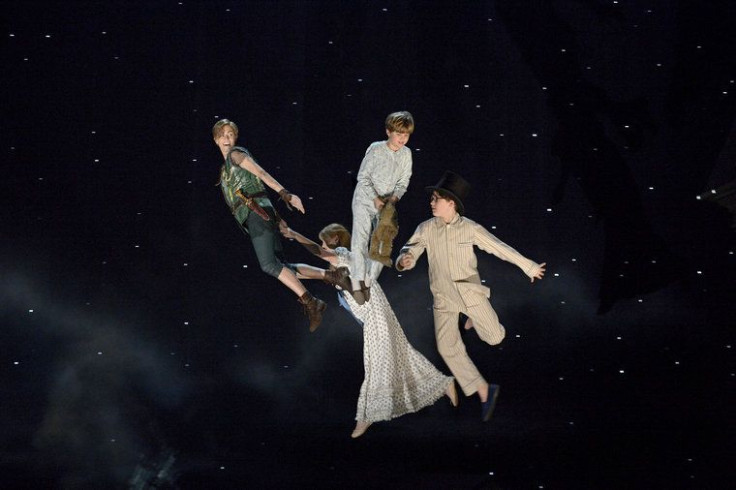 "Peter Pan Live" will air on Thursday on NBC as a followup to its highly viewed live musical event from last year, "The Sound of Music." Starring Allison Williams and Christopher Walken, as Peter Pan and Captain Hook, respectively, the production promises to be full-on spectacle reigniting viewers' love for the story of Neverland.
Williams will play the boy who ran off to Neverland, a place where he would never have to grow up. He takes a group of kids with him on an adventure to meet the Lost Boys and survive an encounter with the villainous Hook and his band of pirates. It seems that the public will be hit hard with "Neverland" lore as a film depicting the origins of Pan and Hook is scheduled to reach theaters in 2015.
"Peter Pan" will include bigger dance numbers, special theater effects, computer-generated images (Tinker Bell, for heaven's sake!) and it will all be captured on a 360-degree set and broadcast to America's living rooms. Chief among these special theater effects are the vast rigs for Hook's movable ship and the wire acrobatics that Pan and the Lost Boys use to navigate the stage. According to the New York Times, "Peter Pan" includes roughly 10 times as many technical components as "The Sound of Music Live."
That 2013 musical performance, starring Carrie Underwood, drew close to 22 million viewers (factoring in DVR views) according to the Hollywood Reporter. But critics and the public were not thrilled with the results. That's something the cast of "Peter Pan" took into consideration. When asked about performing for an audience of people who may view her work cynically, 26-year-old Williams shared her thoughts.
"I will say this about last year: Today's audiences like to watch things cynically," she told the Daily Beast. "Hatewatching is a thing. It's a whole way of watching something, and it's not an audience that's natural to a noncynical performance. 'Peter Pan,' you cannot watch cynically. If you do, you're going to hate it, no question. It falls apart instantly."
Luckily for Williams and the rest of the "Peter Pan" cast and crew, they're playing with a time-tested performance. "Peter Pan Live" is a modern adaptation of the Mary Martin production that originally aired on TV in 1960.
"Peter Pan" premieres live Thursday on NBC at 8 p.m. ET.
© Copyright IBTimes 2023. All rights reserved.