Planned Parenthood Attack Prompts Calls For Increased Tolerance Of Abortion Clinics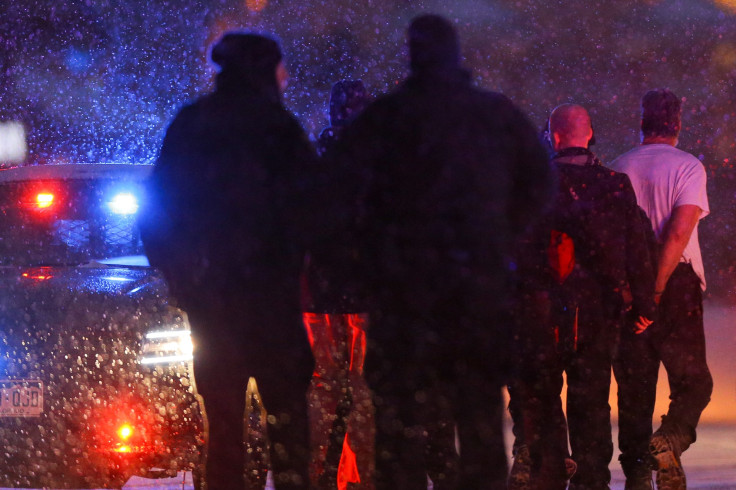 A gunman's deadly attack on a Planned Parenthood clinic in Colorado Springs, Colorado, Friday has shaken public confidence in the security of staff and patients at the nation's network of women's health clinics. While many clinics have installed security devices and rehearsed emergency procedures in recent years as a response to a growing number of threats, experts say extra safety precautions can't prevent repeated acts of violence. Instead, advocacy groups and politicians are pleading for a more tolerant public discussion about abortions in response to the tragedy.
A gunman killed three people and injured nine others Friday during a five-hour standoff with local law enforcement at the Colorado Springs Planned Parenthood. Robert Lewis Dear, 57, was taken into custody shortly after. Law enforcement officials have not identified a motive in the attack or said whether the suspect harbored anti-abortion sentiments, although an anonymous official quoted Dear saying "no more baby parts" as he was taken into custody.
Still, Eleanor Smeal, president of the Feminist Majority Foundation, said the number of threats lodged against abortion clinics has increased dramatically since an anti-abortion group released undercover videos in July accusing Planned Parenthood of illegally profiting from the sale of aborted fetuses.
"The threats have escalated since July but they were frankly very high also last year," Smeal says. "The rhetoric around this has been too heated for too long." In her group's latest published data, the percentage of abortion clinics subjected to targeted threats or activities such as vandalism rose from 26.6 percent in 2010 to 51.9 percent in 2014.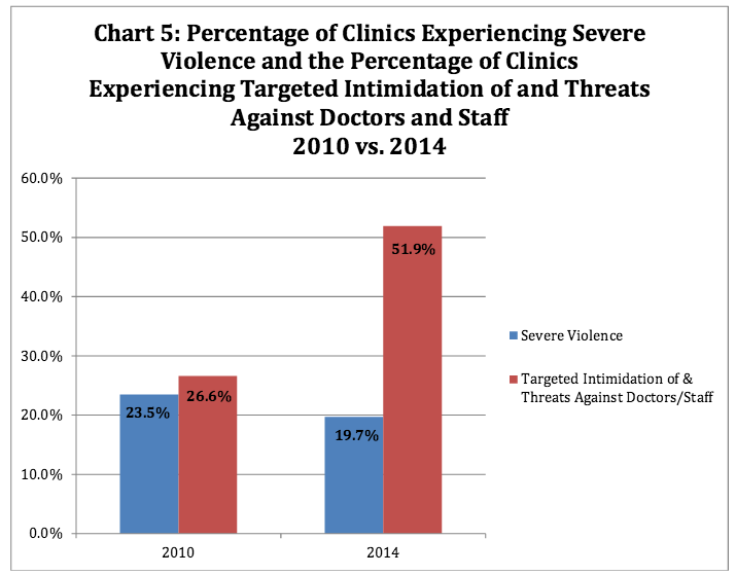 Vicki Saporta, president and CEO of the National Abortion Federation, believes the link between the videos and Friday's attack is indisputable. "I think it's very clearly connected," she said. "Since the heavily edited, misleading videos were released in July, NAF has recorded an unprecedented escalation of hate speech and threats against abortion providers."
Those videos, which critics say were misleading and deceptively edited, incited public controversy about women's health clinics which also provide abortion services. Cecile Richards, Planned Parenthood's president, said the organization legally provides fetal tissue for research to companies and scientists and only accepted reimbursement for the costs associated with providing that tissue.
Smeal blamed the Center for Medical Progress, the group that released the footage, for incendiary rhetoric that has broadly inflamed anti-abortion sentiment nationally ever since. "What they are saying is so extreme and not factually accurate. It sort of winds up people who are unstable and sends them to a target under false pretense," she says.
Friday's attack was hardly the first to occur on a Planned Parenthood clinic following the release of the videos. In September, an arsonist broke a window and threw a flammable object into a clinic in Pullman, Washington, in the middle of the night, causing it to erupt in flames and rendering the facility unusable.
Politically, the videos have also sparked outrage. Shortly after their release, Republican politicians tried and failed to de-fund Planned Parenthood. The videos were repeatedly invoked by Republican presidential candidate Carly Fiorina in speeches and during the 2016 presidential debates. In October, Planned Parenthood stopped accepting reimbursement for fetal tissue, which it now provides to researchers for free.
Nationwide, Planned Parenthood and abortion clinics have steadily increased security since they first became the target of violent attacks in the 1990s. A surveillance system installed at the Planned Parenthood clinic in Colorado Springs helped law enforcement officials track the attacker's movements Friday. Smeal's organization trains staff at independent clinics in safety procedures through the National Clinic Access Project and says many clinics have installed metal detectors, installed bulletproof glass and hired security guards in recent years. She declined to provide specific details out of concern others might use that knowledge to plan a future attack.
"Clinics that provide abortion care are already employing extensive security measures that aren't necessary for similar medical practices," Saporta said. She thinks state, federal and local law enforcement can do more by following up on threats and prosecuting groups that facilitate them.
Smeal also said installing more security measures are only a last resort. Instead, she called for more education and influential leaders to publicly fight anti-abortion sentiment. "More political leaders and many more medical authorities should come forth and say these are necessary medical procedures for women," she said.
After Friday's attack, politicians who support Planned Parenthood did speak out about the dangers of outsized rhetoric and political remarks. Republican presidential candidate Mike Huckabee called the attack a form of "domestic terrorism."
"I don't know of any pro-life leader…who has suggested violence against Planned Parenthood," the minister and former Arkansas governor said on CNN's "State of the Union." "I know of nobody who has ever suggested Planned Parenthood be the target of attacks."
Democratic presidential candidate Sen. Bernie Sanders, I-Vt., disagreed and was quick to condemn those who have spoken out against the organization on Twitter.
© Copyright IBTimes 2023. All rights reserved.
FOLLOW MORE IBT NEWS ON THE BELOW CHANNELS